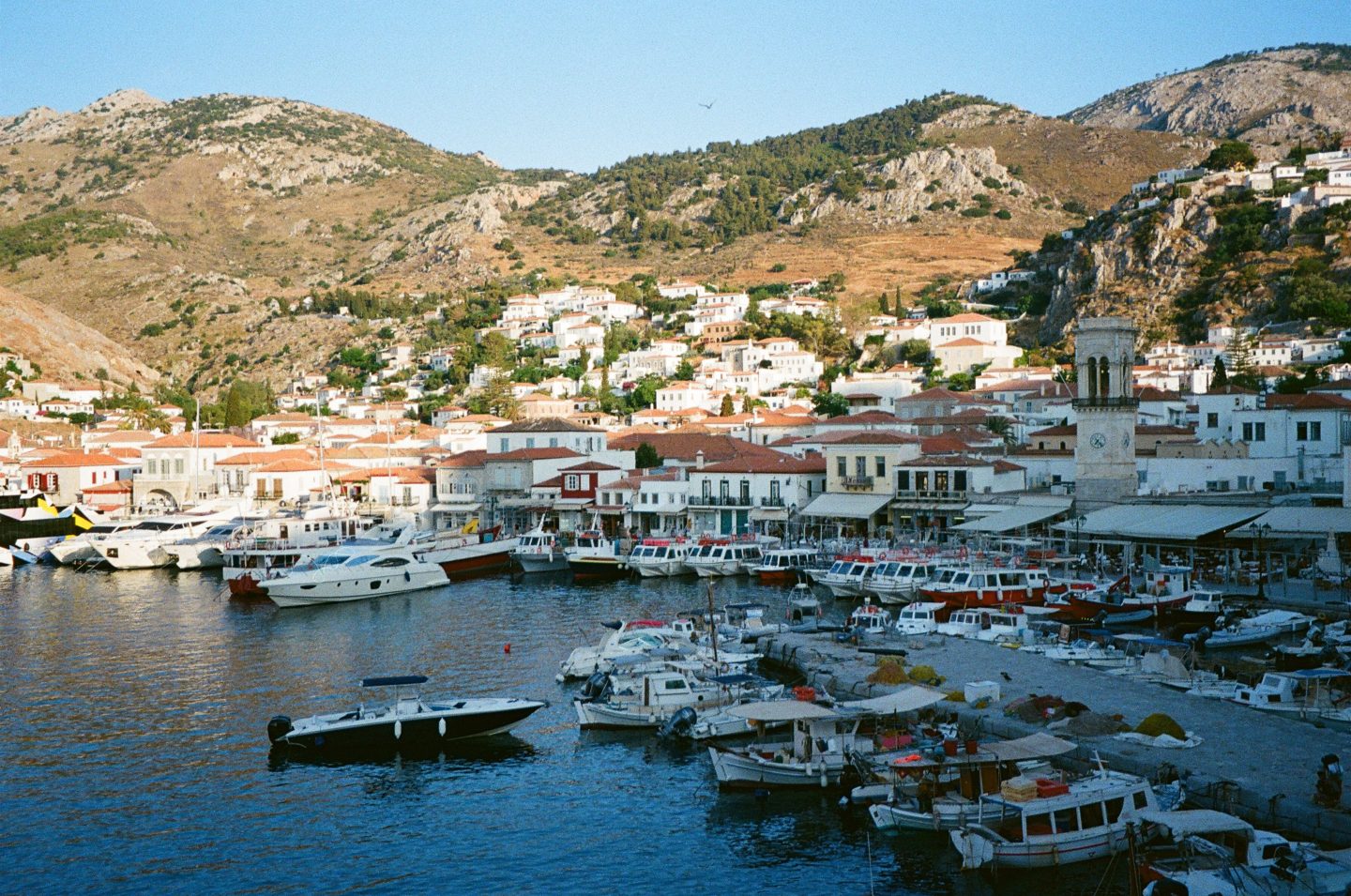 ANOTHER WORLD ENTIRELY, HYDRA'S LACK OF CARS AND MOTOR VEHICLES BLANKET THE BEAUTIFUL ISLAND WITH A PEACE AND QUIET OUR GENERATION HAS SURELY NEVER EXPERIENCED. HYDRA TOWN, OTHERWISE KNOWN AS THE PORT OF HYDRA, IS ONE OF THE PRETTIEST I'VE SEEN. QUAINT AND SMALL AND YET SOMEHOW MANAGES TO LACK NOTHING AT ALL. THE CLOCK TOWER SITS TALL AND ACTS AS A GATHERING PLACE FOR LOCALS AND TOURISTS ALIKE; WHILE JABBER OF FOREIGN TONGUES AND ORDERS OF ICE COLD FREDDO CAPPUCCINO, A GREEK SUMMER STAPLE, BUZZ IN THE CAFES.
---
Hydra's nostalgic flair of a bygone era have mesmerized me from the pages of Henry Miller's Colossus of Marousi. To this day, a forever favorite travel memoir of mine. A beautiful island, Hydra is an energy that needs to be experienced firsthand. So, it should come as no surprise that Hydra has a reputation of fostering well-known creatives; Sophia Loren, George Johnston, Leonard Cohen and the likes. Naturally, I was thrilled to be able to photograph our Aegean Summers launch collection for The NoMad Edit on the island. It was an absolute dream. You wouldn't believe me if I told you that it all came to fruition in a matter of 5 days, 6 suitcases and 2 mules. True story.
The island of Hydra attracts an international crowd compared to some of the other, smaller Greek islands in the Saronic Gulf. And as for Hydras Port, one of the most beautiful and picturesque I've seen. The locals, a proud people especially of their history and significant involvement in the Greek war of Independence. They will tell you stories if you simply ask.
While the island is not commonly sought out for their beaches, surprisingly the few beaches of Hydra happen to be really lovely. If you're itching for a swim, head to Agios Nikolaos, an organized and secluded pebble beach that can only be reached by water taxi. The turquoise waters of the cove are worth the trip alone. Another favorite of Hydra's beaches? Avlaki and Spilia. Make sure not to skip the Lazaros Kountouriotis Mansion. It includes a tasteful and well curated collection of art by Tetsis, a beautifully preserved Hydriot mansion and a killer view of Hydra port.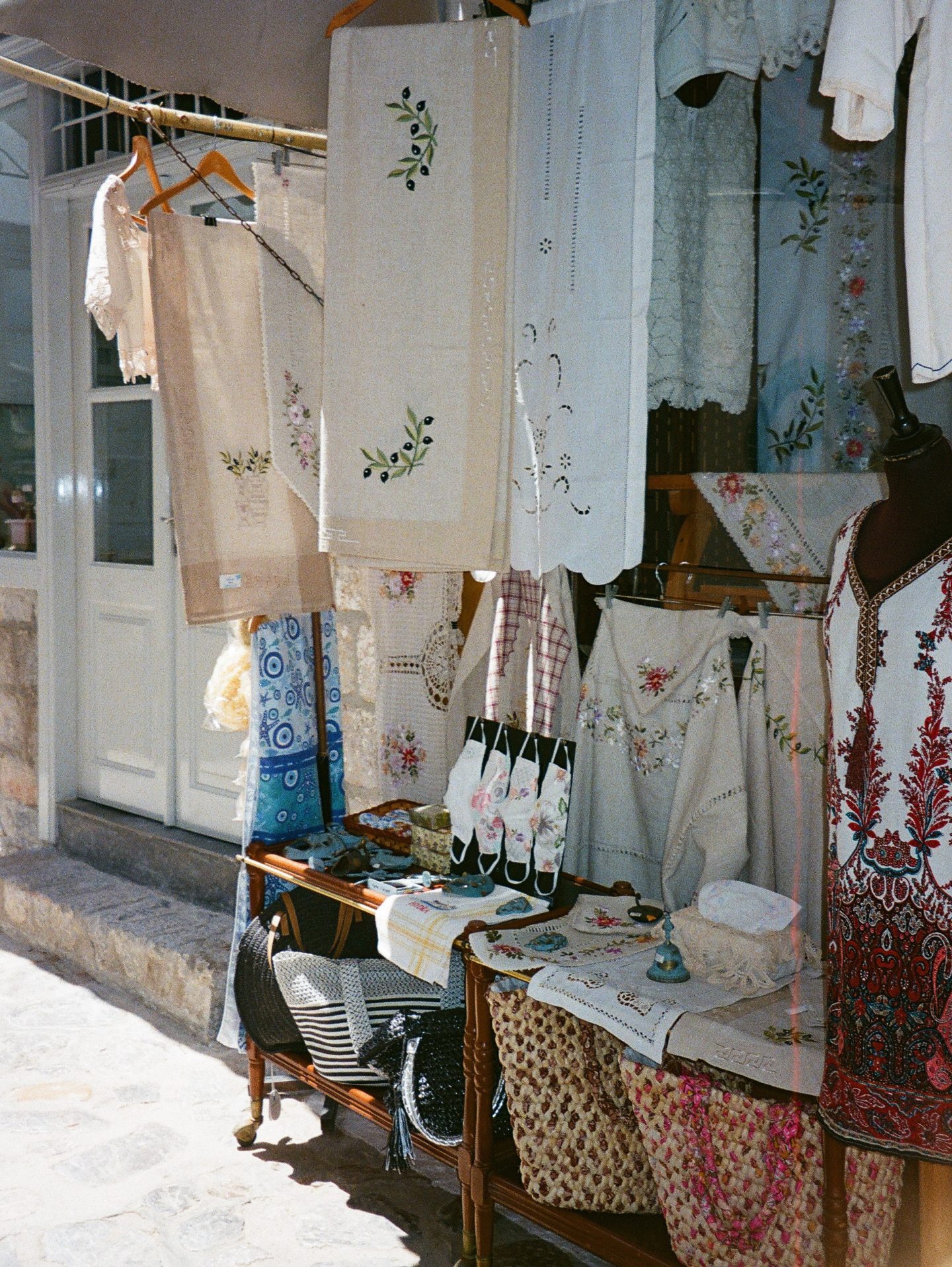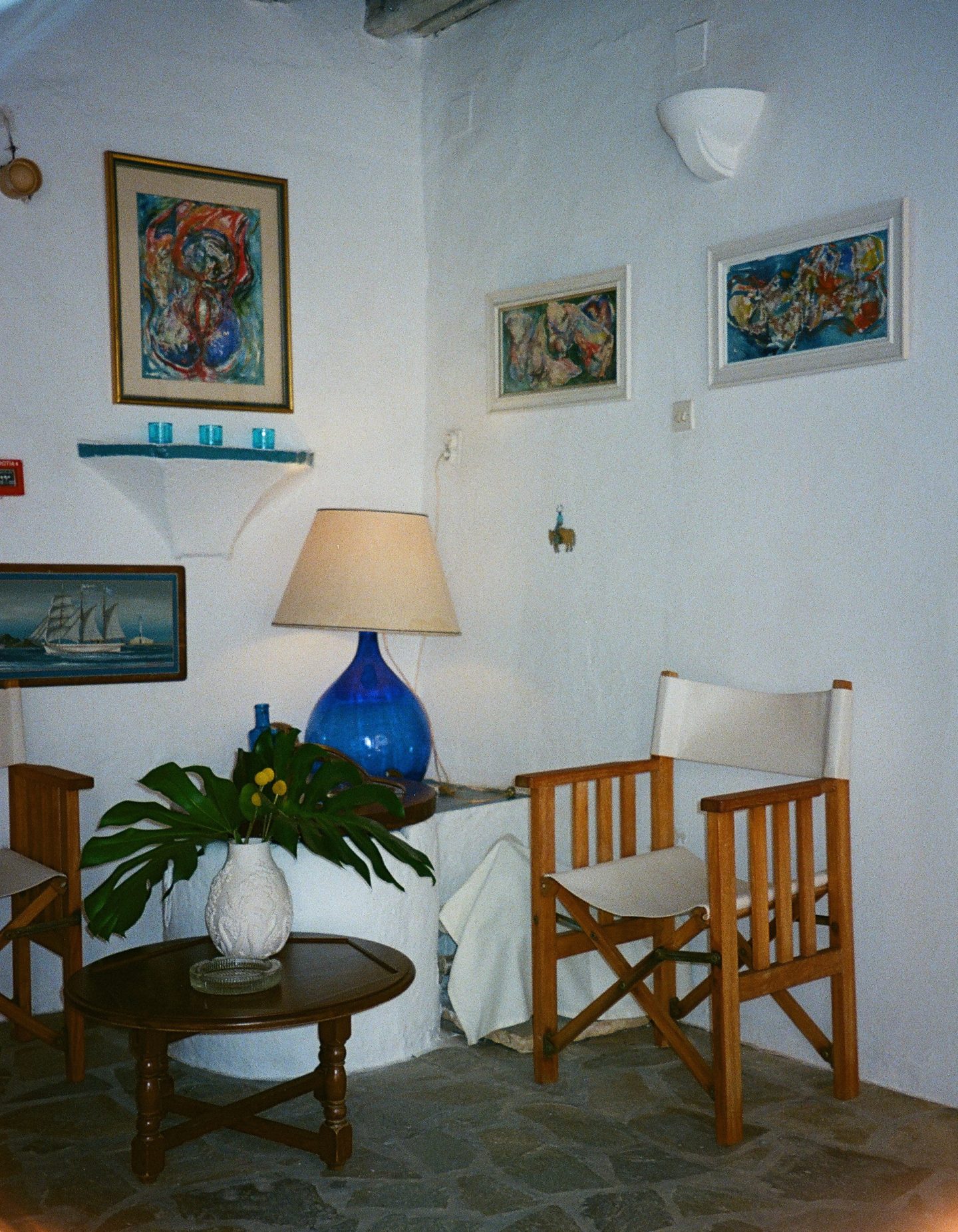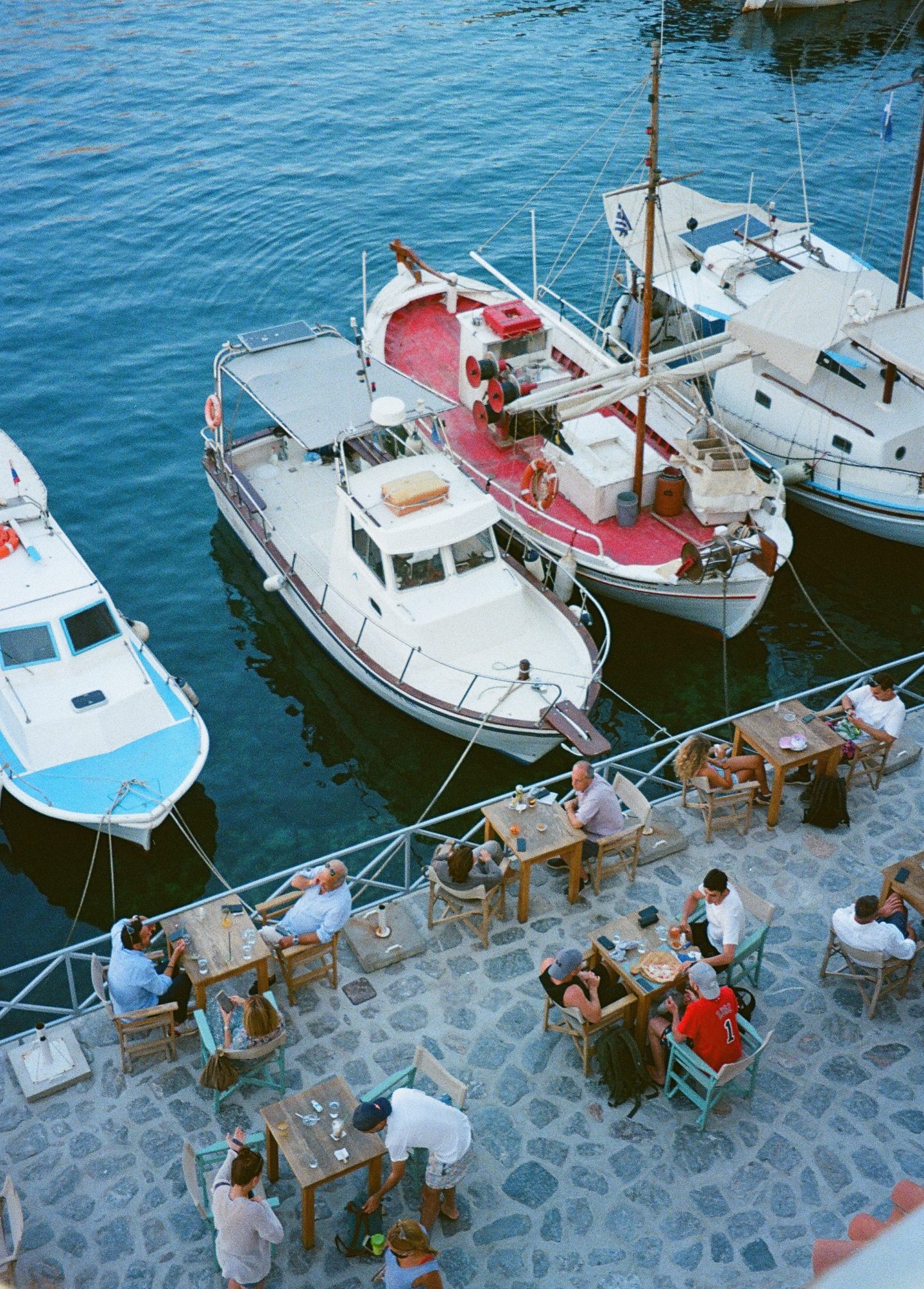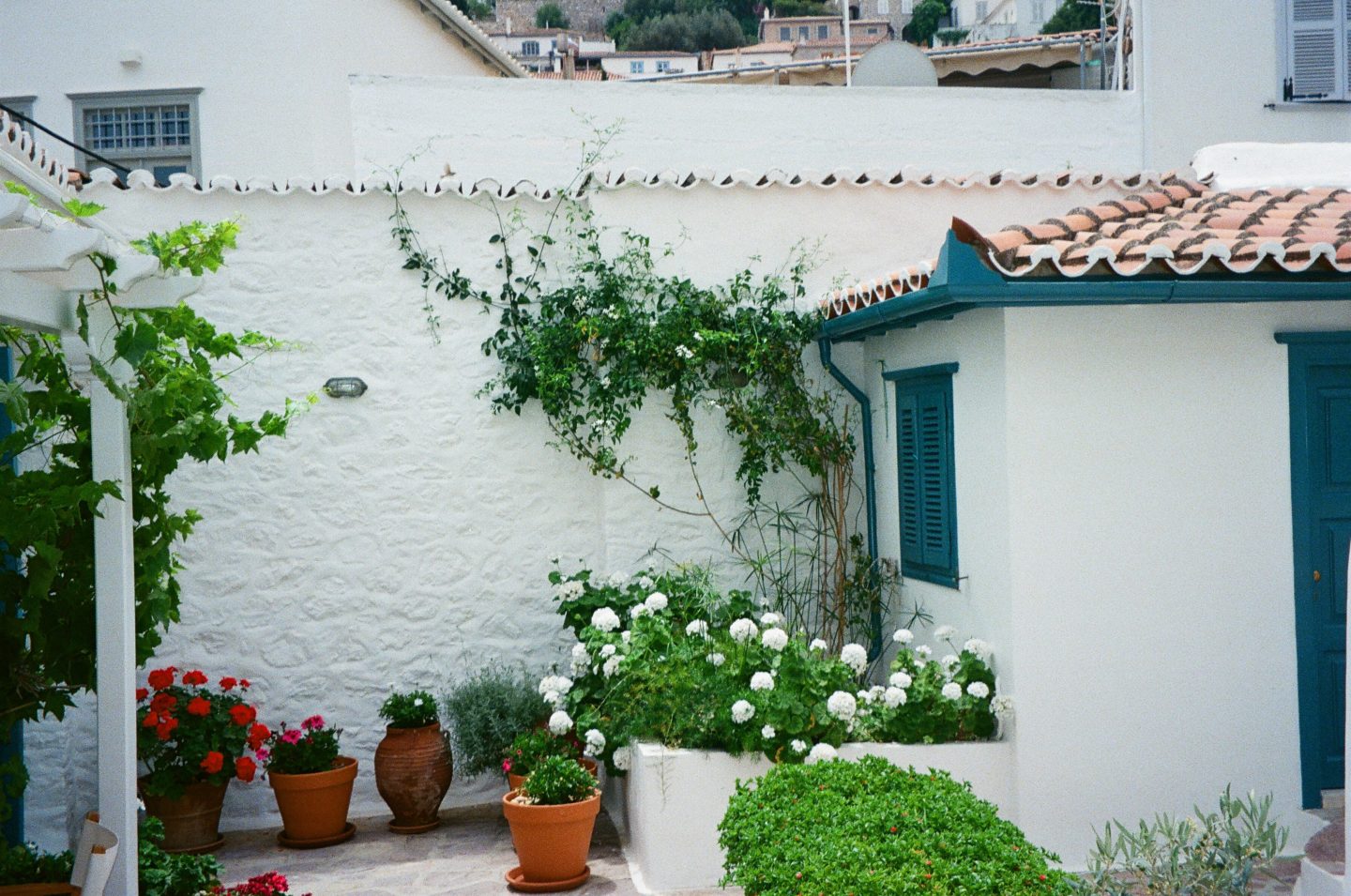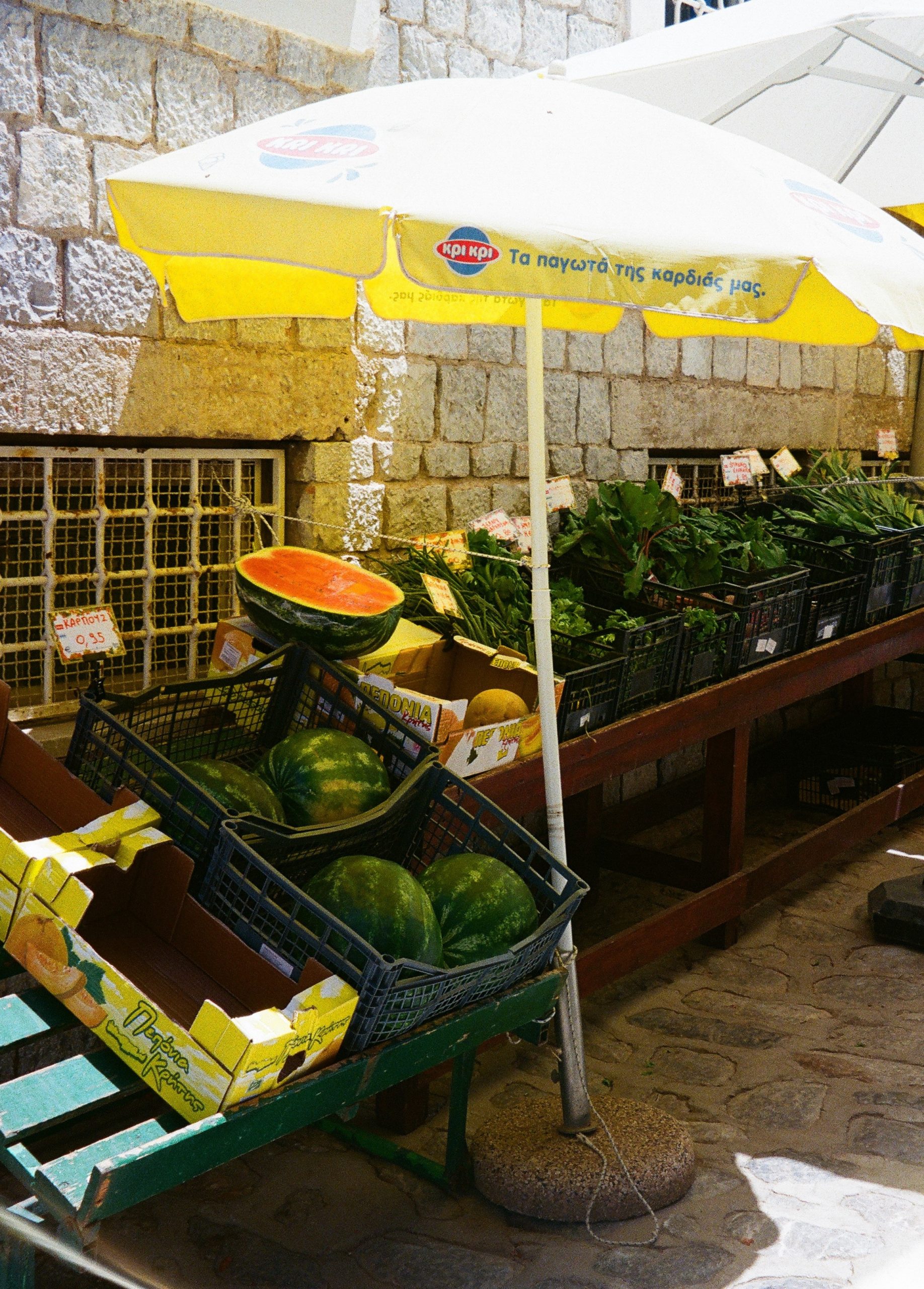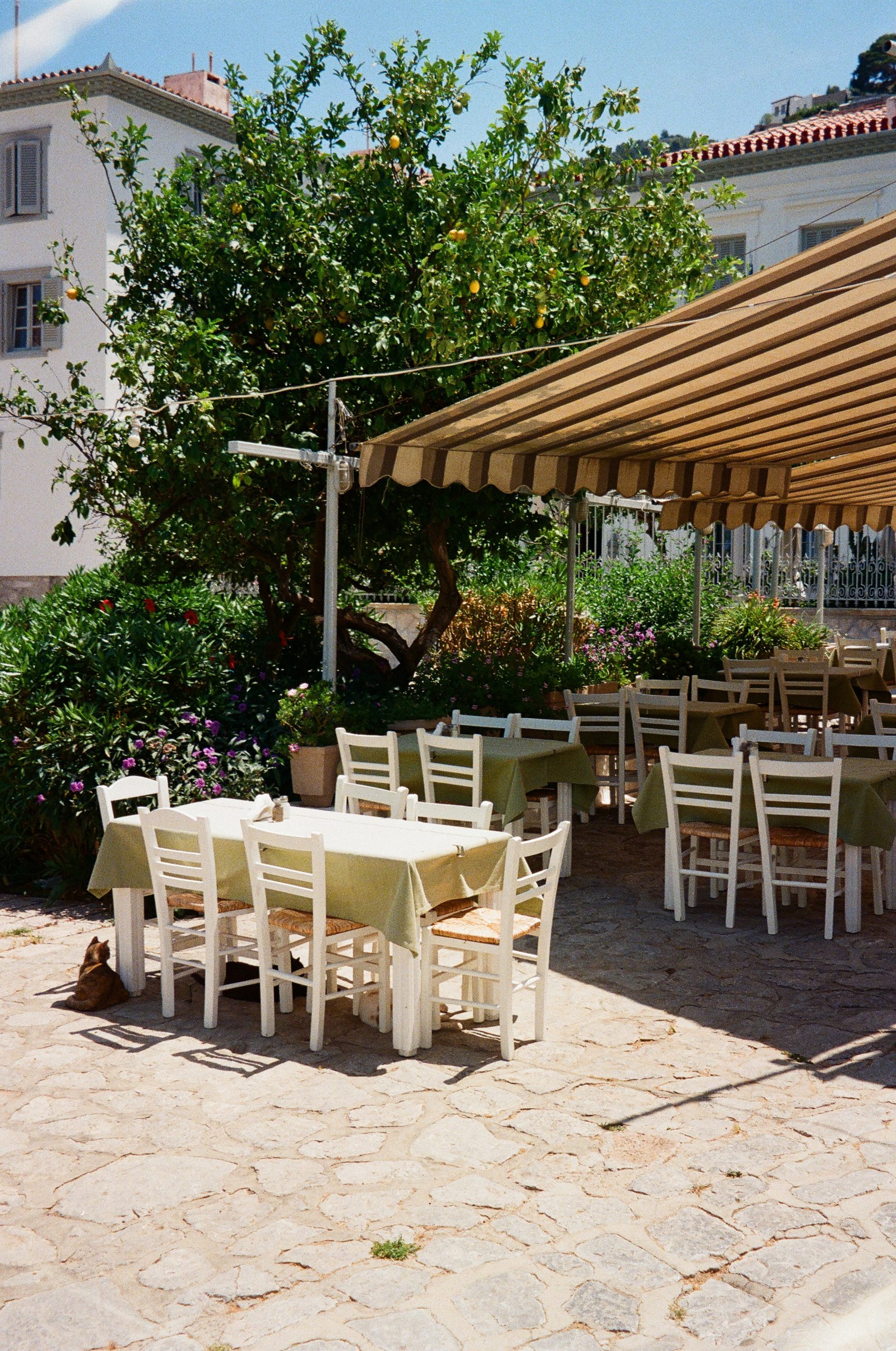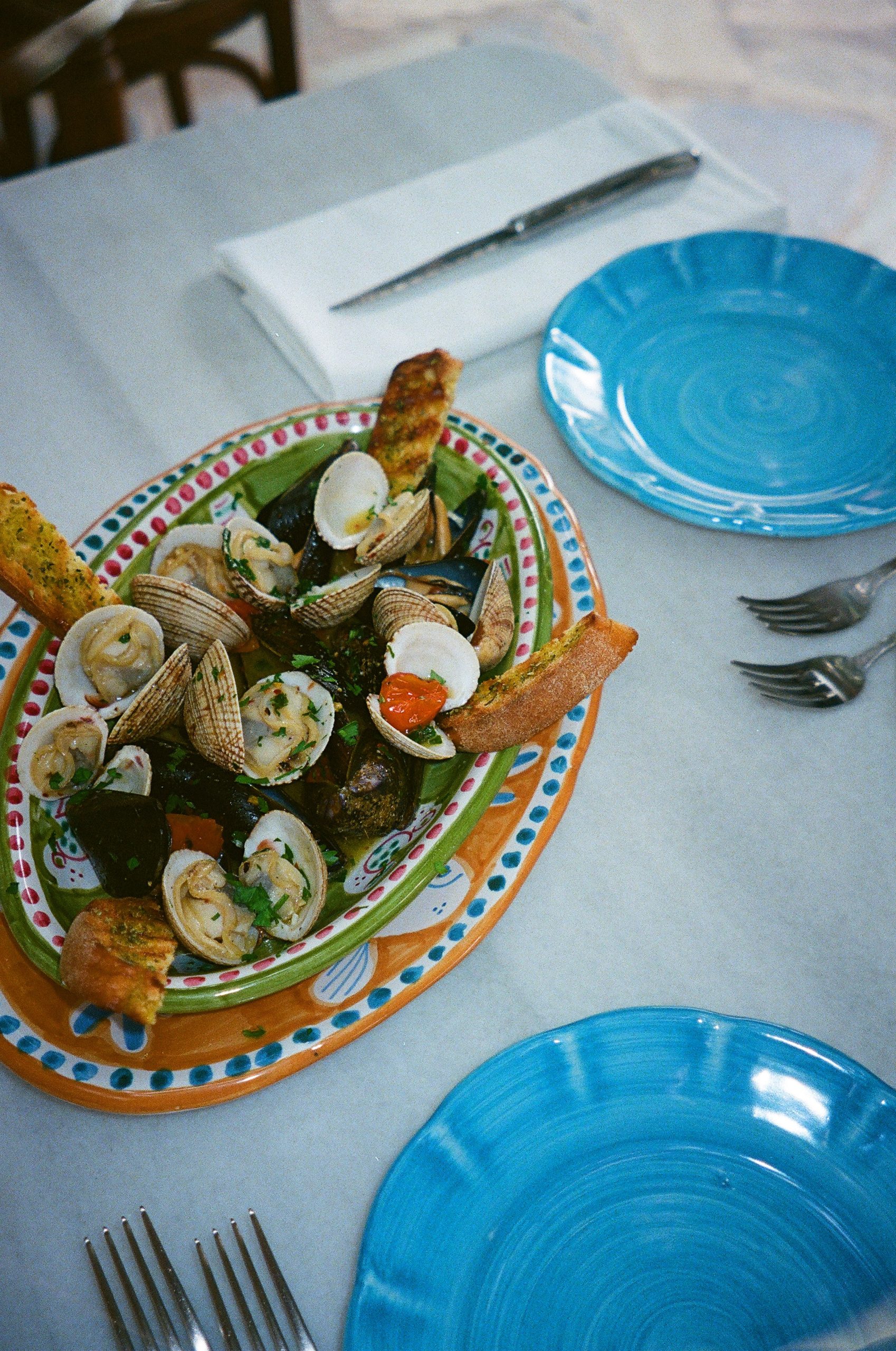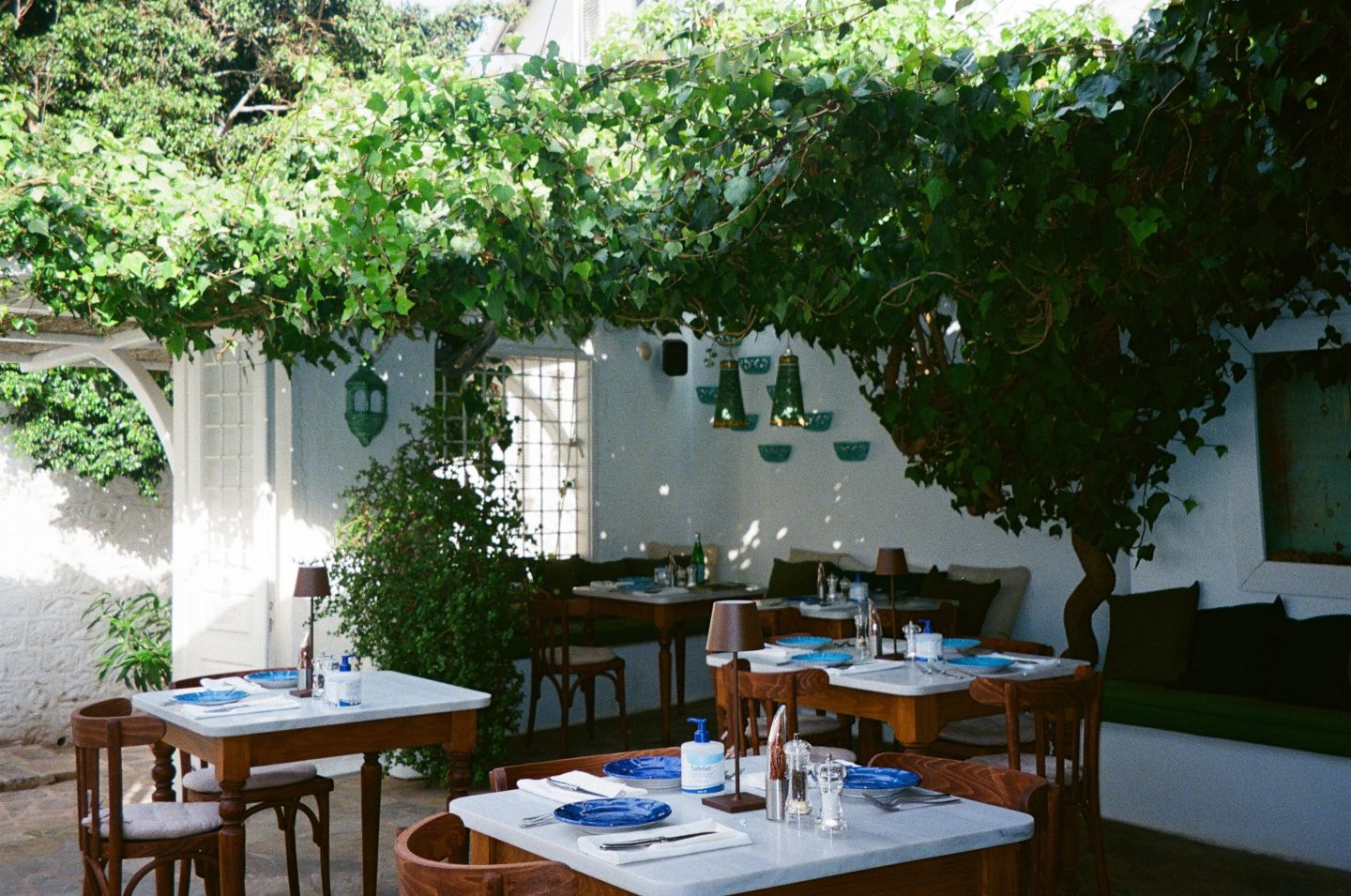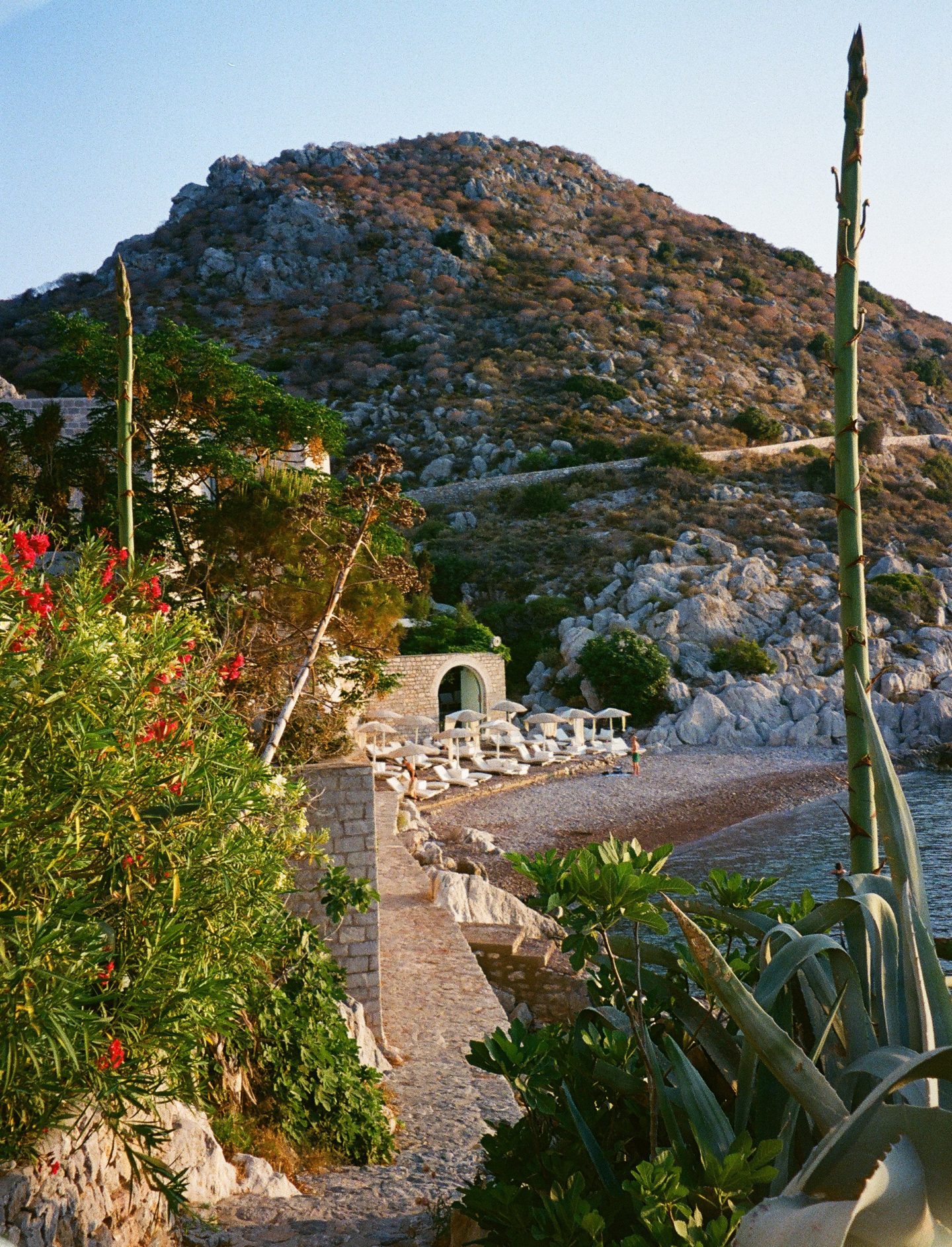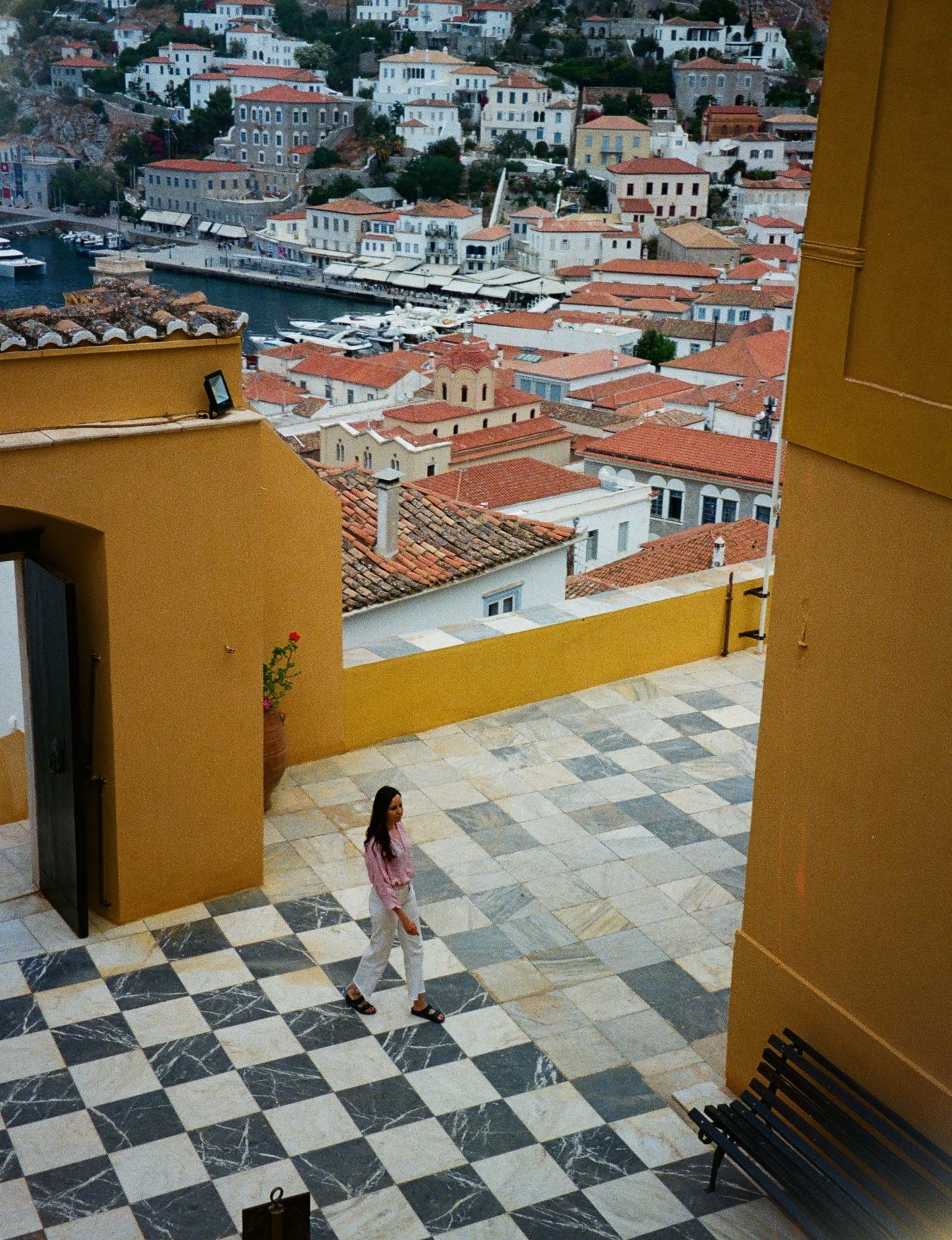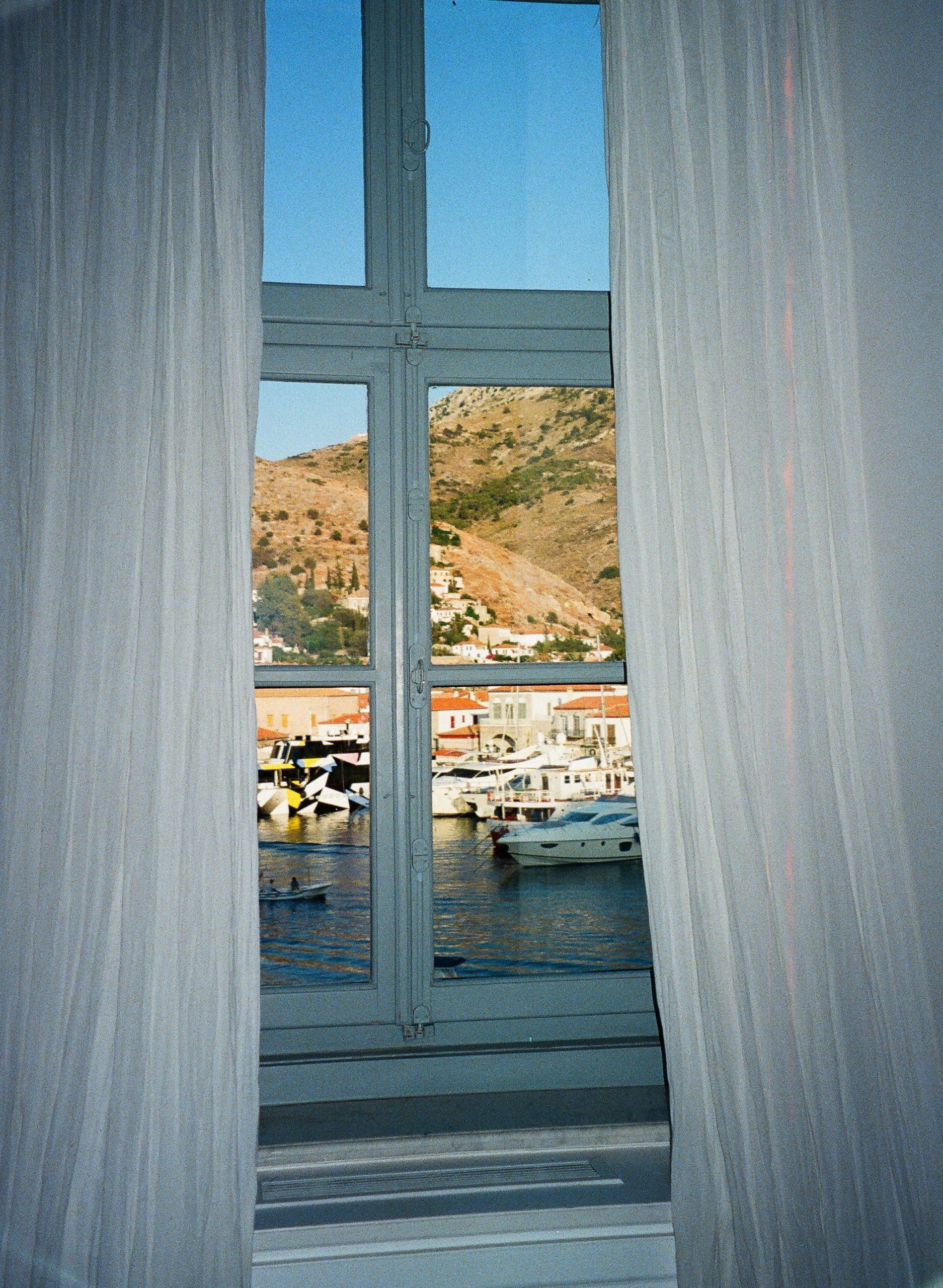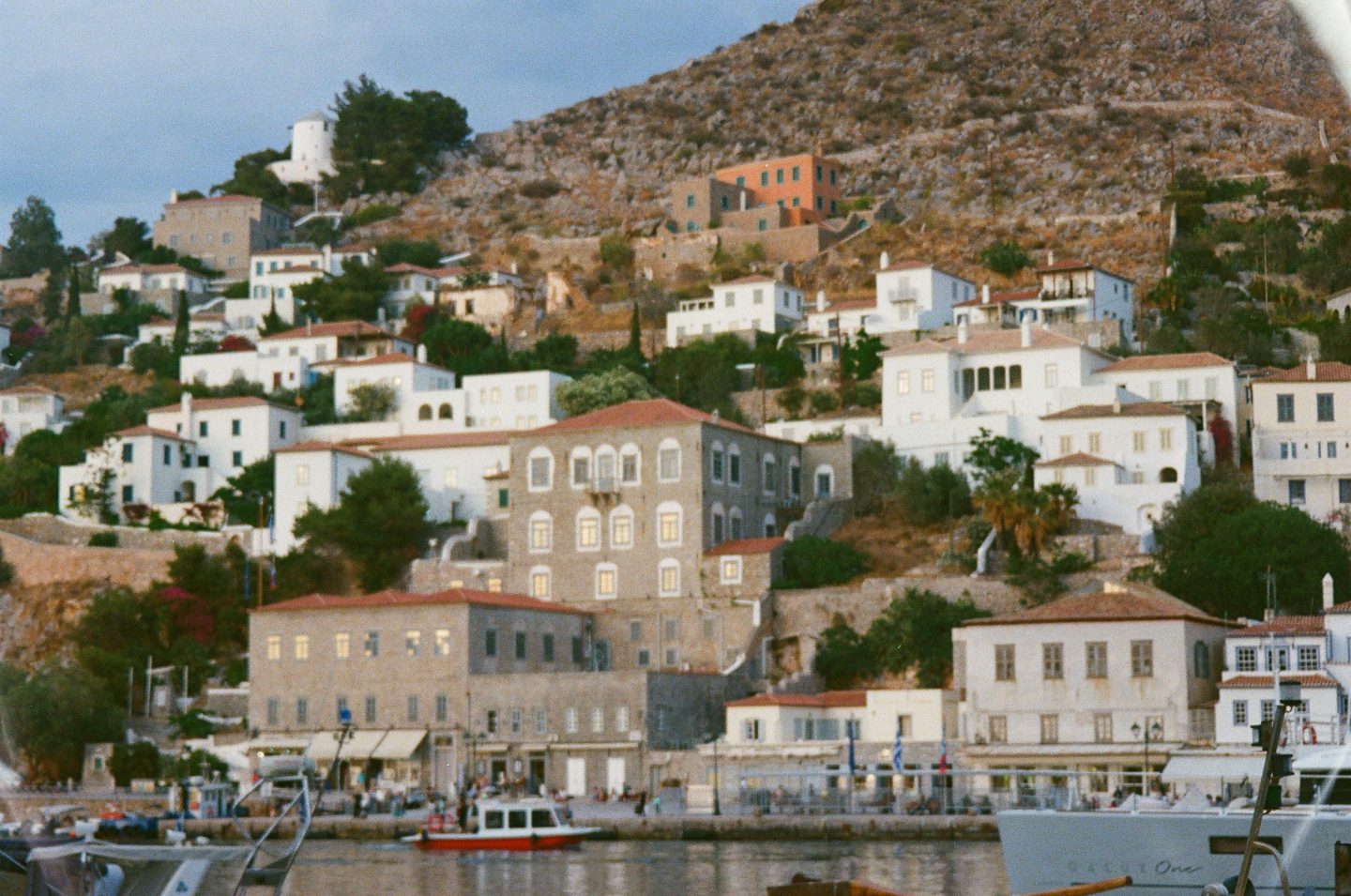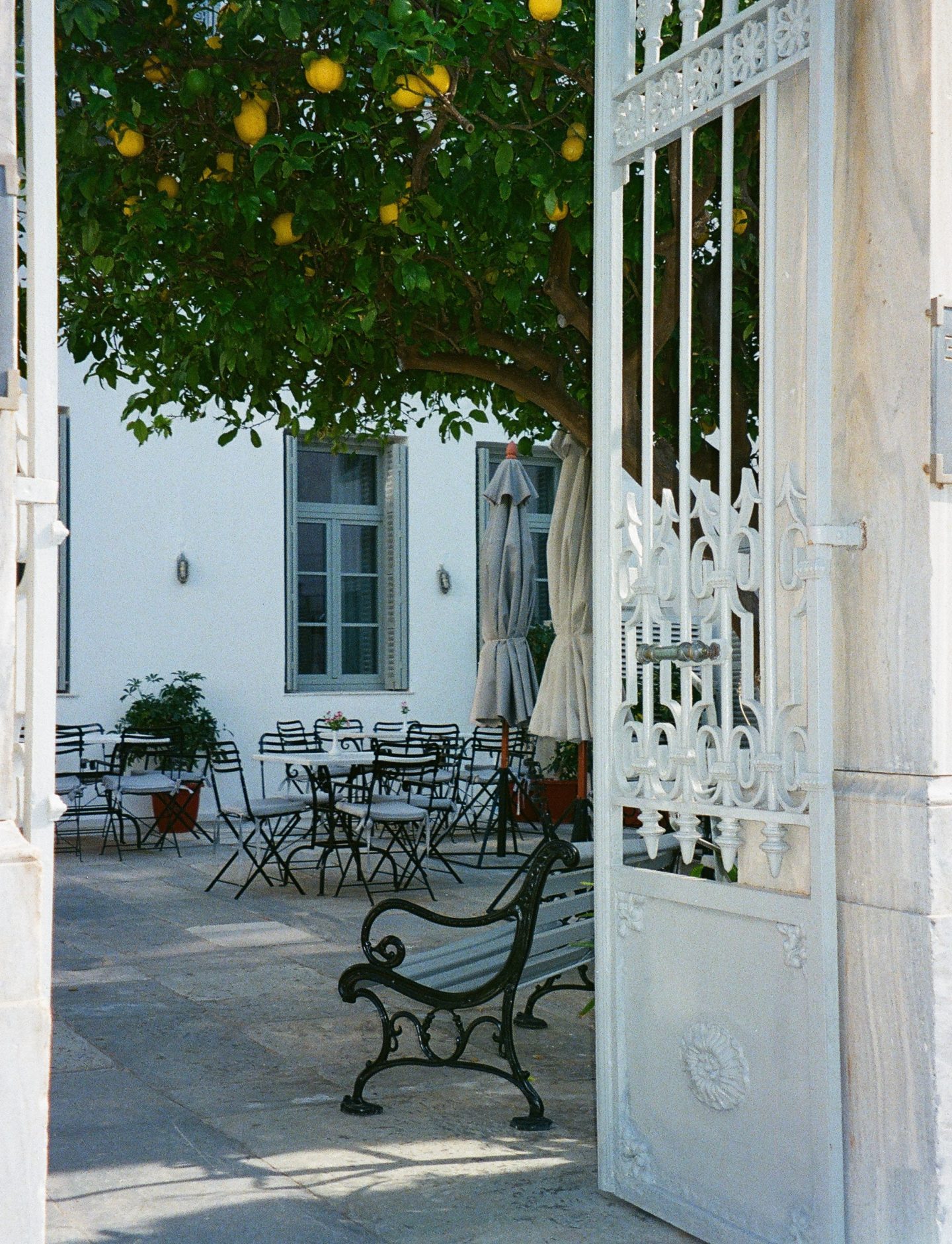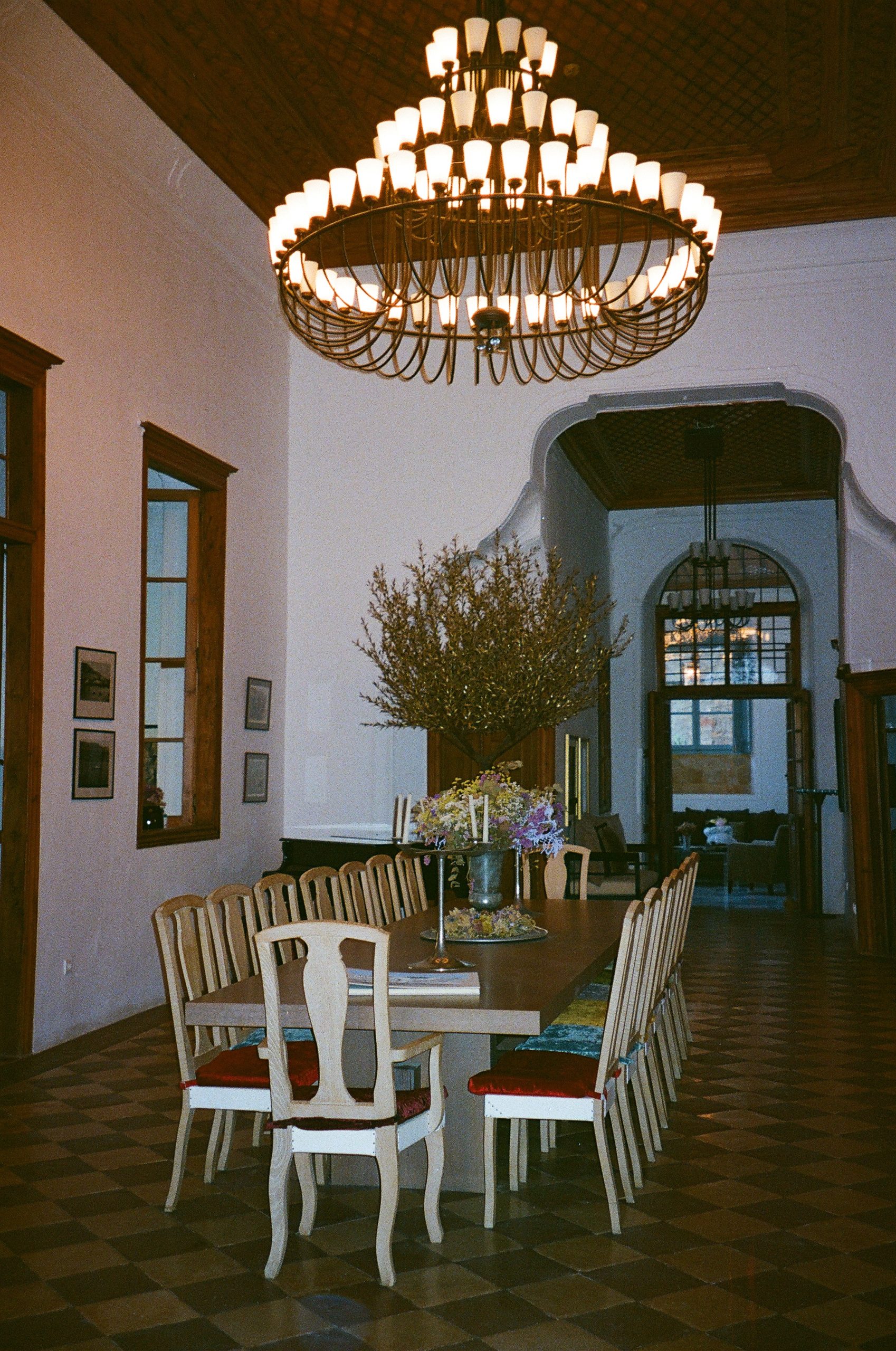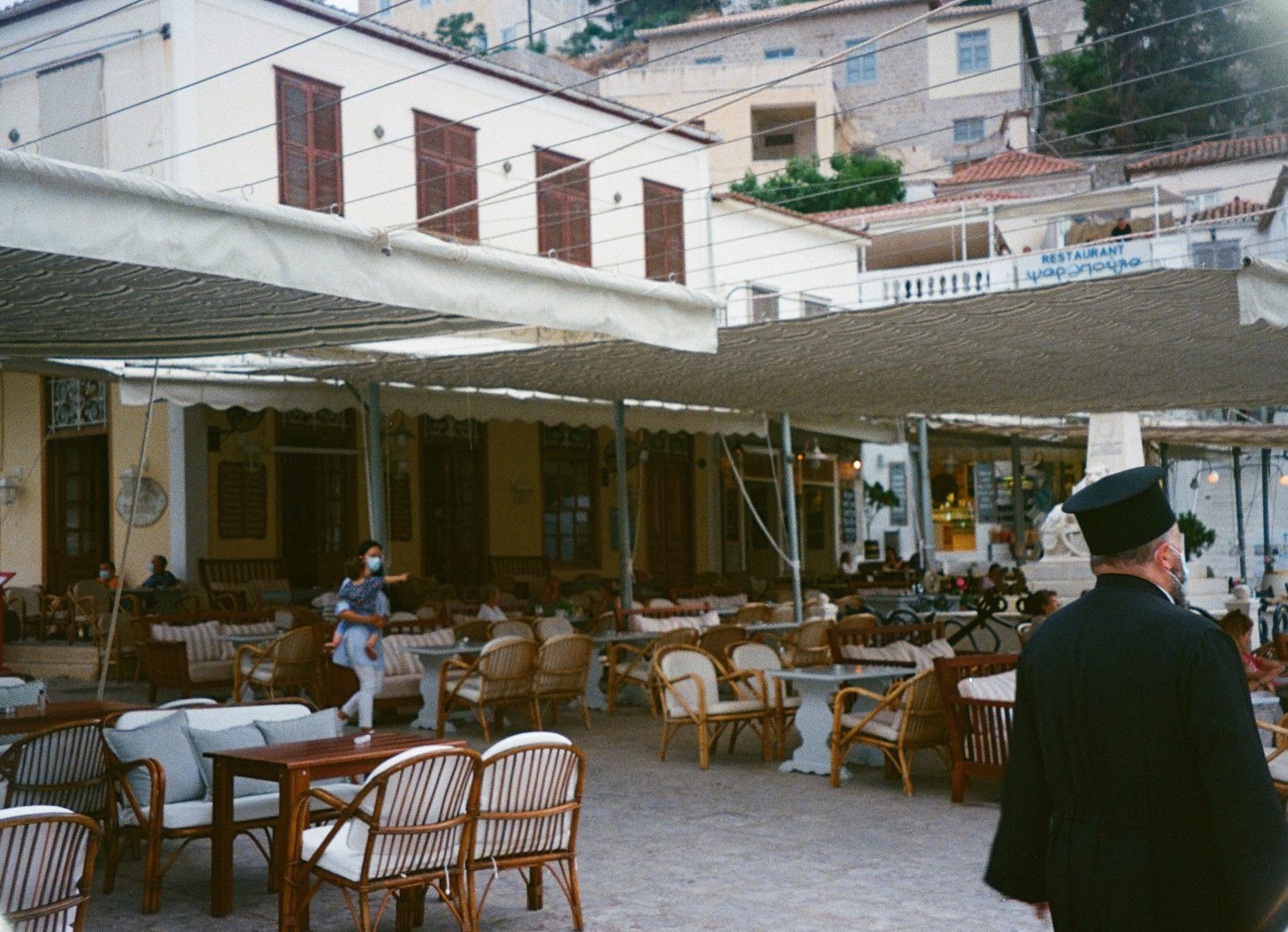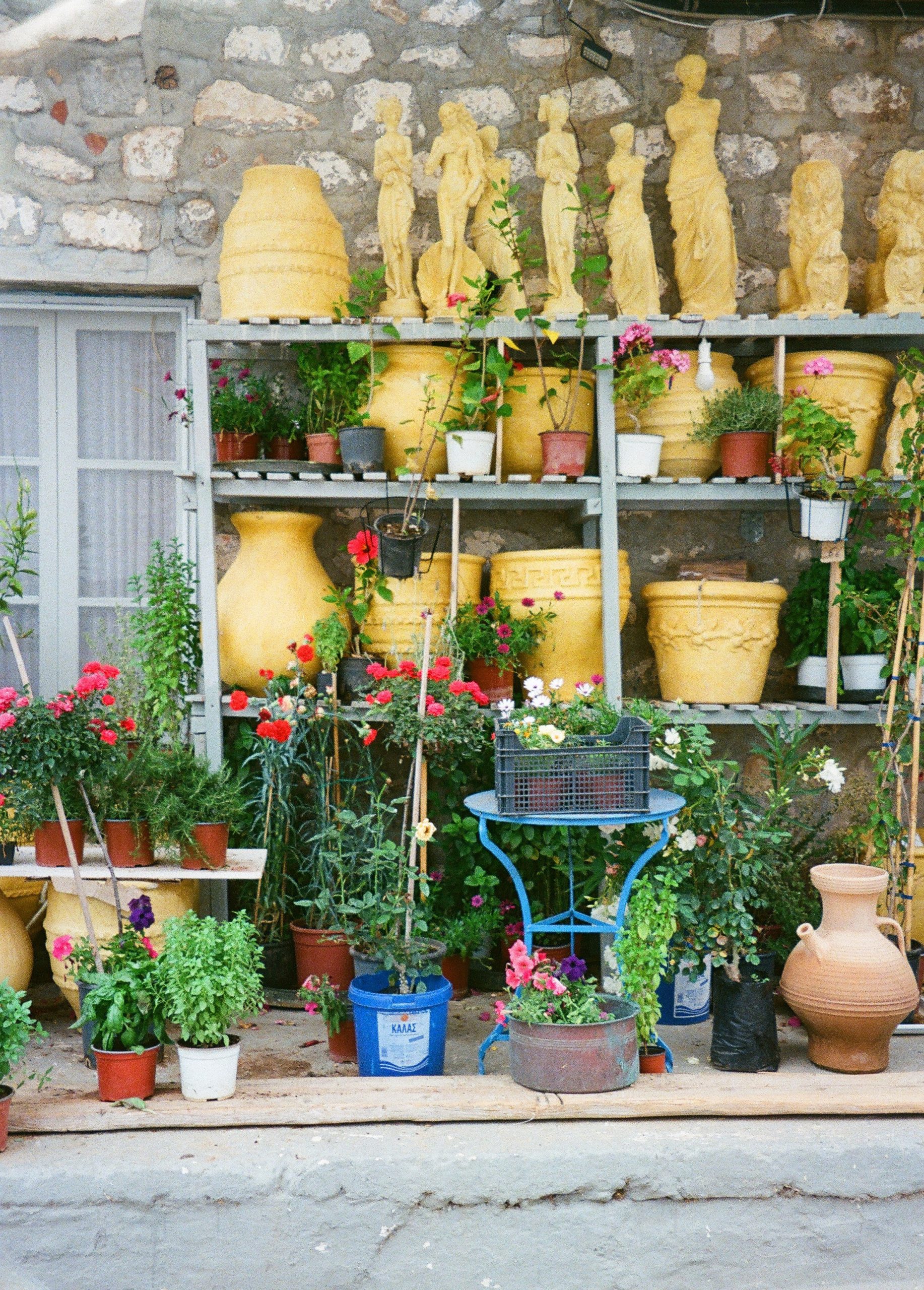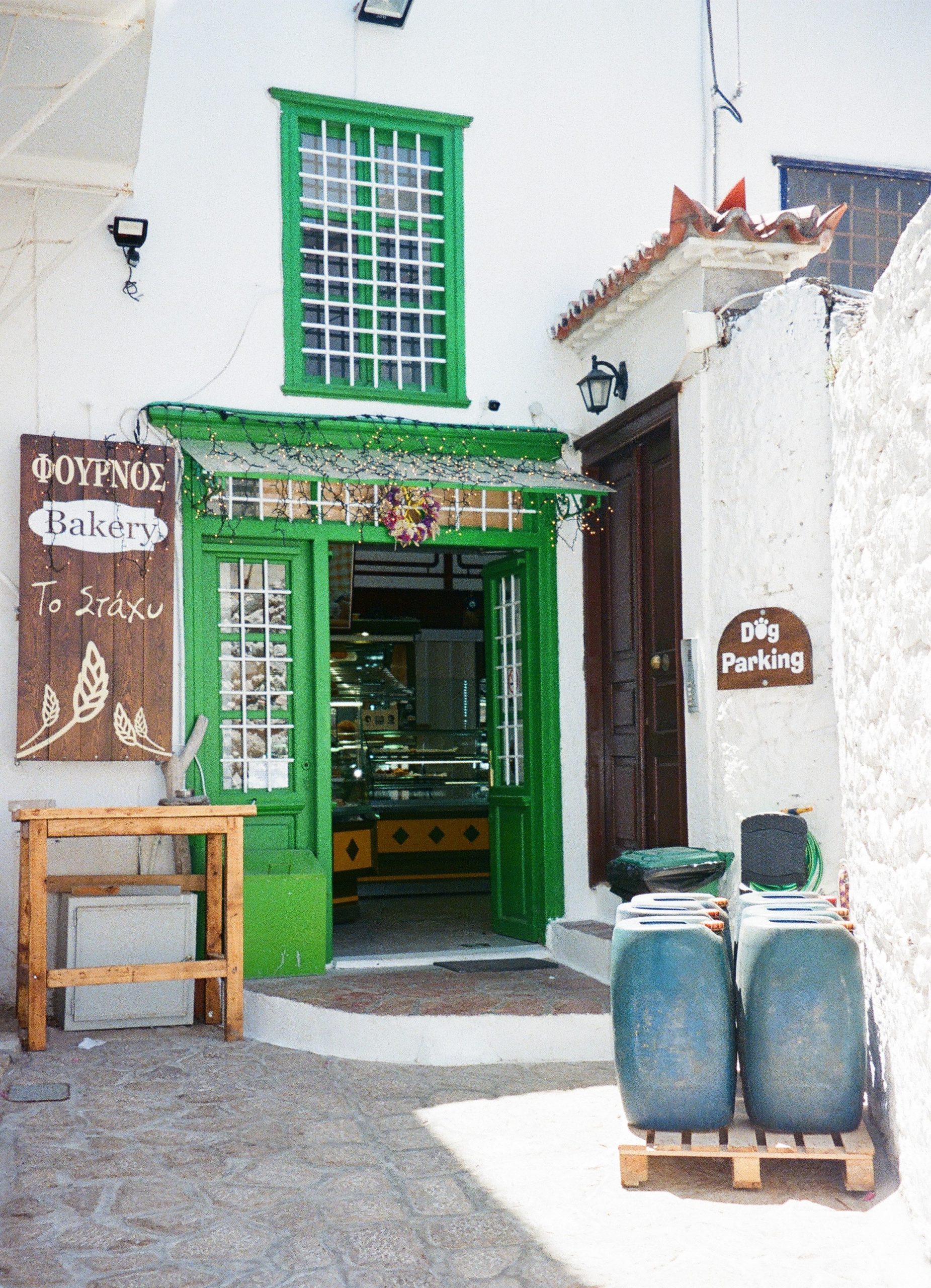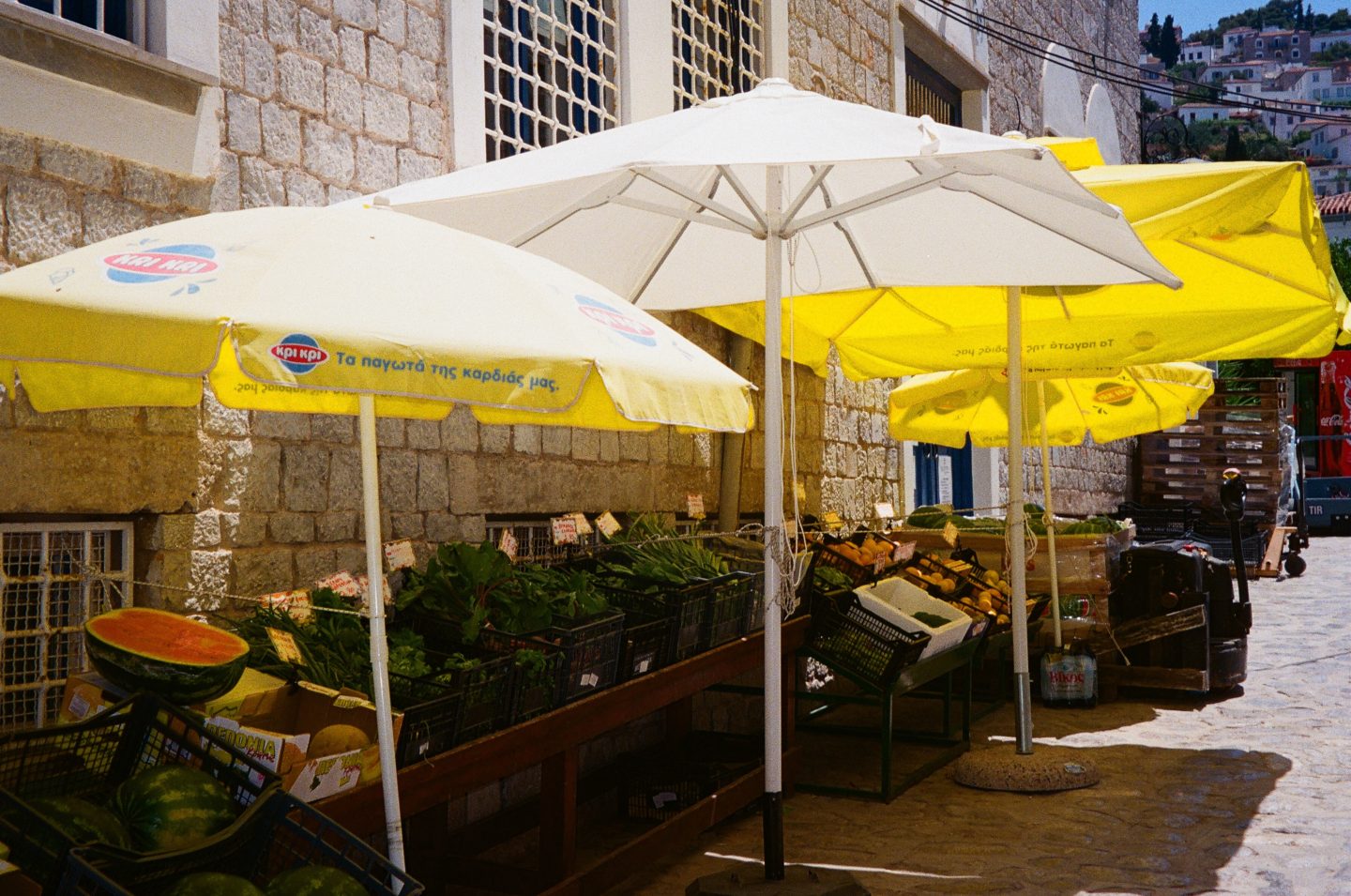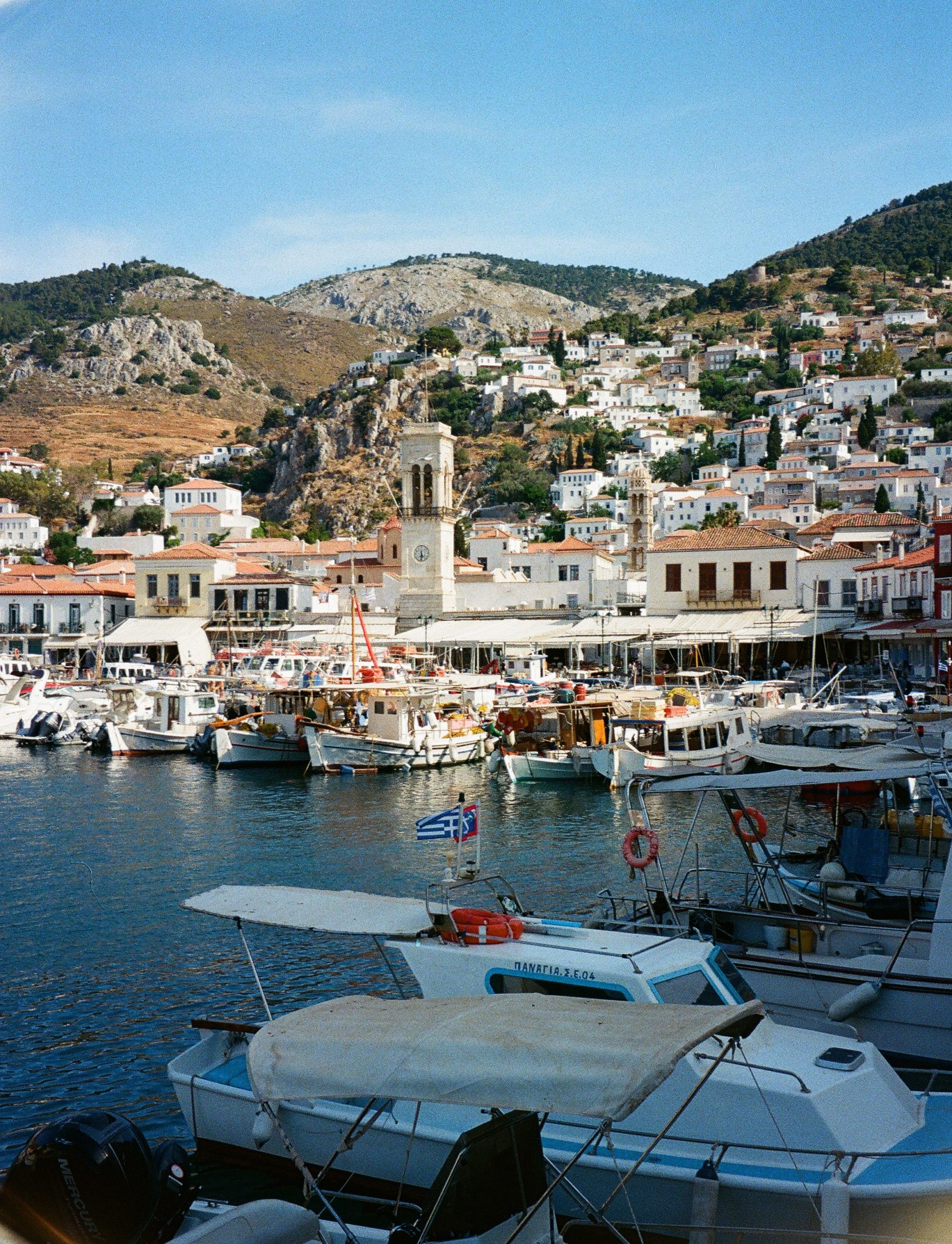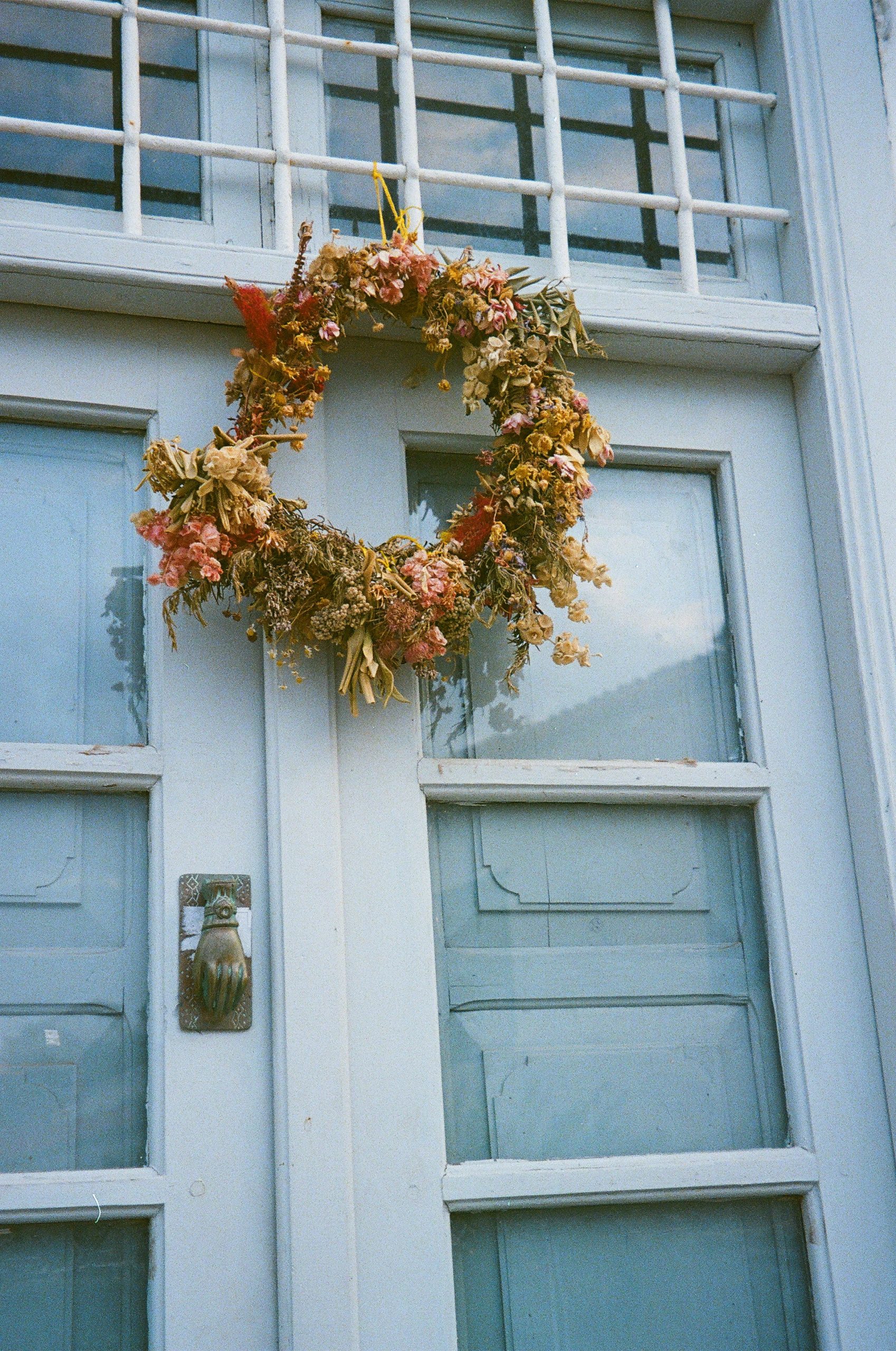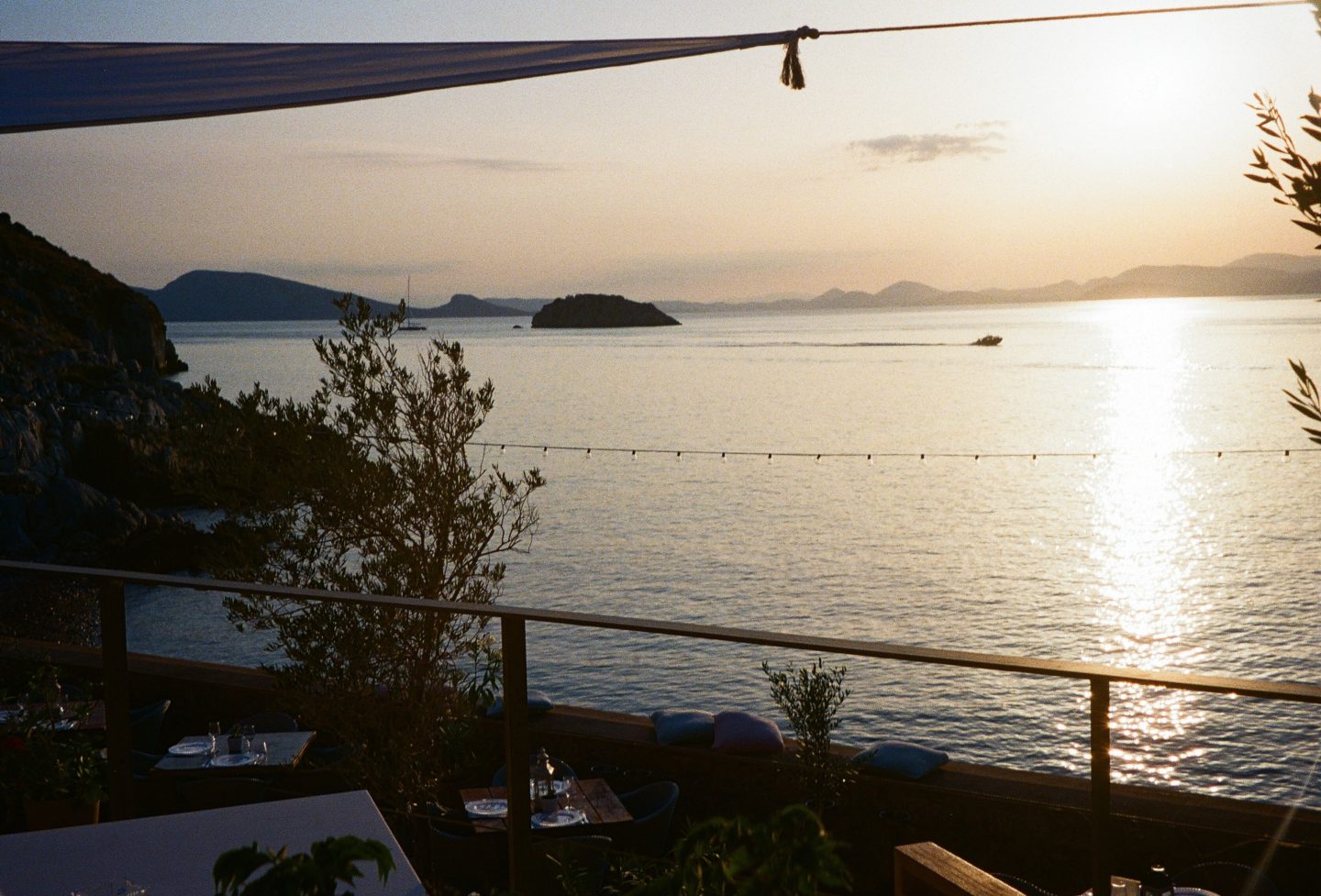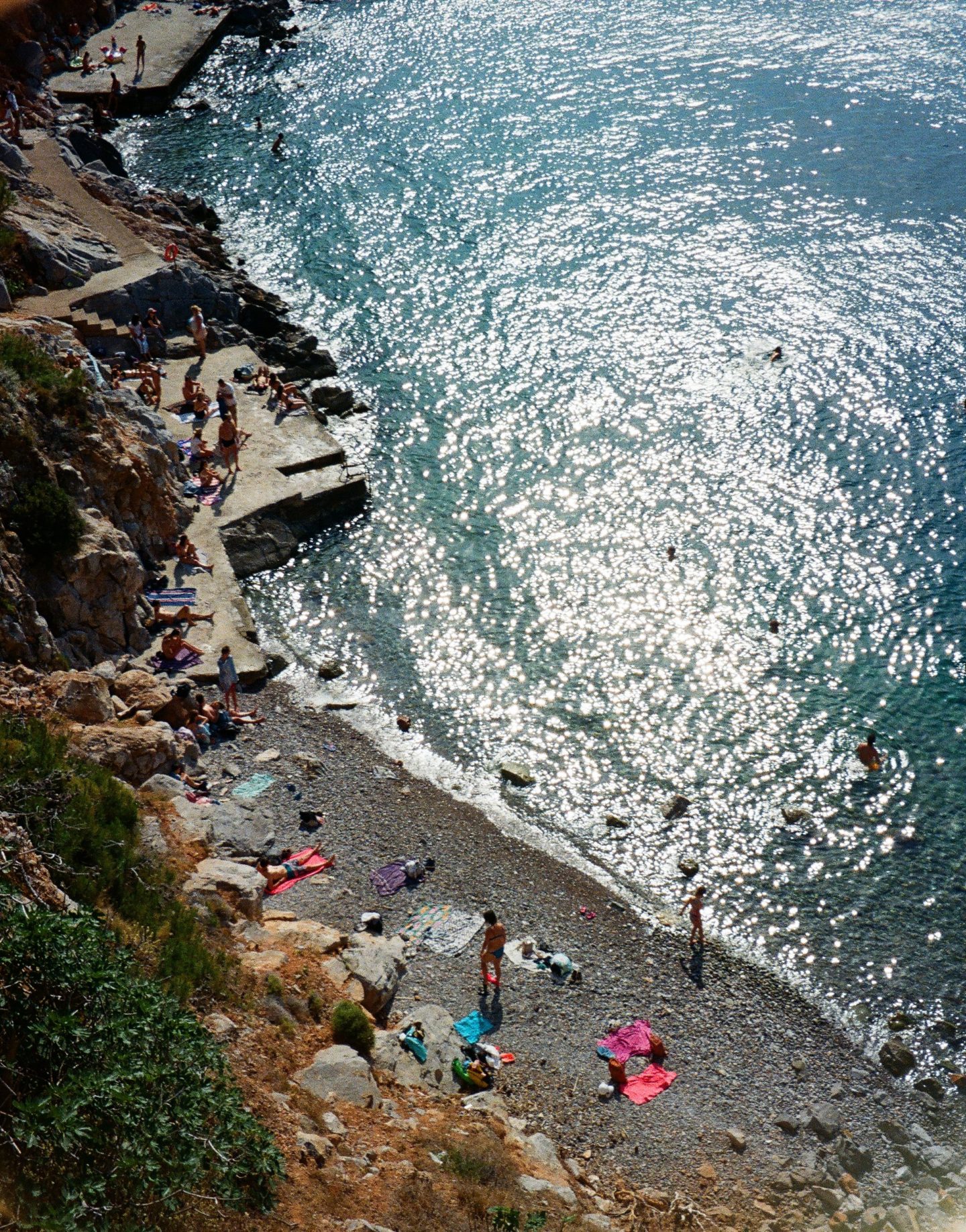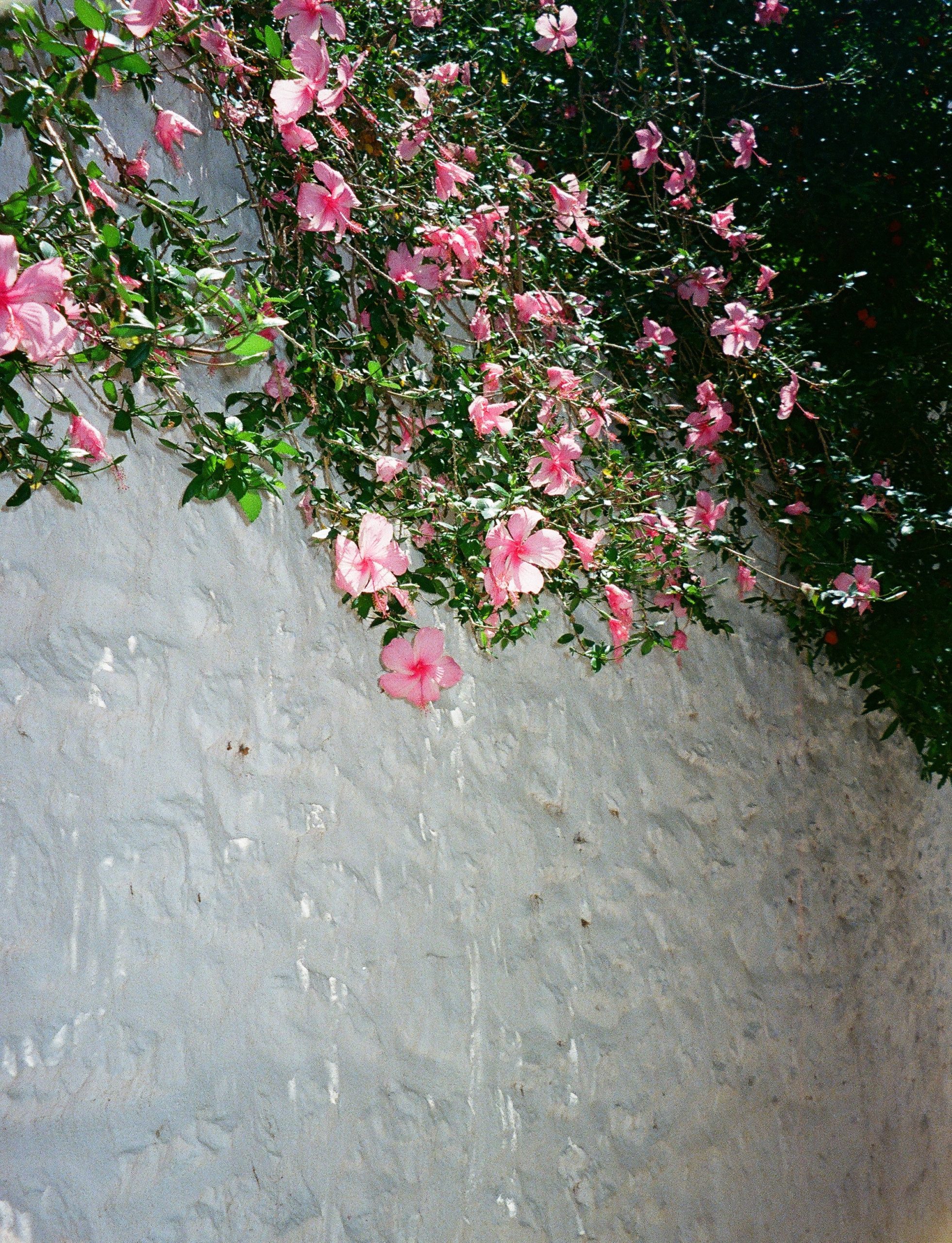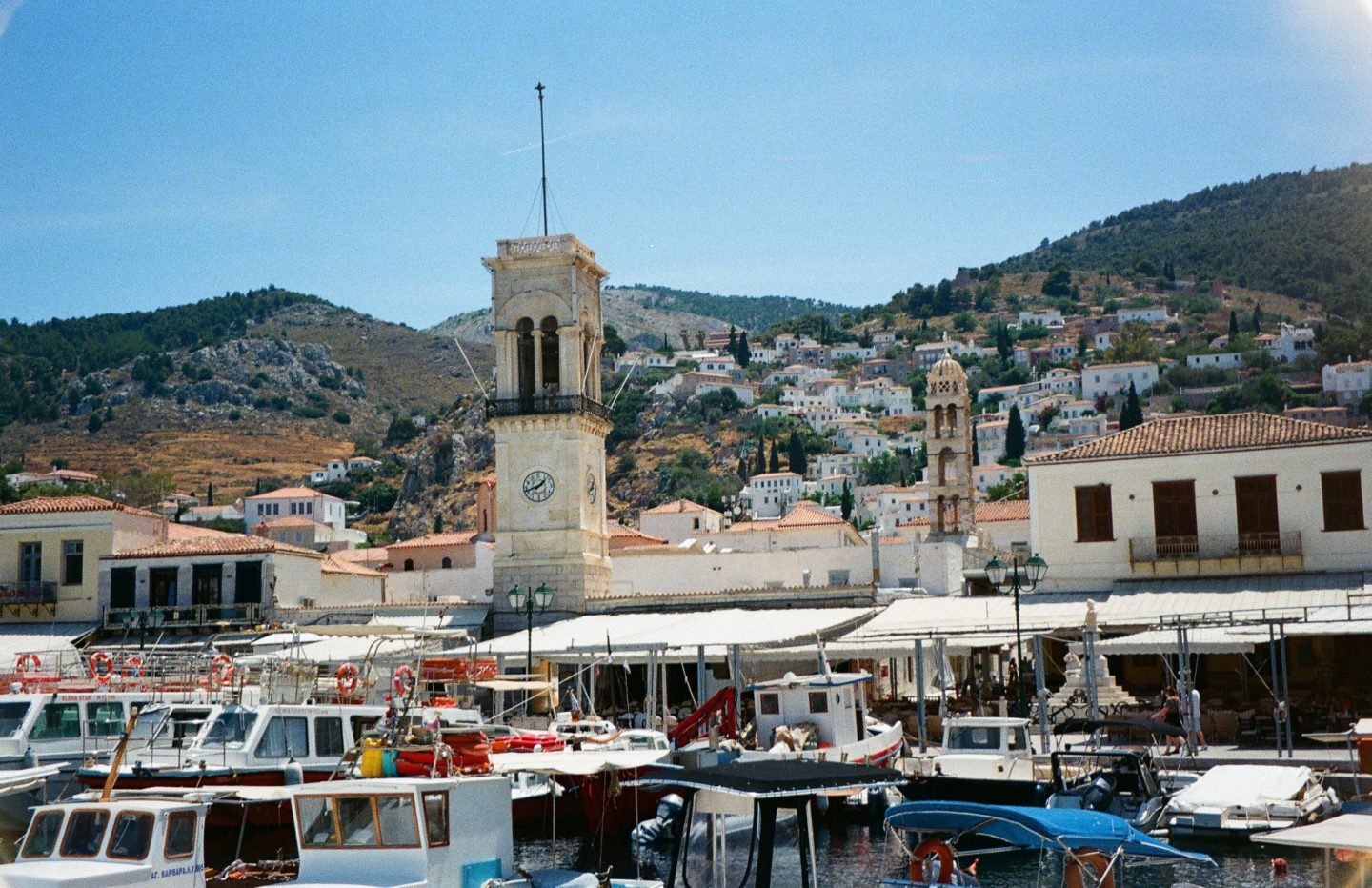 HOW TO VISIT HYDRA:
Fortunately, visiting Hydra is very easy. Part of the Saronic Islands and one of the closest to Athens, Hydra island is a short 1.15 hour ferry boat ride from the Athens port of Piraeus. While it's a perfect day trip from Athens, you'll wish you stayed longer. An island that truly beckons you to surrender to a slower pace of life.
TRAVEL GUIDE TO HYDRA ISLAND, GREECE
---
It's almost jarring how a short 1.15 hour ferry ride to Hydra immediately disconnects you from the chaos of Athens. Another world entirely, Hydra's lack of cars and motor vehicles blanket the beautiful island with a peace and quiet our generation has surely never experienced. Hydra town, otherwise known as the port of Hydra is one of the prettiest I've seen. Quaint and small and yet somehow manages to lack nothing at all. The clock tower sits tall and acts as a gathering place for locals and tourists alike; while jabber of foreign tongues, orders of ice cold freddo cappuccino, a Greek, Summer staple, buzz in the cafes.
I checked into Orloff hotel, a quaint boutique hotel with only 8 unique rooms. The hotel was built in the 18th century by Count Orloff of Russia on the remains of a convent, which they've managed to integrate flawlessly into their design. A lovely place to lay your head at night and perhaps the best scrambled eggs and coffee I've had. Freshly made by a smiley woman in the kitchen. You can't miss a stop at Rafalias Pharmacy, conveniently located right across the cobblestone street. An institution on Hydra and established a casual 131 years ago. Evangelos, the founder's grandson and pharmacist himself, has kept to tradition by preserving his mother's recipes for skincare and perfume. I scooped up an olive oil based face cream for hydration in a vintage pink bottle with blue lettering.
Hydra island is small. So small in fact, you start to see the same faces – wandering through Hydra harbor, at dinner and at Hydra's beaches, or even out for an evening stroll. Water taxis and donkeys have replaced the usual on-land transportation, while the easiest way to explore Hydra is by foot.
Check out my other blog posts on Greek islands travel guides here and here.
---
"Aesthetically it is perfect, the very epitome of that flawless anarchy which supersedes, because it includes and goes beyond, all the formal arrangements of the imagination. This purity, this wild and naked perfection of Hydra, is in great part due to the spirit of the men who once dominated the island."
Henry Miller, Colossus of Marousi
---
WHERE TO EAT IN HYDRA
---
Hydra's gastronomic scene fell nothing short of impressive. I had more restaurants on my list of where to eat in Hydra than days on the island. This handful stood out the most:
Téchnē: The epitome of effortless and chic dining that's an elevated take on Greek cuisine. Don't skip the dolmadakia, bite-size rice stuffed vine leaves with marinated anchovies and tomato jam over smoked yogurt. For fresh fish, order the sardine fillets. They were perfectly grilled and the tomato and caper dressing was a delightful finish. For meat lovers, order the kavourmas with poached egg and green olive hollandaise.
Castello (Kaminia Beach): Make a reservation to catch the sunset from their patio. Don't leave without trying the taramosalata creme, seared scallops and halva pudding with kaimaki ice cream.
Il Casta: Some of the best Italian on this side of the Adriatic. Il Casta is perfectly decorated with an ode to their Napolitani heritage. They have a small but tasteful menu using local and seasonal ingredients. Don't skip the mussels and clams in white wine and chili. Fresh goat cheese adds a tart creaminess to traditional cacio e pepe.
Flora's Pastry Shop (Hydra's Port): the vintage interior, full with orange tablecloths and turquoise painted walls; Flora's pastry shop is known for their use of goat's milk in their desserts. From homemade rizogalo, rice pudding, honey doused galaktobouriko or goat milk ice cream.
Fournos Bakery To Staxi (Hydra Port): hidden on a small alleyway off the port, you can't miss it's bright green façade or smell of warm bread. Pick up a freshly baked koulouri or tiropita to eat while exploring the island.
Kodylenia: Overlooking Kaminia Beach, Kodylenia's view of the sea and fresh seafood makes it an easy and chic choice for lunch. Opt for their tomato caper salad, tirokafteri, a spicy whipped feta and the fresh fish of the day.
Tsagari Confectioners (Hydra Port): A great place to pick up a quick souvenir. Tsagari has been making amygdalota, a Greek marzipan since 1930. The texture is perfect and the taste of blossom water elevates the simple, sweet treat.
---
YOUR TRAVEL GUIDE TO HYDRA ISLAND GREECE
---
LOCATION: Part of the Saronic Islands, sitting on the Saronic Gulf and one of the closest to Athens, Hydra is a short 1.15 hour ferry boat ride from the Athens port of Piraeus. Perfect for a day trip from Athens, even though I would recommend dedicating a full weekend to explore Hydra.
VIBE: The island of Hydra attracts an international crowd compared to some of the other, smaller Greek islands. And while it is small itself, Hydra island is effortless, chic and blissfully peaceful. A breath of fresh air.
EAT: Techne for an elevated take on Greek cuisine. Order the dolmadakia and the perfectly grilled sardine fillets with tomato and caper dressing. For a more romantic evening, head to Castello to catch the sunset from their patio. Don't leave without trying the halva pudding with kaimaki ice cream. If you've tired of Greek food, head to Il Casta for some of the best Italian on this side of the Adriatic.
STAY: For ultimate luxury, stay at Hydrea Hospitality right on the port or for absolutely privacy, stay at the tastefully decorated and luxurious Orloff Boutique Hotel. Conveniently located near the port and incredibly charming. The Bratsera happens to be a restored sponge factory that also happens to have a pool. For an economicly friendly option with one of the best views of the port on Hydra, stay at charming Delfini hotel.
Tips: Water taxis make up for the lack of transportation on the island. Use them to quickly jump between the smaller ports and villages. If you're in need of some armchair travel, pick up a copy of Theatre for Dreamers by Polly Samson to instantly transport to Hydra island.
Let's keep in touch! Bloglovin / Instagram / Twitter / Facebook / Pinterest