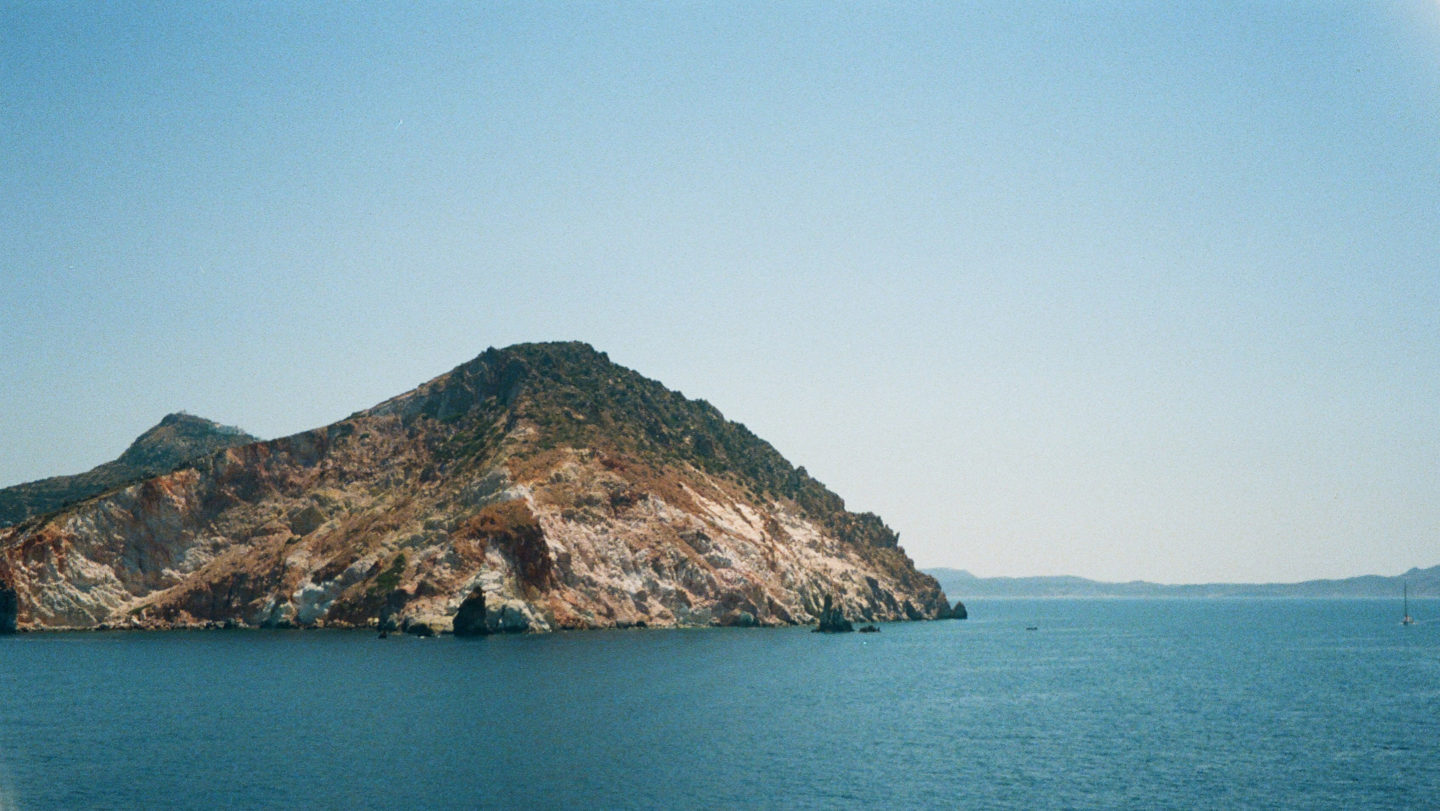 WITH OVER 70 BEACHES ON MILOS ISLAND, MOST ACCESSIBLE ONLY BY BOAT, IT'S NO DOUBT THAT THIS CYCLADIC ISLAND THAT SITS IN THE AEGEAN SEA HAS BECOME A FAVORITE DESTINATION. THE EXPERIENCE OF FINDING A BEACH IS A DISCOVERY ALL ITS OWN. I'VE ROUNDED UP A GUIDE TO THE BEST BEACHES ON MILOS FOCUSING ON MY TOP 7 – SOME WORTHY OF A QUICK PHOTO-OP AND OTHERS OF DAYS SOAKING UP THE SUN FROM THEIR TURQUOISE WATERS.
On my recent trip to the Cyclades, I went island hopping to Serifos, Sifnos and Milos, Greece. Each island was uniquely different, but Milos truly had some of the best beaches I've experienced in the Greek islands. While Milos has become more touristy in the past several years, you can still find its authentic charm if you know where to look. I highly suggest booking a day trip to under-the-radar, neighboring Kimolos for it's white sand beach, or design your trip to include day cruises to Kleftiko Beach, a sea cave akin to the Blue Grotto. Beaches in Milos, Greece are among the most popular beaches in the Greek Islands and rightfully so. From Firiplaka beach, my favorite beach, for its shallow, turquoise waters to other-worldly Sarakiniko beach for it's moon-like rock formations, there is something for everyone. I've rounded up my top 7 beaches on Milos and you can also check out my Milos Travel Guide here.
---
FIRIPLAKA BEACH
---
Firiplaka is hands down my favorite beach on the island of Milos, and I hate to pick favorites. This was one of the friendlier beaches to get to and enjoy. There is a small cantina on site that serves dishes and refreshments, parking is fairly easy and straightforward and overall it's an organized beach.
It also happens to have some of the best waters I experienced on Milos. Crystal turquoise, shallow waters with a nice sandy beach and incredibly comfortable day beds. I have no shame admitting I spent the entire day at Firiplaka and wish we had a few extra days to rest and relax here.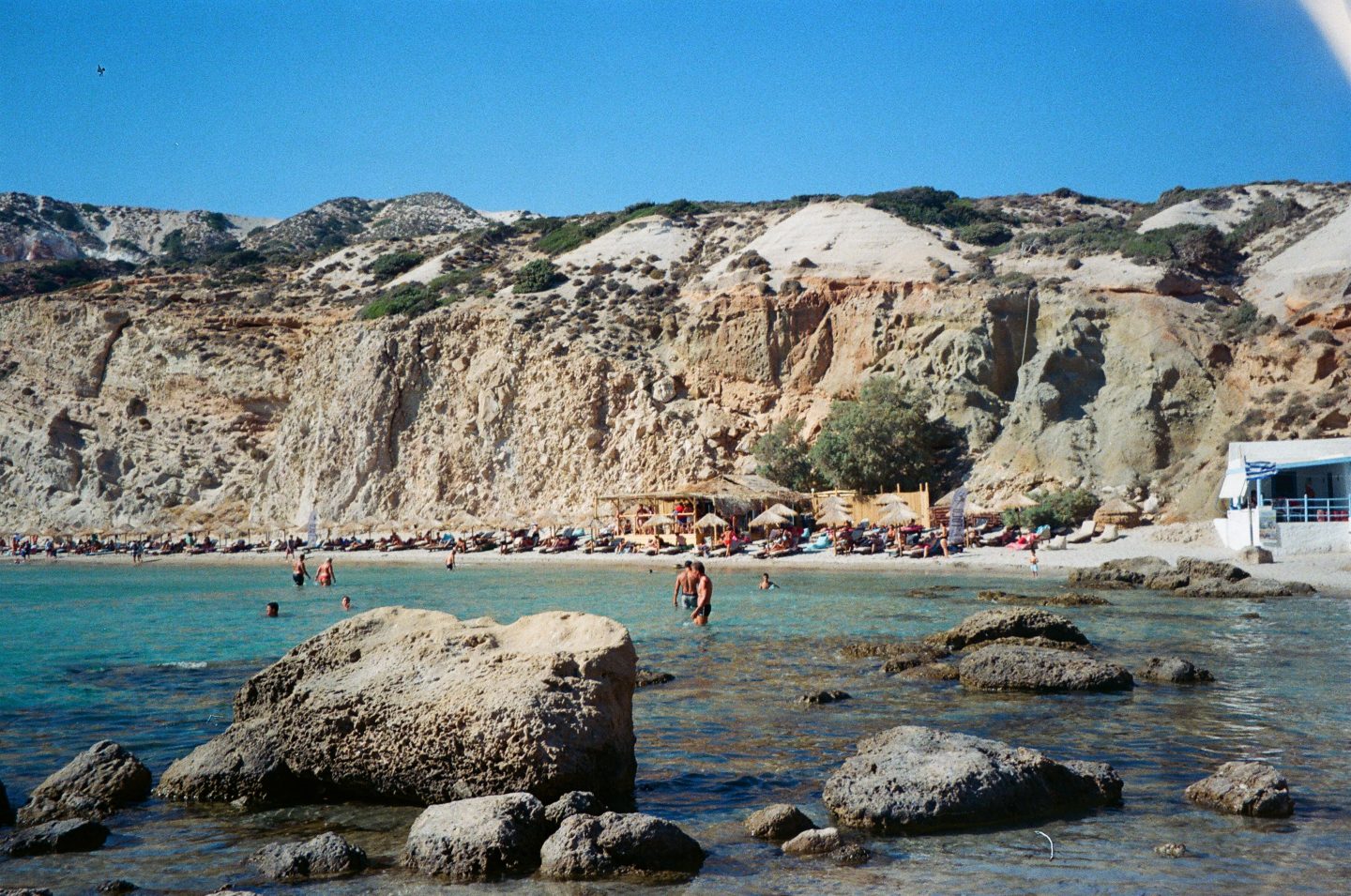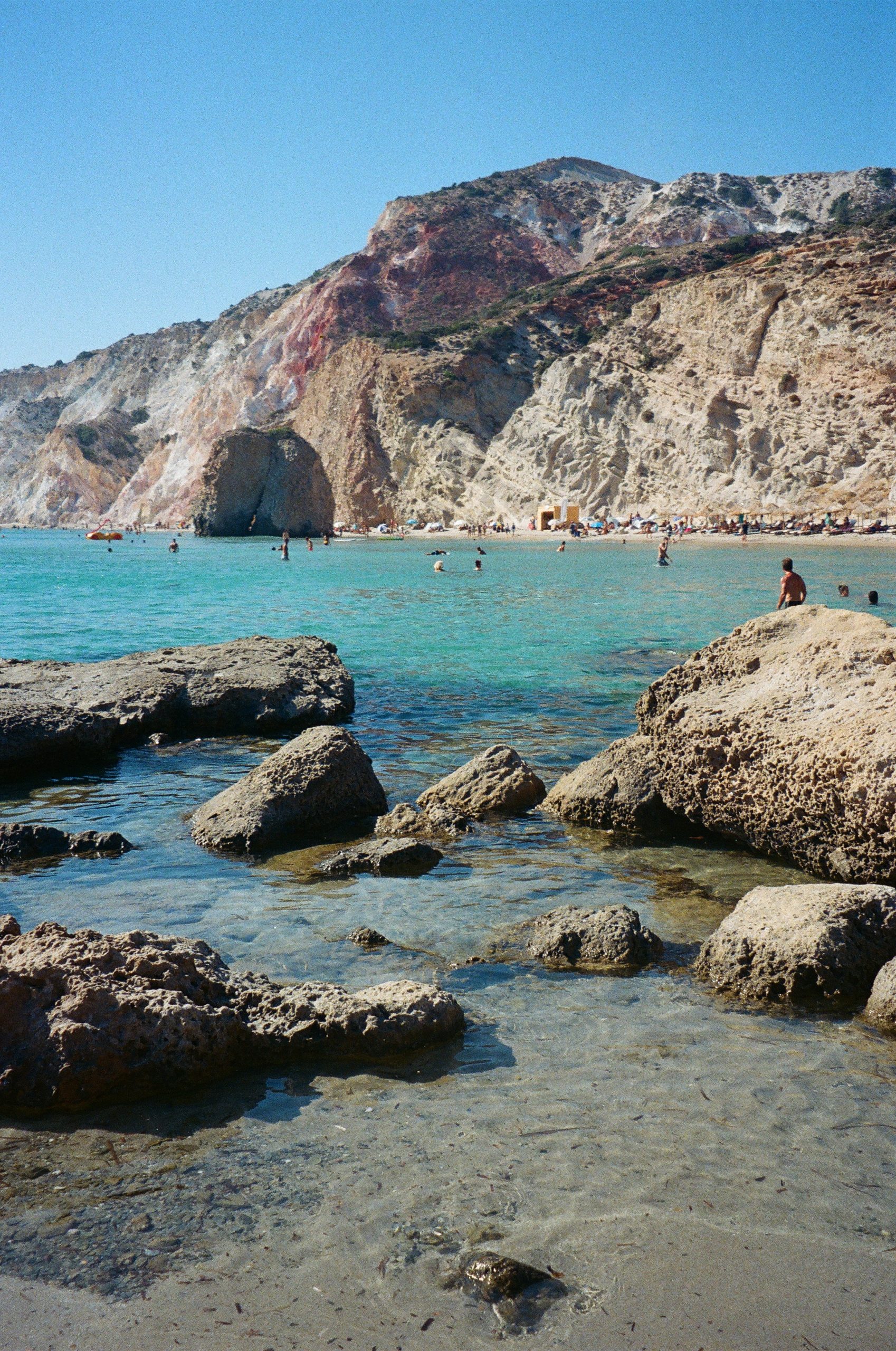 ---
SARAKINIKO BEACH
---
Visiting the other-worldly, Sarakiniko beach is a right of passage when in Milos. With its moon like rock formations made from volcanic rock that fall into the deep, blue Aegean Sea, it's a must see. I recommend heading out early to escape the crowds. 
I should mention that Sarakiniko beach is not the ideal place for swimming as the beach is actually quite small. However, that shouldn't stop you from laying out your beach towel and catching some rays.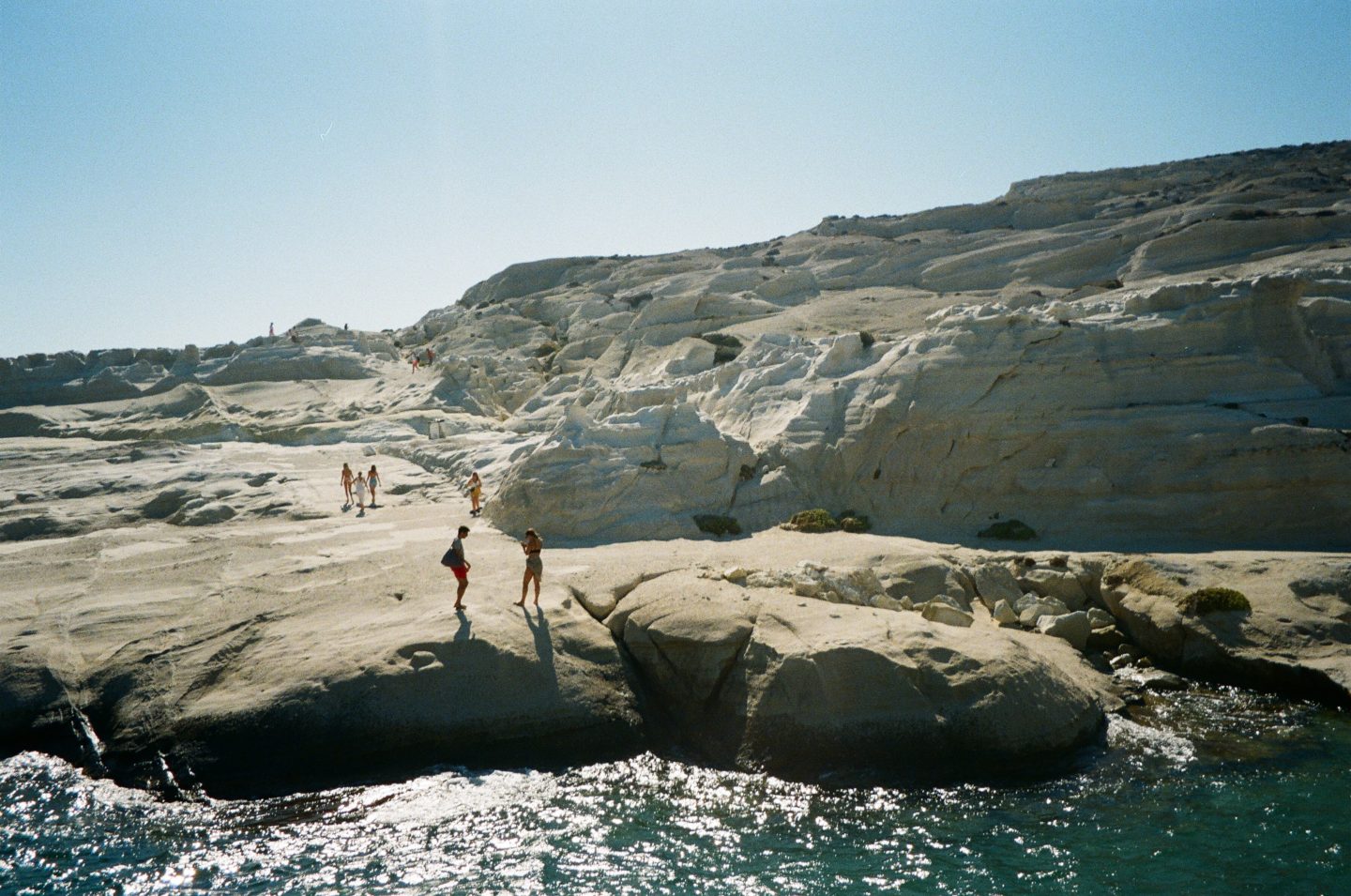 ---
AGIOS GEORGIOS, KIMOLOS ISLAND
---
While not technically considered the beaches of Milos, it's an absolute must in my book. A 20 minute ferry ride to neighboring Kimolos offers a more relaxed and boho vibe. The in-the-know crowd will head to Prassa (Agios Georgiou) beach with white rocks jutting out of the turquoise waters. You'll catch glimpses of yachts anchoring off the shores.
Before you had back to Milos, make a stop at To Kyma. This local taverna, with tables in the sand, has served big-name celebrities and locals alike. A true gastronomical surprise in the port of Kimolos with an unexpectedly large and modern menu.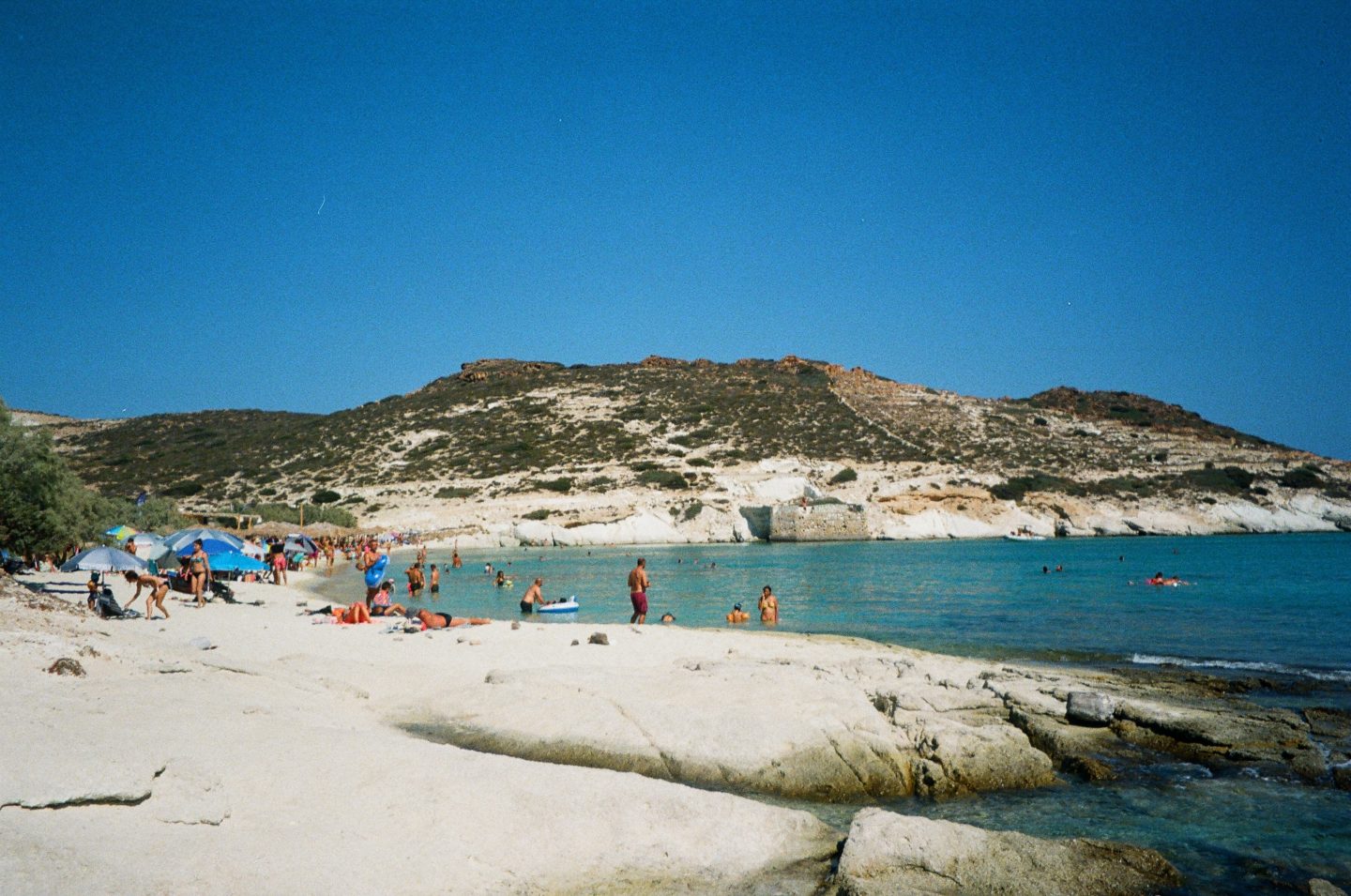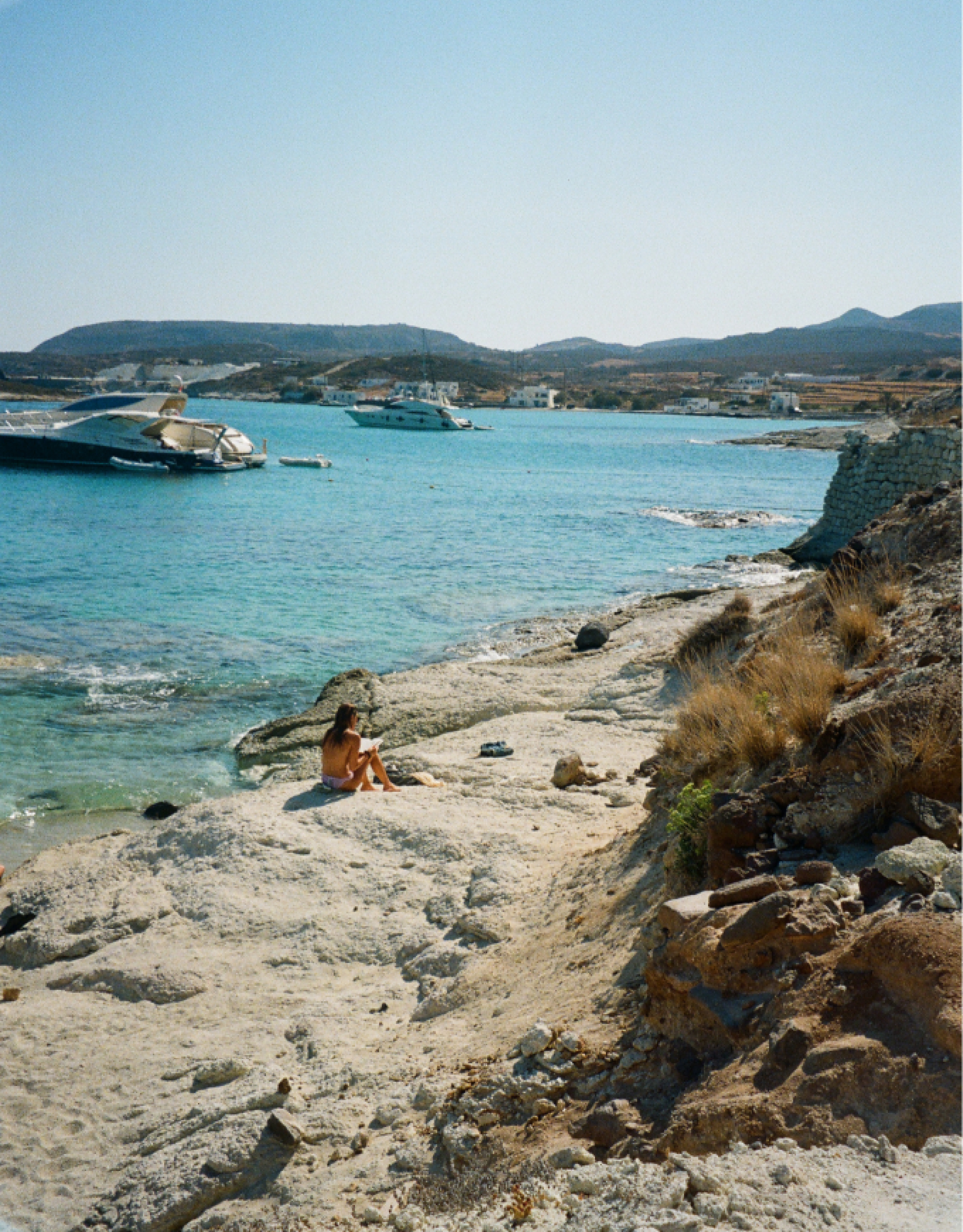 ---
FIROPOTAMOS BEACH
---
If you're looking for a more authentic experience, I recommend heading to Firopotamos Beach. Surrounded by fisherman homes steps away from the water, the rocky beach is on the smaller side but still has a cantina offering snacks and drinks.
You can also visit Mandrakia Beach along with Klima which also have the authentic fisherman houses. I would suggest heading to Klima to watch the sunset and grab dinner next door at Astakas, known for their lobster pasta and seaside dining tables.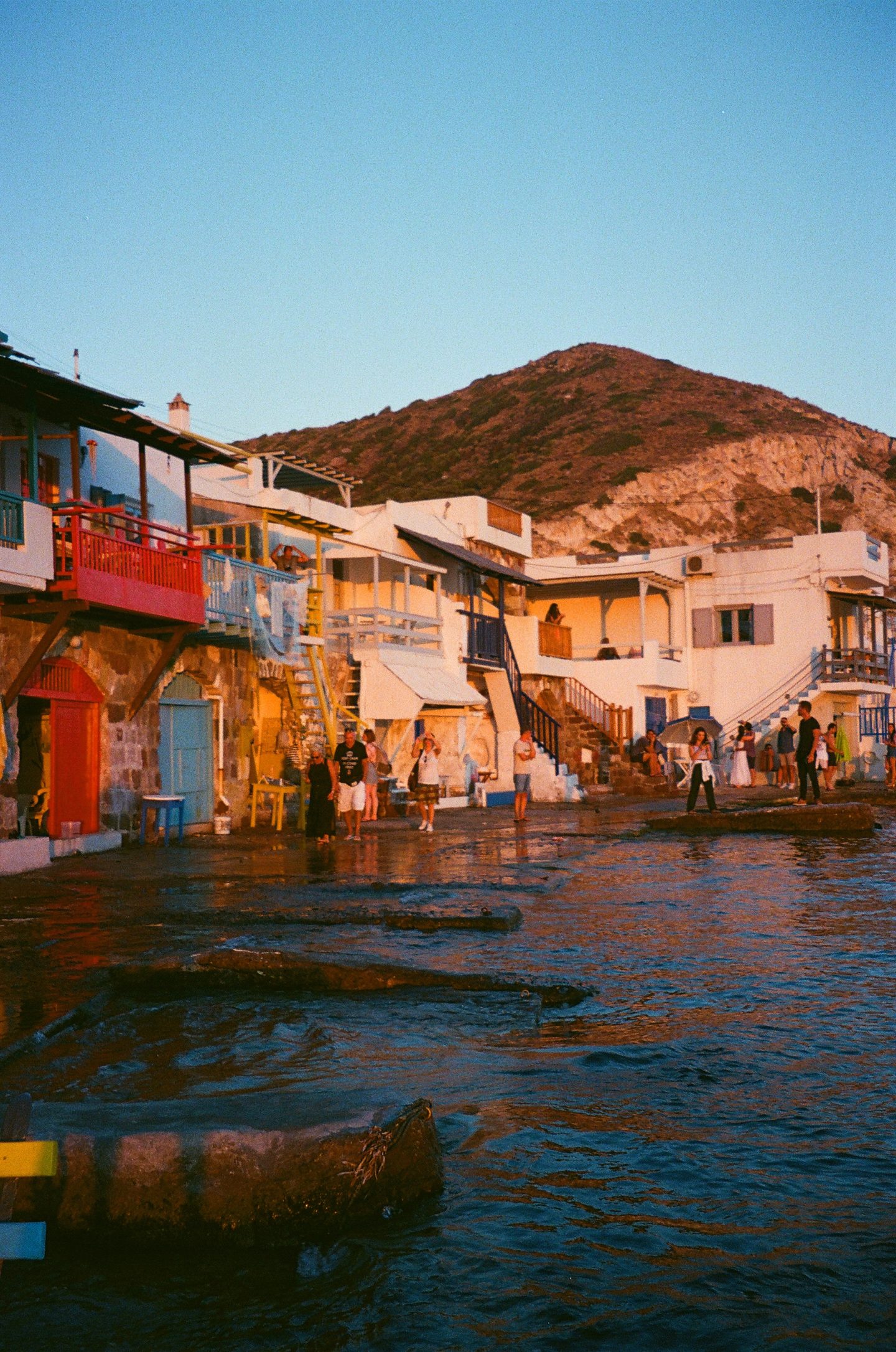 ---
PALEOCHORI BEACH
---
Paliochori beach has unusually warm, turquoise waters that are heated by the volcanic hot springs below. The water is crystal clear but has a quick drop off so I would not recommend it for small children or non-experienced swimmers. The beach itself is sandy but the entrance into the water has pebbles, like most beaches in Greece. It's worth packing a pair of water shoes to have on hand when discovering Greek beaches. Easy access, sunbeds for rent and a few excellent, seaside volcanic rock restaurants like Sirocco make Paliochori beach a convenient choice.
When you've worked up an appetite, I recommend dining at Sirocco Volcanic All Day Restaurant where the food is cooked at high heat in a volcanic oven in the sand.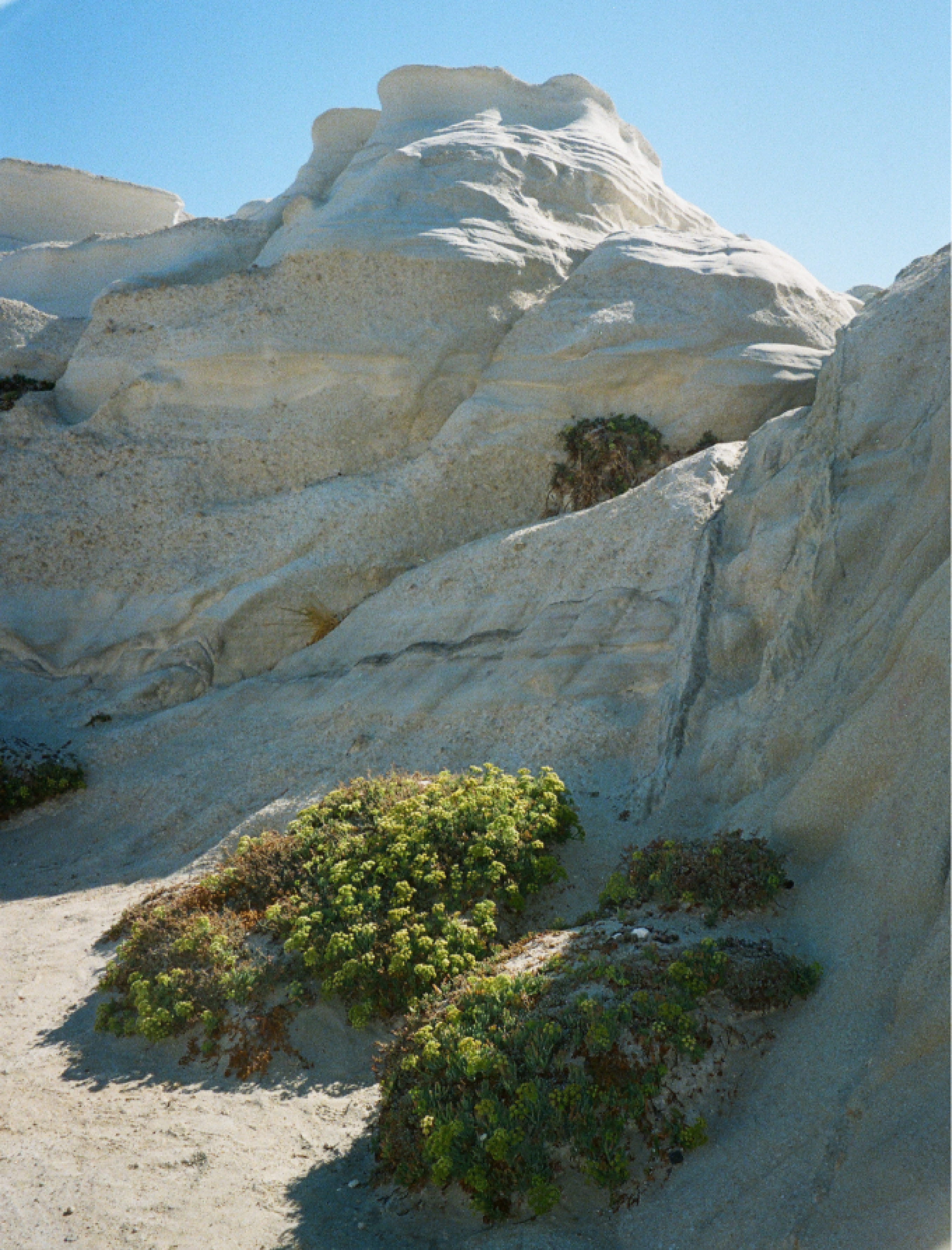 ---
TSIGRADO BEACH
---
If you're looking for adventure then Tsigrado beach is for you. We're talking ladders and ropes to get down a steep bath to this hidden and secluded beach. You'll be rewarded with some of the most beautiful turquoise waters and sandy cove with caves you can explore. I recommend getting there early as the beach itself is quite small and can fill up quickly.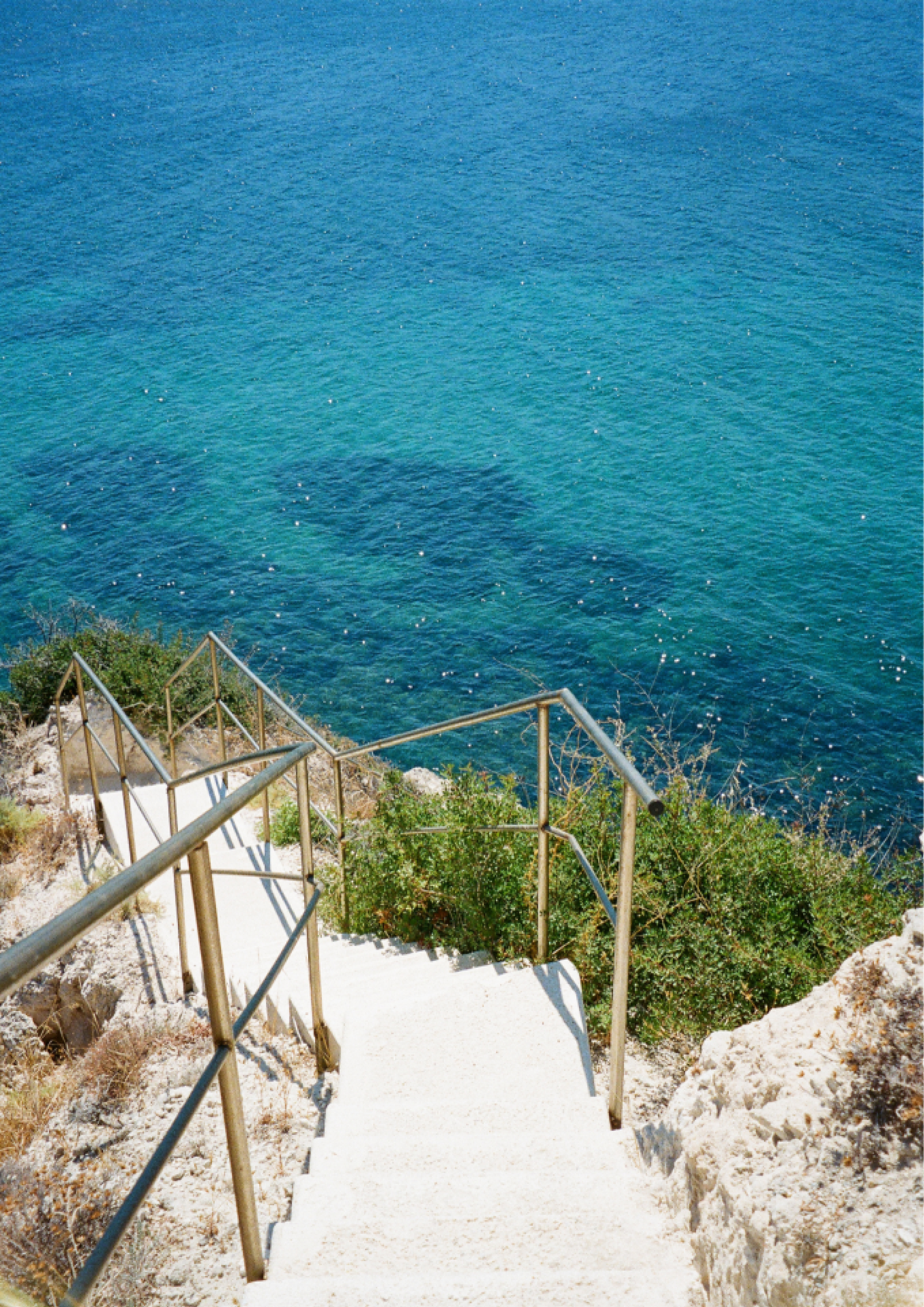 ---
PAPAFRAGAS BEACH
---
Papafragas is considered to be one of the most unique beaches of Milos and rightfully so. The small and sandy cove is beautiful and secluded but also a commitment to reach. You can also explore the beautiful Papafragas caves while there. Unfortunately, my attempt to reach the beach of Papafragas was unsuccessful on my last trip to Milos due to the August meltemia winds.
While I wouldn't spend my entire day at Papafragas, it's conveniently located on the way to Sarakiniko Beach and both can be visited in the same day if you're short on time.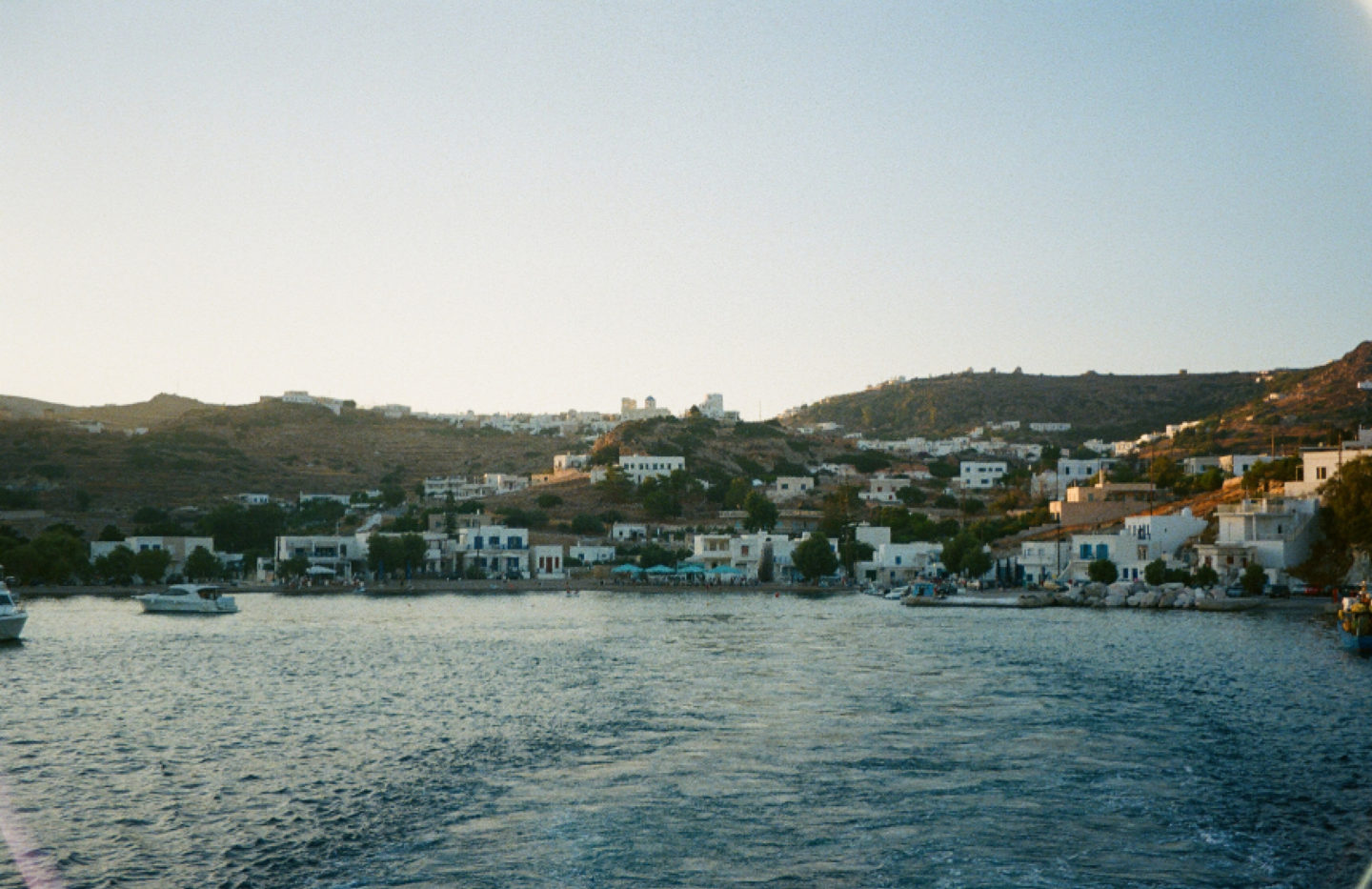 For a more in-depth guide to Milos, check it out here and for my other Greek posts, here and here
Let's keep in touch! Bloglovin / Instagram / Twitter / Facebook / Pinterest