About NoMad Luxuries
More than a blog, NoMad Luxuries is an aesthetic and lifestyle that encourages you to enjoy in the luxuries of everyday life. The goal of NoMad Luxuries is to continue to inspire readers through travel, interior décor, style and food, all while maintaining a global perspective. A "virtual passport" written with whit and creativity to inspire.
The concept behind NoMad Luxuries has been undeniably inspired by the beauty of far flung destinations, local life and the hunger for different cultures and the pursuit of the unknown, while living a well-curated life.
Welcome!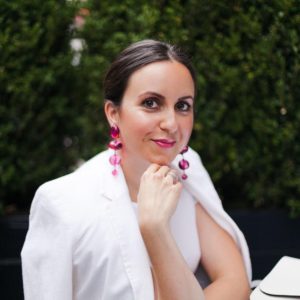 Meet Yana
Yana Frigelis is the founder behind the lifestyle blog, NoMad Luxuries as well as a freelance travel writer for various publications like Departures, AFAR and YOLO Journal. As an avid traveler, Yana has shared tea with bedouins in Petra, camped in the desert in Morocco and harvested olives in the Greek countryside. It's her passion for travel, meeting new people and sharing hidden gems that brought her to the next chapter of her career. She recently moved to Athens, Greece where she is focusing her attention on the hospitality and tourism industry. She plans to launch The NoMad Edit later this year – an online shop of found treasures, recipes and itineraries along with travel resources and female-led groups. Mediterranean-centric with a global approach. Stay tuned.
nomadluxuries@gmail.com