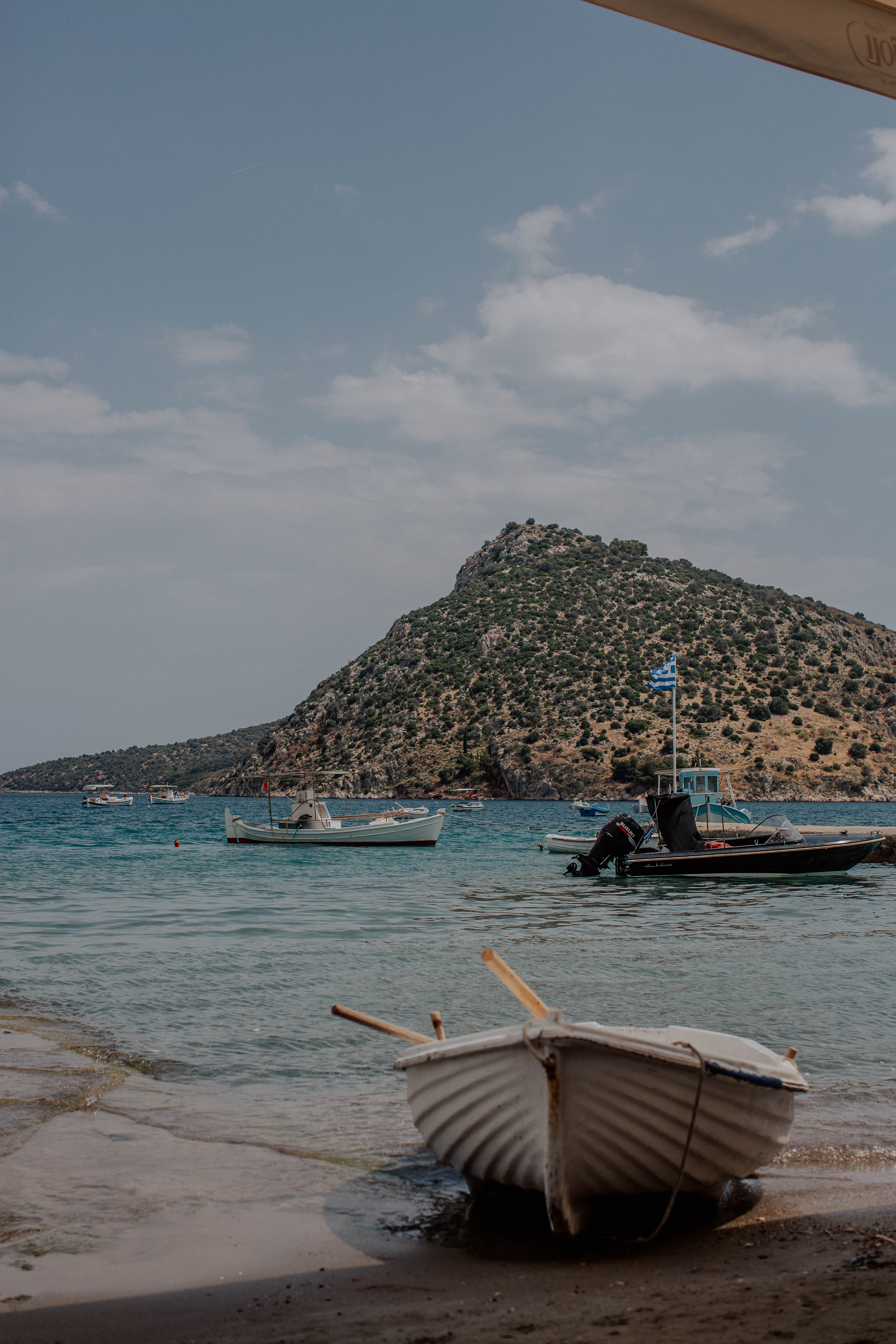 On my travels, I always make a point of hunting out boutiques, flea markets and niche brands that I can't find back home. Here, is where I buy my souvenirs. Now, don't misunderstand, I shop regularly at Zara, Mango and the like but mass brands have never truly appealed to me…they are too readily available. There is something in the hunt of discovering a new designer/boutique/brand that gets me excited about adding a piece to my wardrobe or home. Perhaps, that's simply the adventurer in me.
So, I've decided to start a new series on NoMad Luxuries called, Designer Spotlight. As far as frequency, part of this series is the natural discovery of brands, but ideally I would like this to be a monthly occurrence. More so, this series will allow you to get to know the brand better through a series of interview questions! How they got started, where their inspiration stems from, what style means to them, etc.
To kick off the
Designer Spotlight
this month, I'm featuring
Aitch Aitch
, a brand I have quickly become fond of. Not only for their beautiful designs but also for their ethos and what they stand for. Have a read….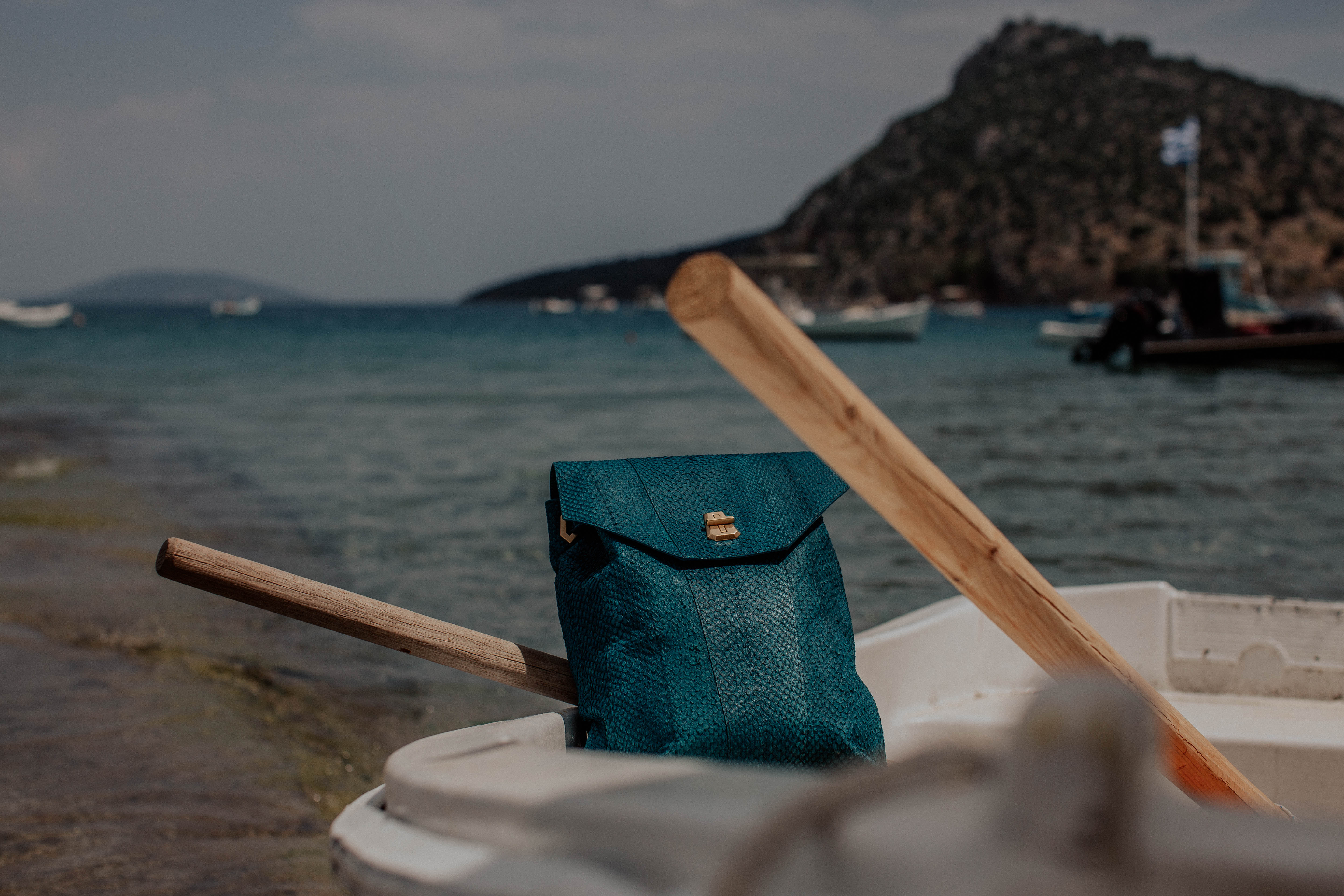 DESIGNER SPOTLIGHT | AITCH AITCH
1.Tell me the story behind Aitch Aitch. How did it come about?
Aitch Aitch really first started with the material— I found salmon skin leather (yes, the fish) while traveling in Iceland, that was where I really came up with this idea of starting my brand. The Icelandic people and other communities in the far North of Europe used fish skins as leathers for thousands of years, however, it's a relatively new concept for the current fashion industry.  My background is in sustainable luxury fashion, and the fact that this material is a by-product of the fishing industry, and the beautiful texture of the material made it a no-brainer for me to develop into a collection.
The material and construction were both equally important— salmon skin as a material is very durable, more so than bovine/traditional leathers, and ages so beautifully, unlike traditional exotic skins.  Paired with heirloom quality craftsmanship, the pieces stand the test of time and travel.  After doing an apprenticeship with a master craftswomen from Hermes, I found a manufacturer in Europe that uses the same quality craftsmanship as the traditional leather houses to develop my designs with.  I launched the brand in March 2017, and have been developing it ever since!
2. How has travel influenced your designs?
 I love to travel, I think it's what really feeds your soul and opens your mind up to new and different ways of life, and I wanted the pieces in my collection to be able to travel with me. Travel was actually the reason I created this collection.  I always found myself either using very utilitarian bags when I traveled, or throw away pieces that got completely wrecked on a trip, but looked really cute.  I wanted to find the subtle balance of these two— the material is a sustainable exotic, it looks like an exotic but ages beautifully with little to no upkeep.  Pairing this with the heirloom quality craftsmanship, they're pretty indestructible, but also beautiful and elevates your travel style in a way I haven't been able to find before now.
3. Aitch Aitch muse?
Well, the Aitch Aitch woman is strong, passionate, adventurous, and lives a full life. She appreciates quality and beauty that she finds in her surroundings.    It's hard to pinpoint a person who is the Aitch Aitch muse, because I truly believe women today are doing so many incredible things— we are each strong, passionate, and adventurous, in our own ways.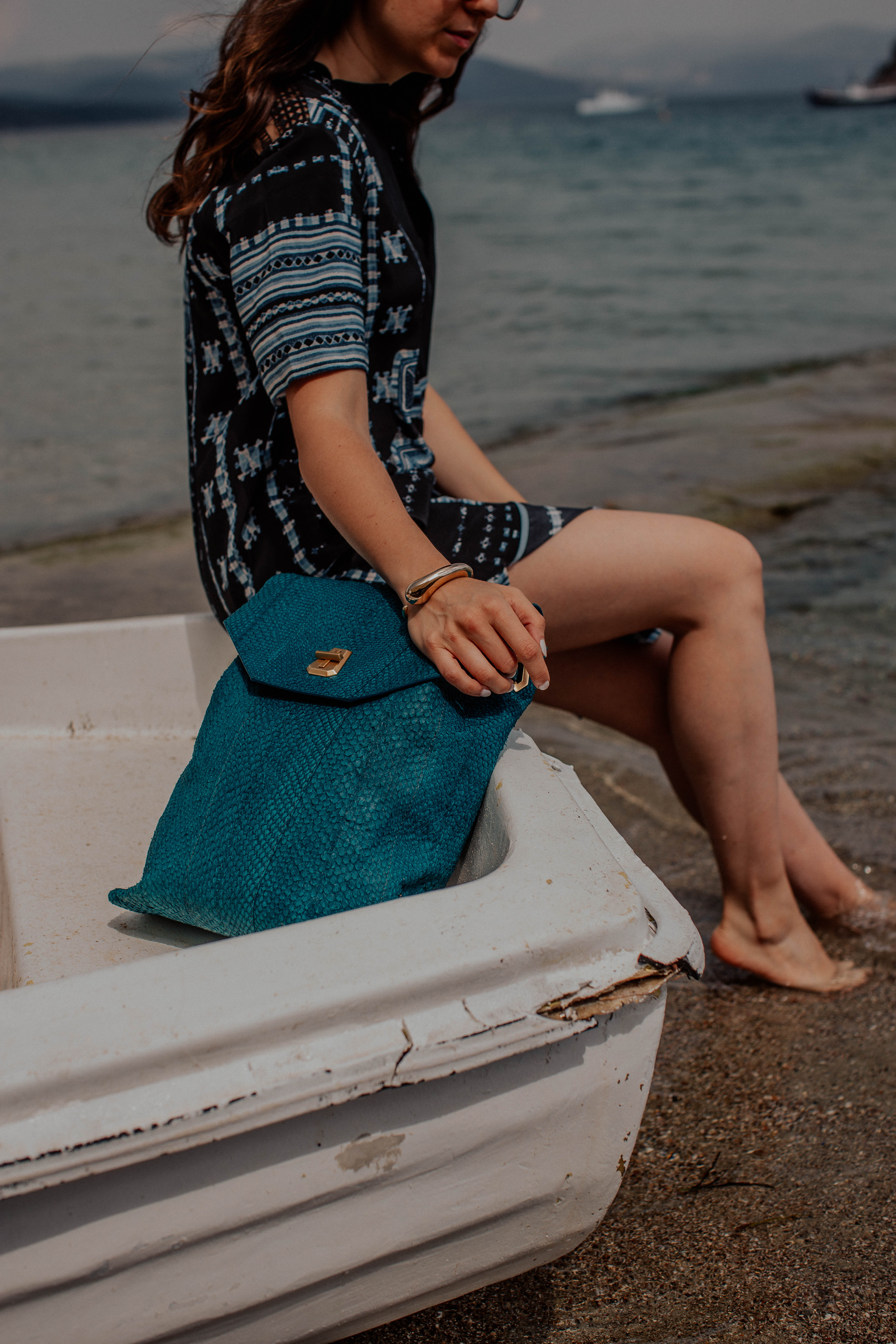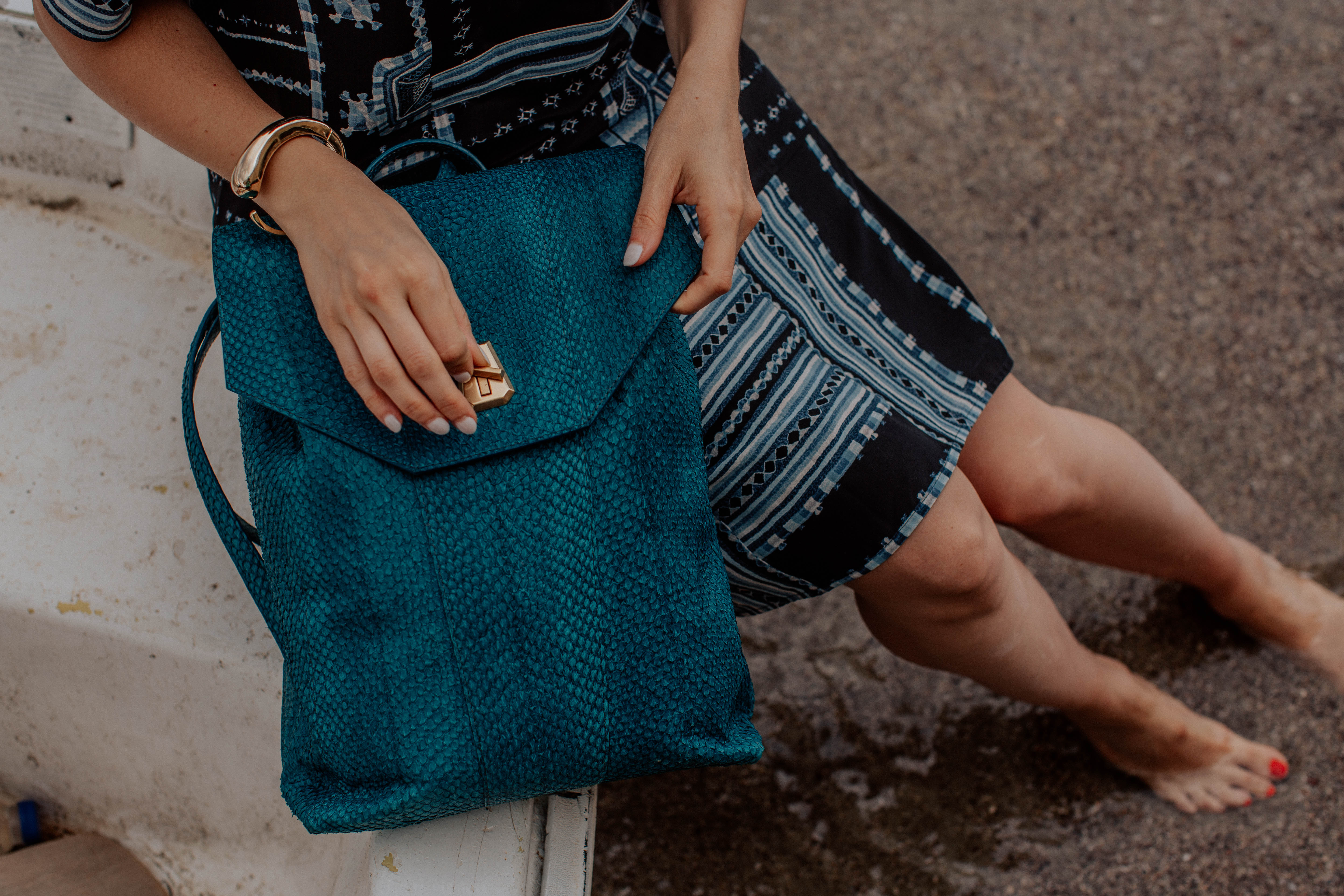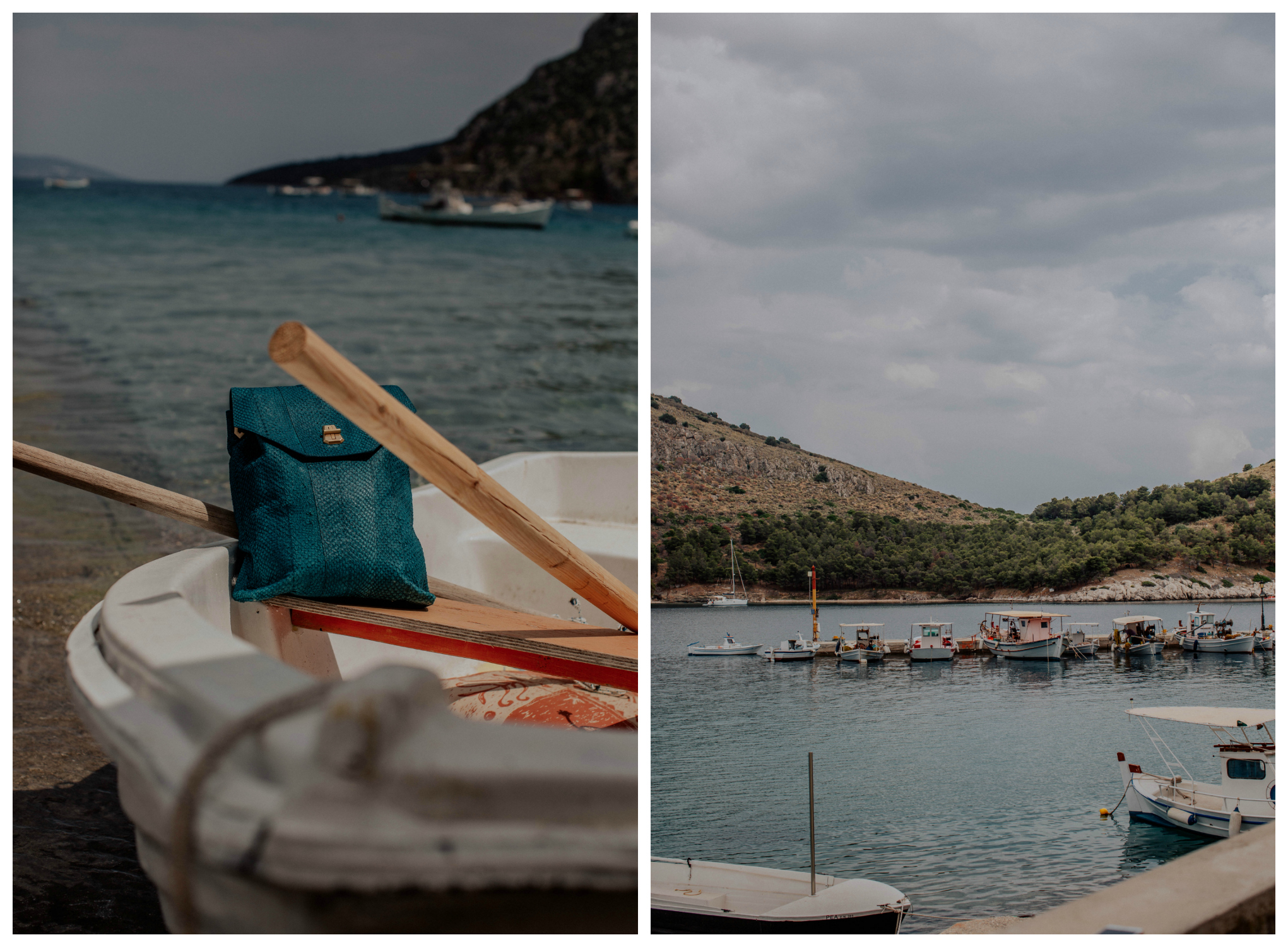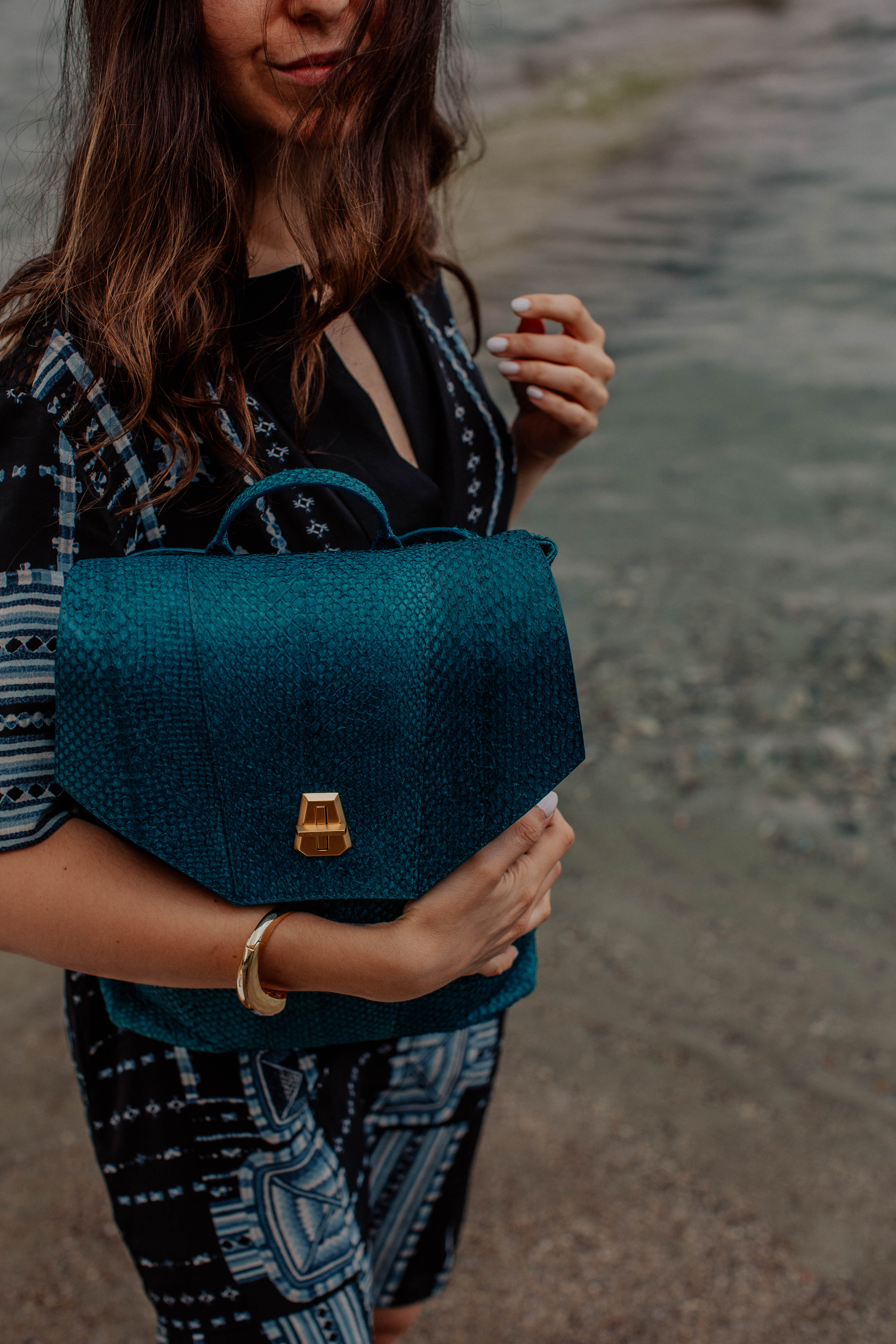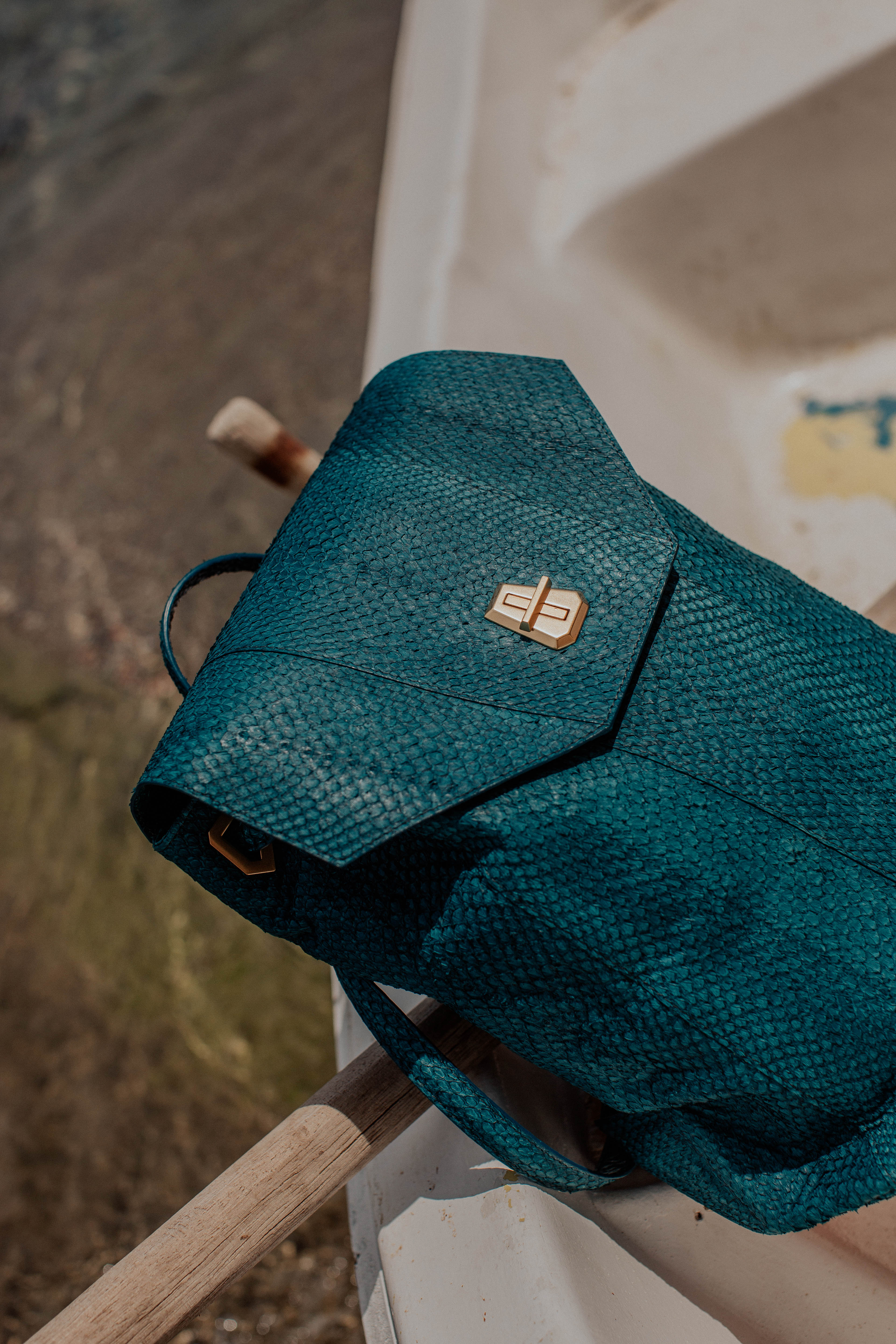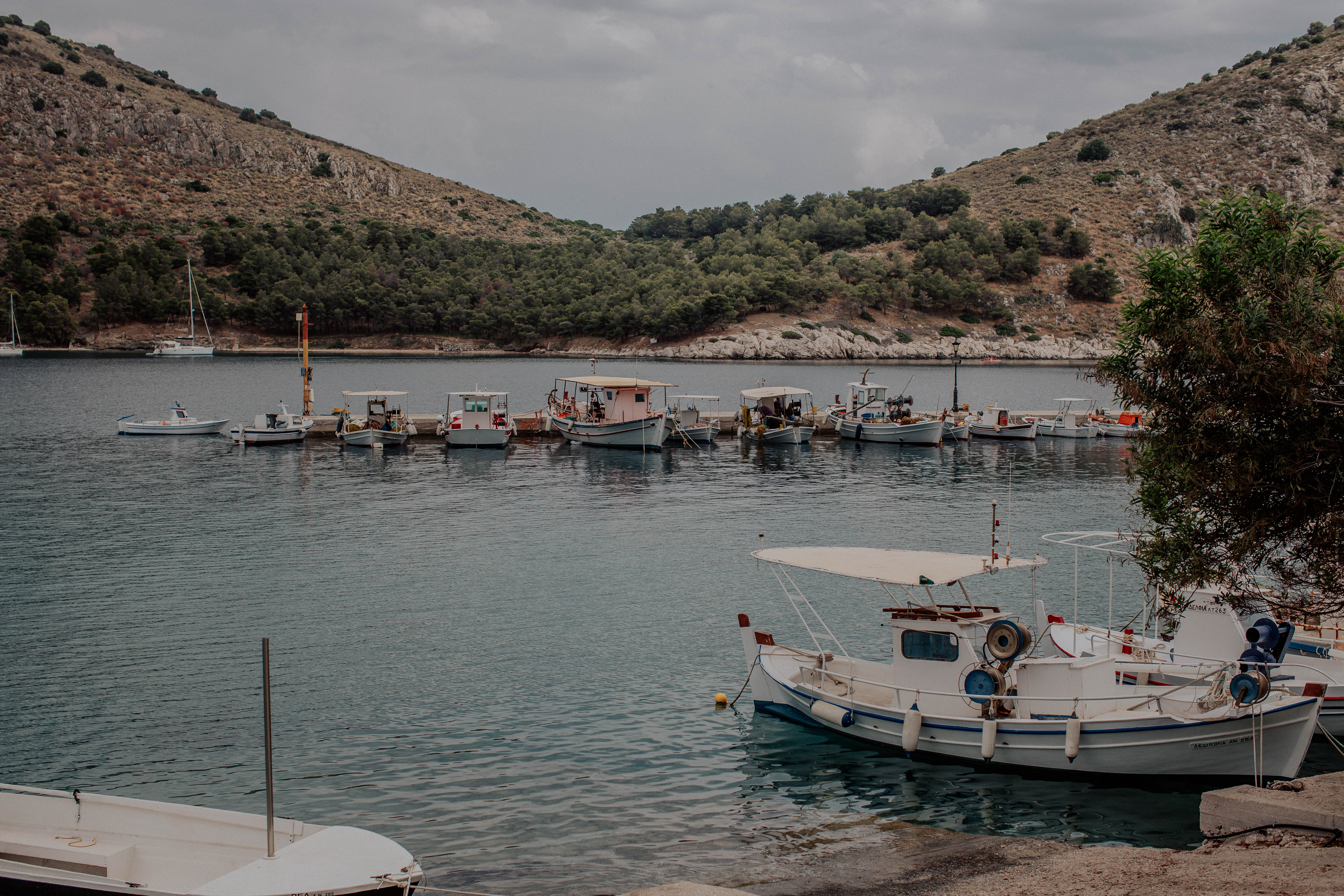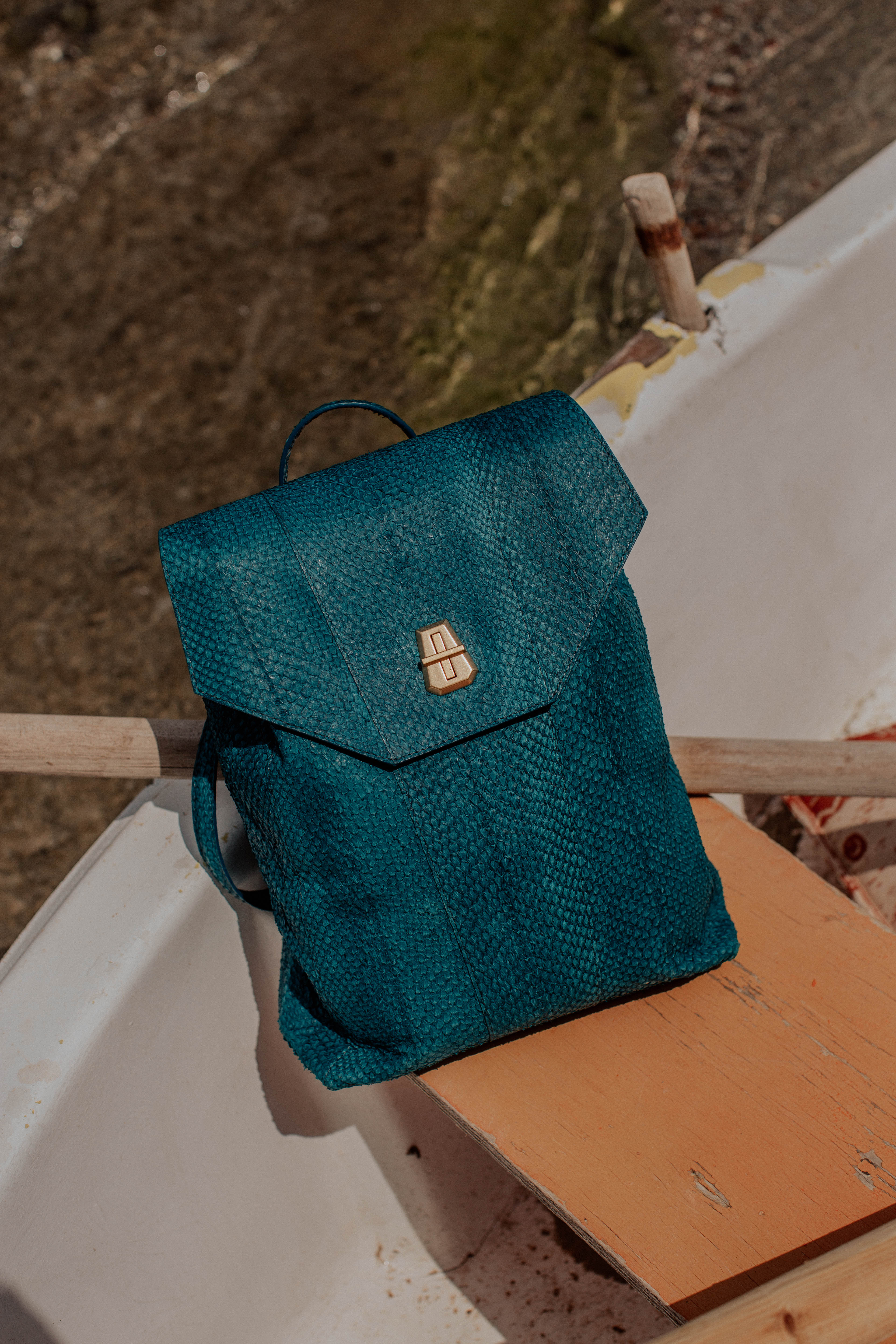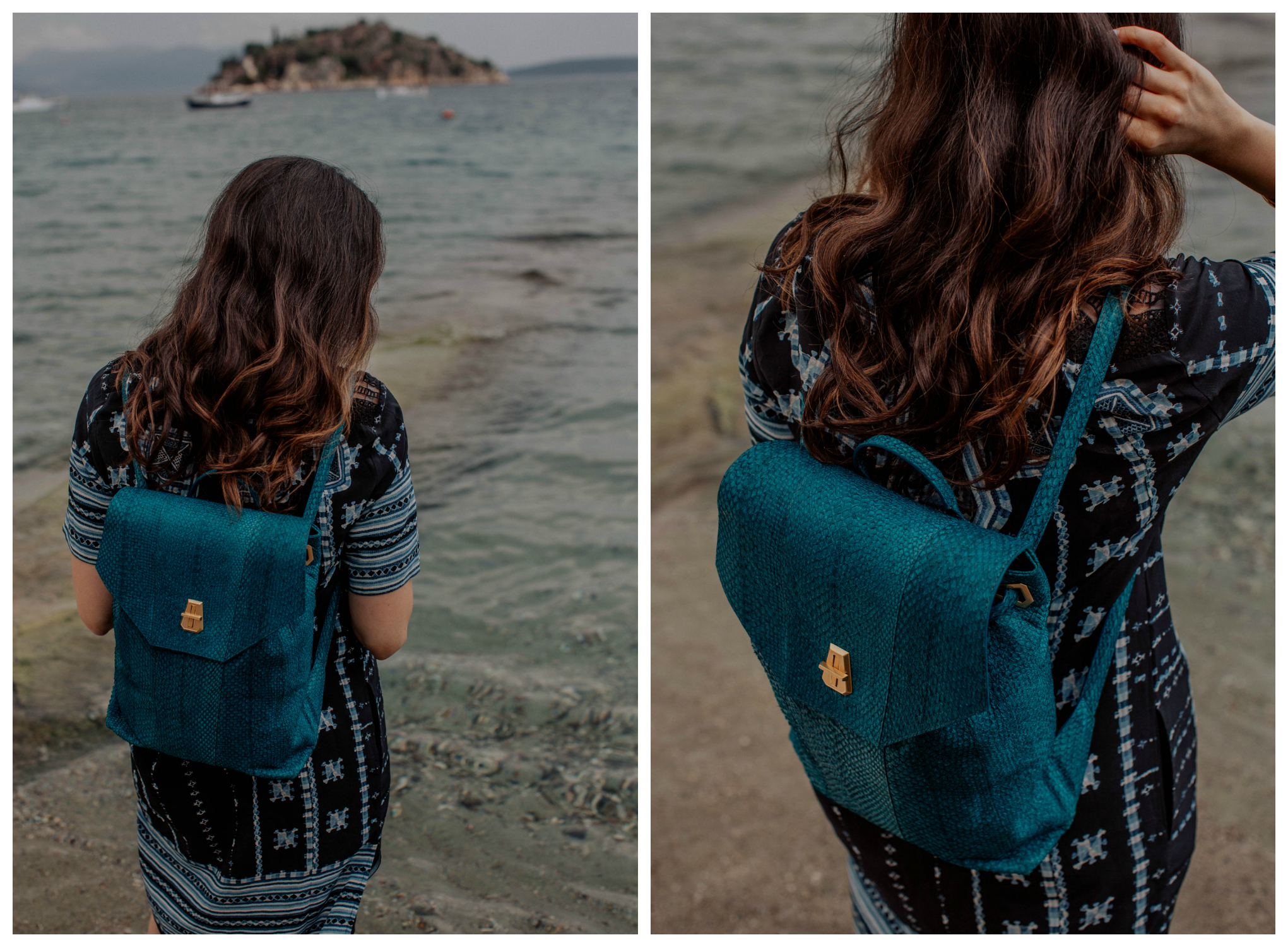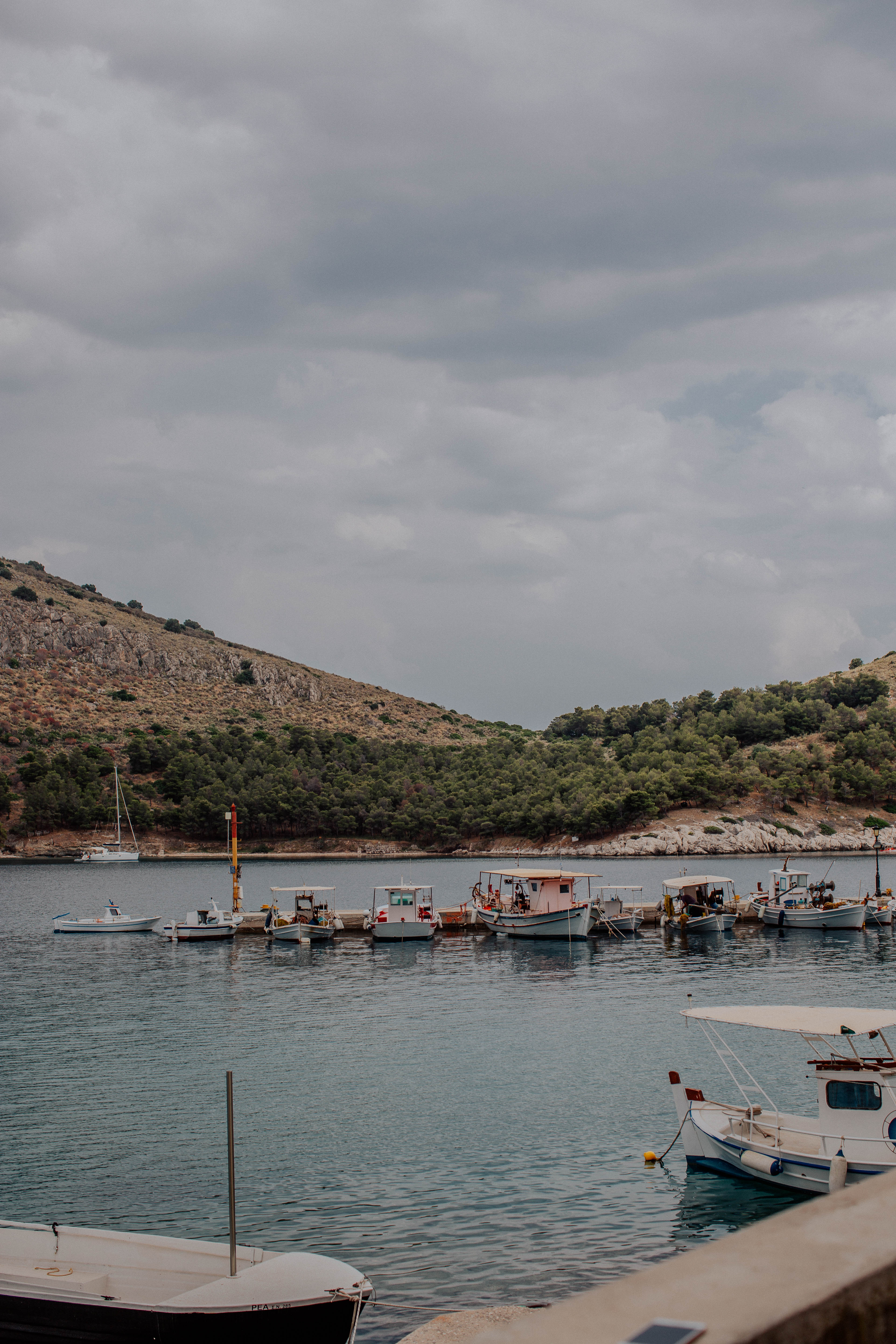 4. Talk to us about your sustainability initiatives.
I grew up in Northern California with a very conscious family— we would often grocery shop at farmer's markets for produce, and spent a lot of my childhood outdoors in nature.  I always had a deep respect for our planet, and that was very important to honor that part of my life when I developed my collection. So, the salmon skin material I use is a by-product of the fishing industry and is completely sustainable in its sourcing, tanning, and dyeing— no toxic of chemical processes to finish it into a durable leather. The essence of the brand is sustainability, but elevated. In day to day life running the business, I carbon offset all my travels and do all the things every business should do— recycled, use LED bulbs, driven electric car (or bike if I can), etc.
5. In flight essentials?
The MK Tote— always.  It zips closed which is perfect for under-the-seat storage because I don't have to worry about anything falling out on the plane. In it is my laptop, headphones and a great playlist downloaded on my phone from Spotify, Swell water bottle (never go anywhere without it!), a few notebooks and pens for sketching, some essential oils I like to use on the plane if I need to sleep, and face and body oils from True Botanicals to fight dehydration.
6. What business advice would you give someone starting out?
Find a mentor or someone you can talk to, openly and without judgement, about what you're going through.  Starting a business is a wild rollercoaster, and I can't imagine going through it without the support I had from my mentors about what I was going through and giving me advice, because they had been there before. Starting a business is about knowing where you want to go, and trusting the pace and process of getting there, and you always need encouragement along the way.
7. Finish this sentence: "Style is…"
… the ultimate form of self expression.
8. Where do you draw inspiration from / Influences
I draw a lot of inspiration for the collection from nature.  The undulating patterns and geometric structure to the material I work with is so beautiful, and I find inspiration in other aspects of nature as well.  When I'm feeling creatively stuck, I take a hike or walk in nature to reconnect and feel inspired.
9. Vacation destination
Living in Northern California, our go-to vacation destinations are Napa for a close and spontaneous weekend trip, or Mexico for something a bit more planned— I love staying at Chileno Bay in Cabo and sipping margaritas by the pool.  Nothing better than sun and sea to relax!
10. Necessary indulgences
I'll always say a great bottle of red wine— preferably a Sonoma Coast Pinot Noir.  More recently, I've been taking weekends to completely unplug— which  in our day feels like a true indulgence— but I've found it necessary for self care and to reconnect with my friends and family in a more meaningful way.
Stay tuned for more designer spotlights and feel free to check out some previous posts on niche brands here and here.