THE NEGRIL, JAMAICA MINI GUIDE
My Negril, Jamaica Mini Travel Guide…. I still have sand in crevices I probably shouldn't mention; a lingering smell of salt water and ganja infused in my clothes, skin and hair. To be honest, I didn't quite think I had it in me to get on island time – it was practically going against my very grain. We were invited to stay and explore the newly opened, boutique hotel in Negril. Skylark has this unpretentious vibe- shoes and pants regularly optional. A few steps walk from each of the spacious rooms and you find yourself sipping from a fresh coconut beach side with some of the most turquoise waters I've ever seen. I discovered ackee, a fruit similar to the avocado and prepared in the same way; served with fried plantain chips, watermelon and scallions in a refreshing dip post swim. Like clockwork, every day at 1 pm, a storm would roll in giving a reprieve to the strong sun. I managed to work on my tan and spend days without any agenda; was called baby more times than I could count and became a patty aficionado – a Jamaican take on an empanada and a staple in the cuisine.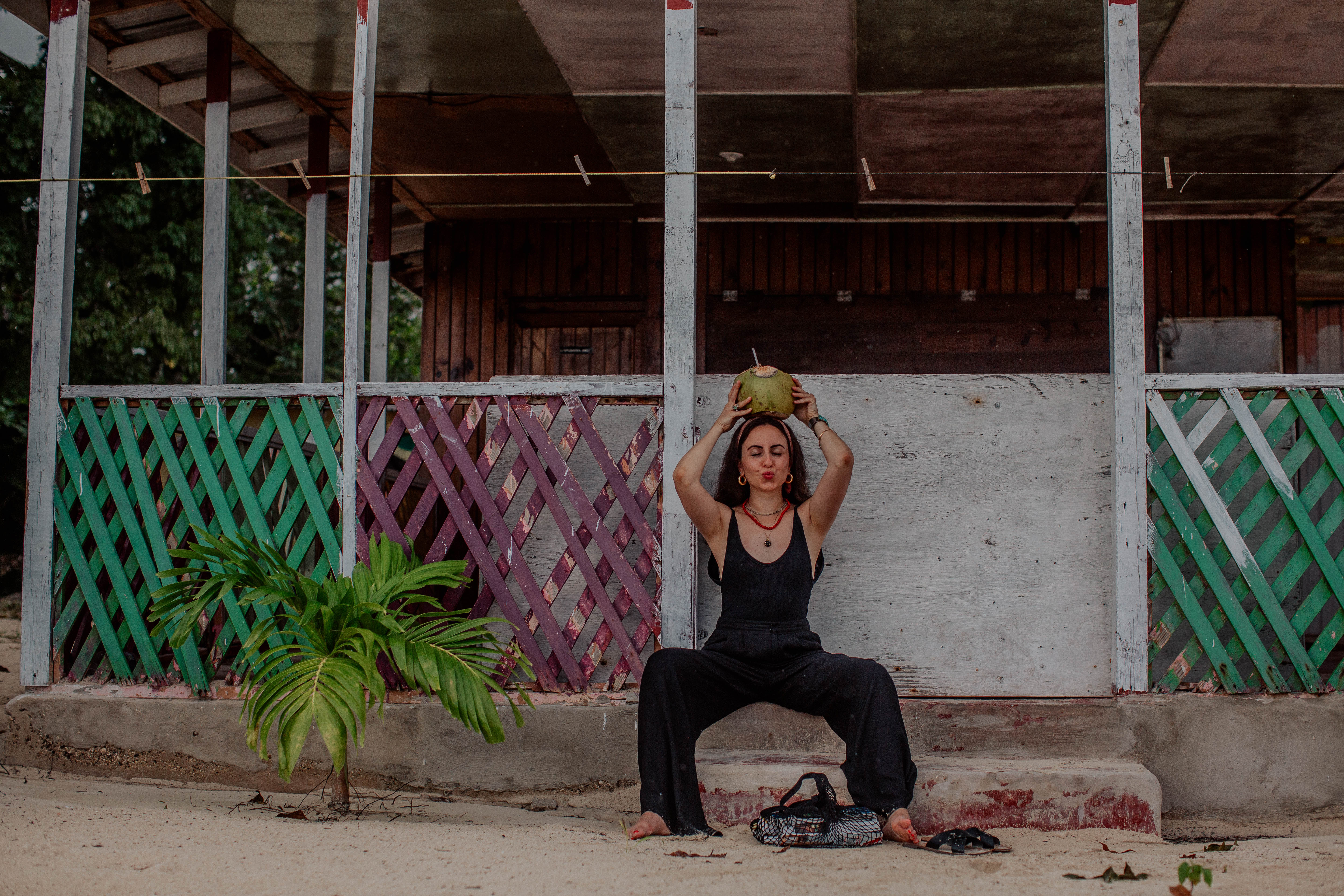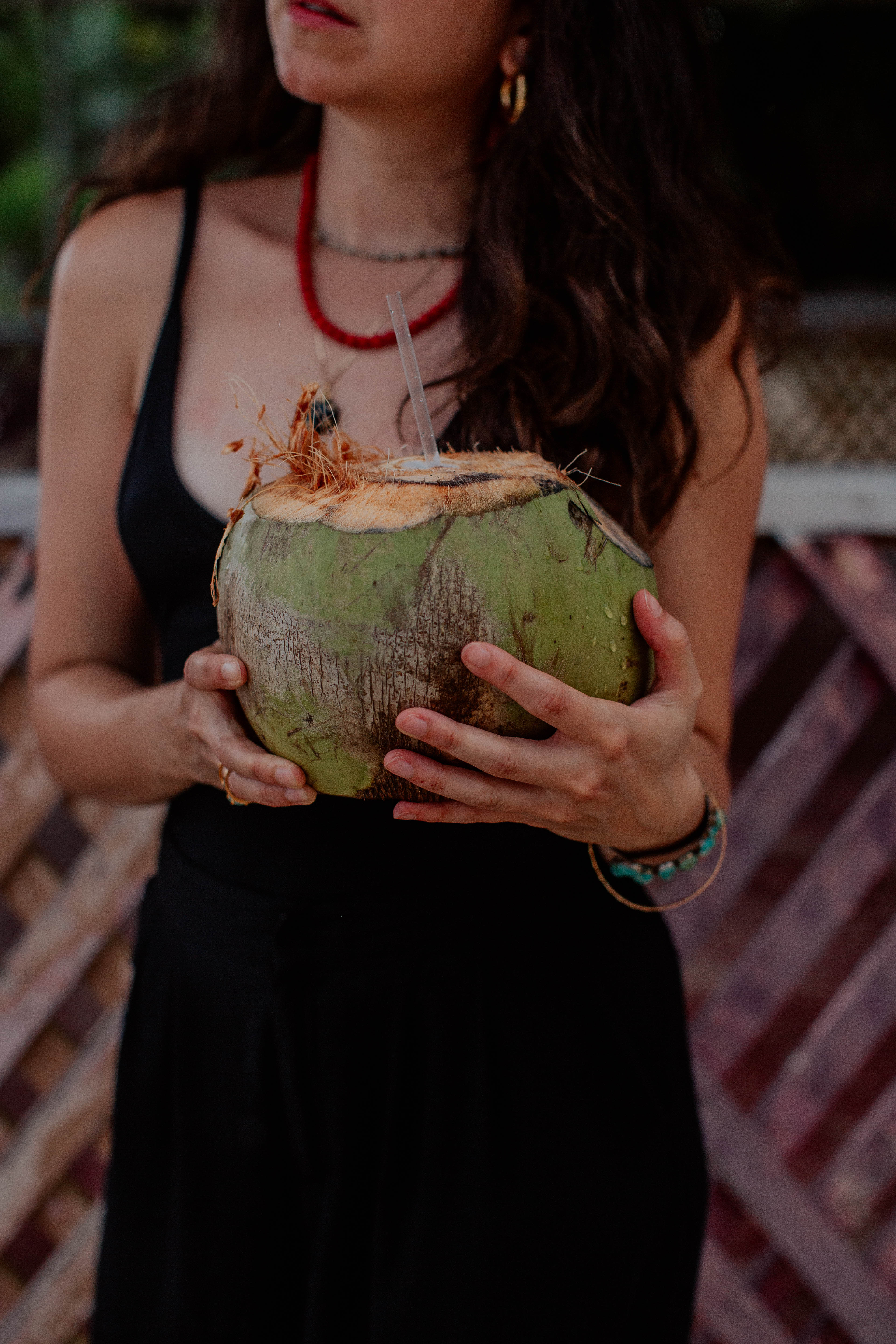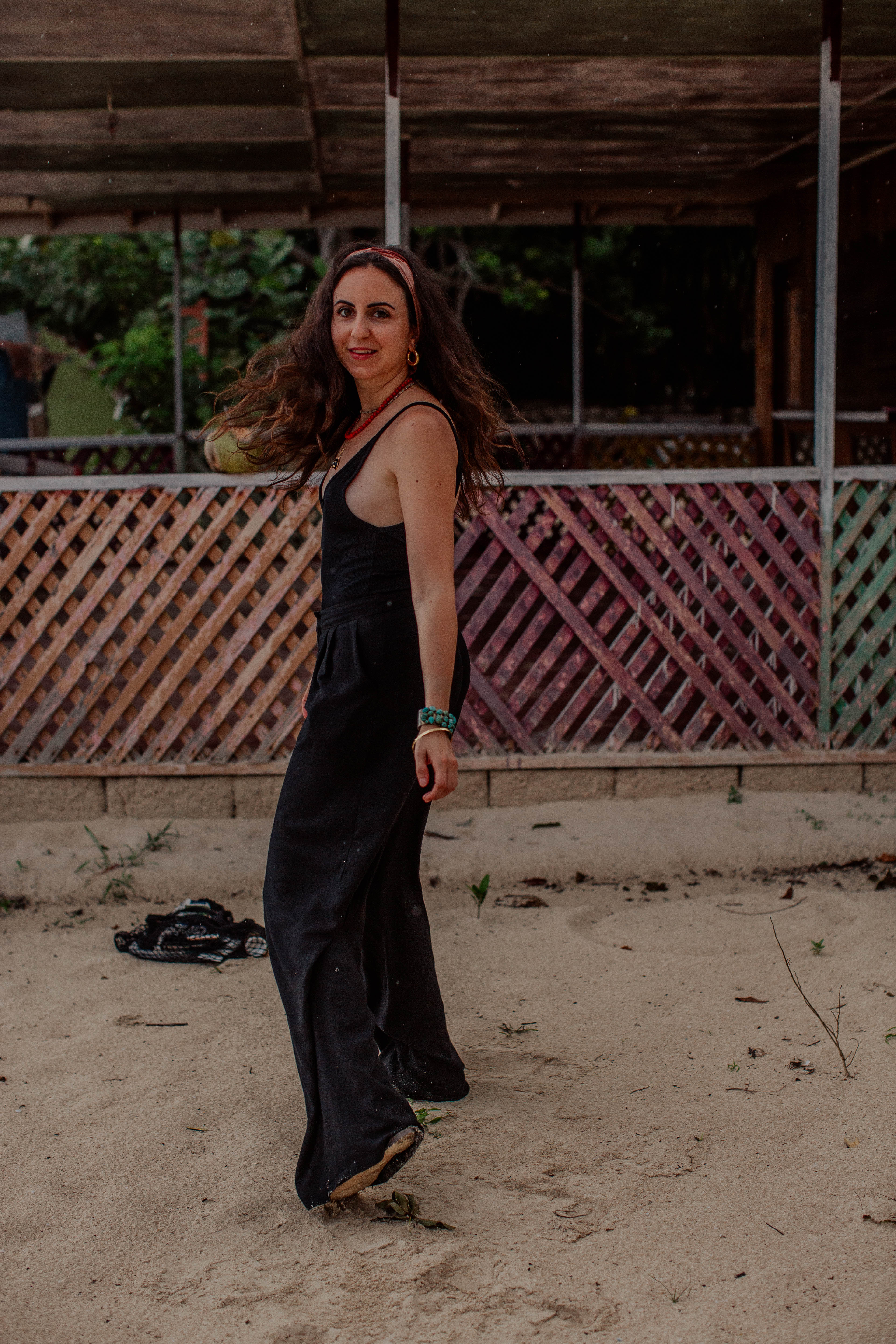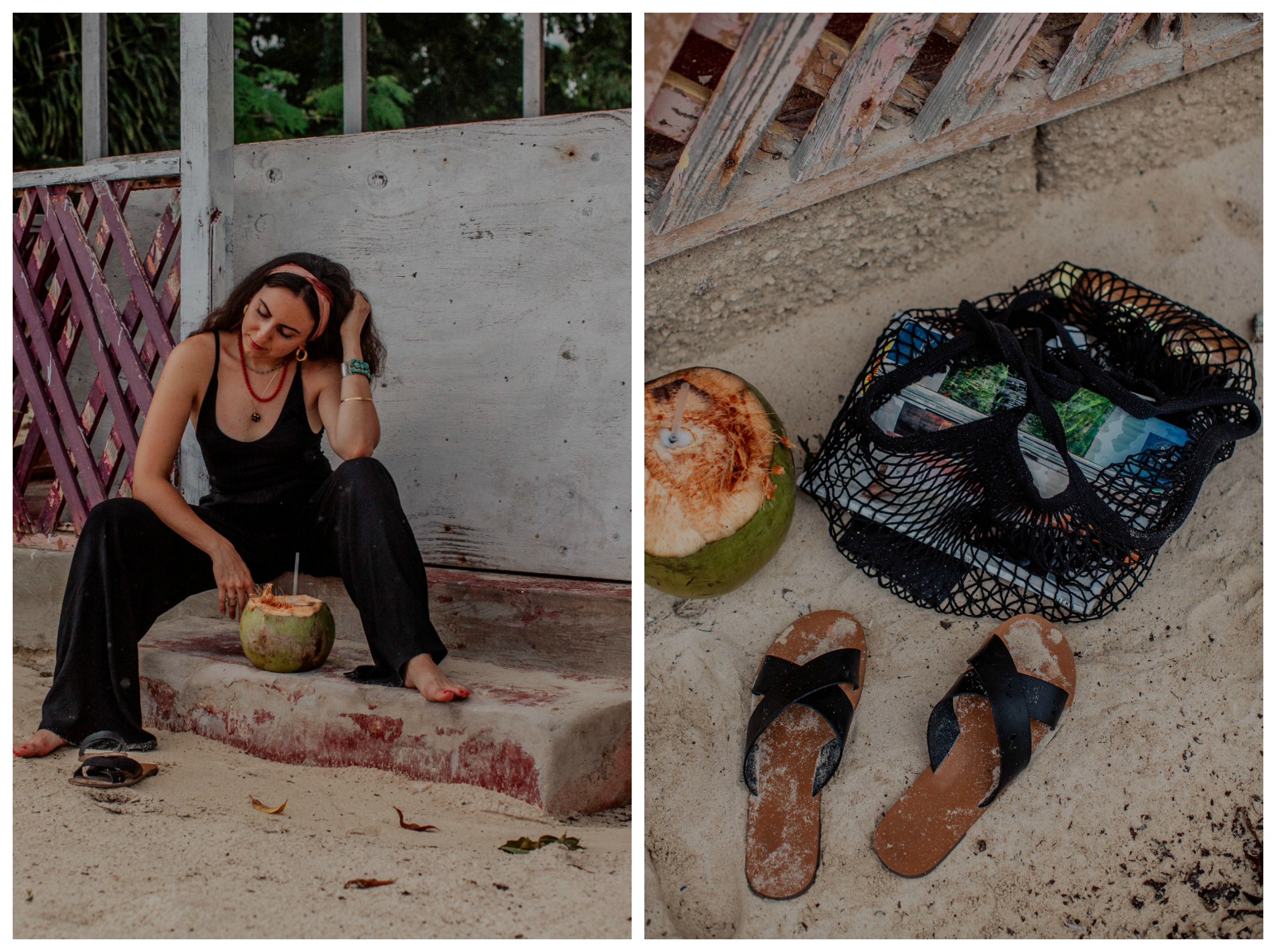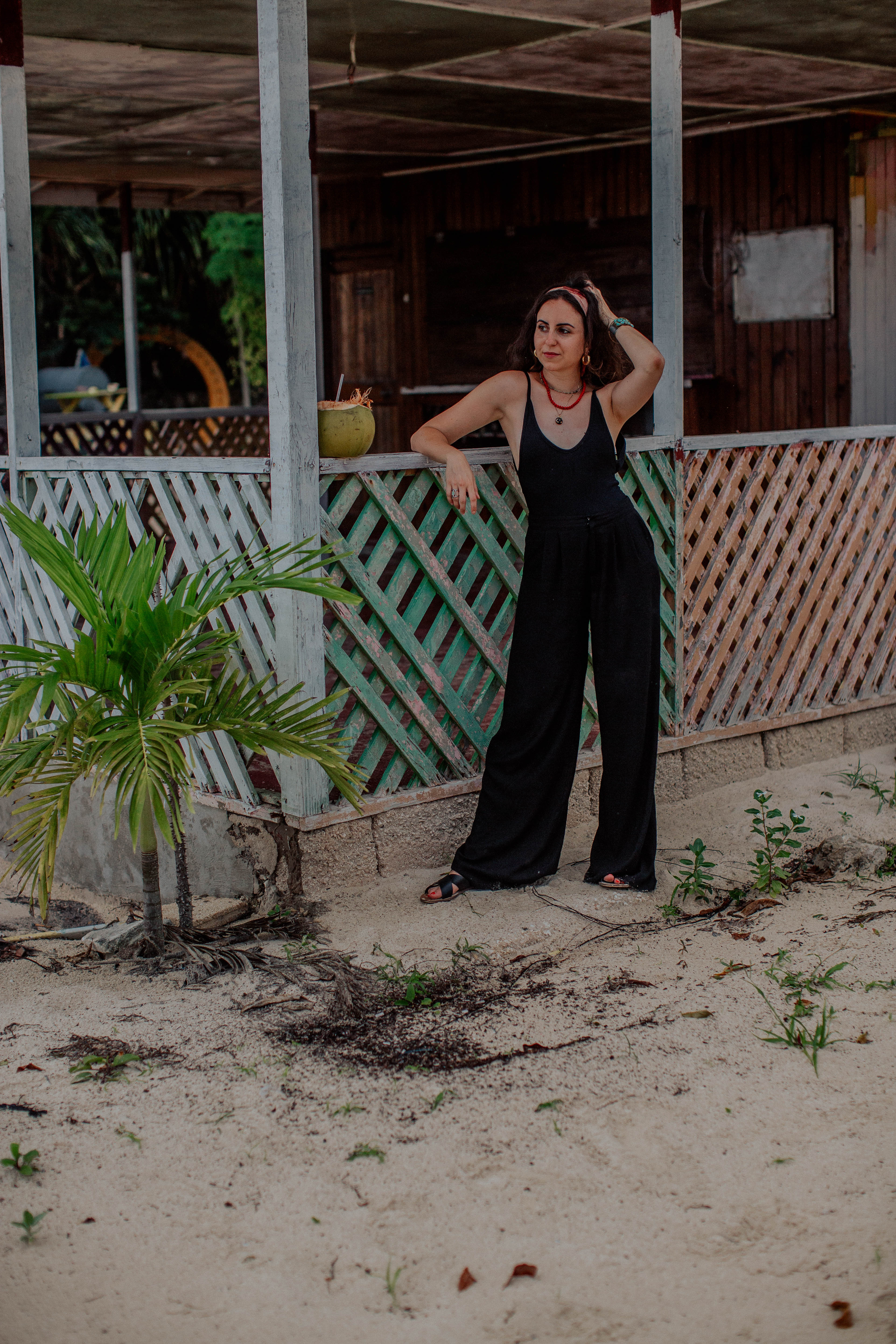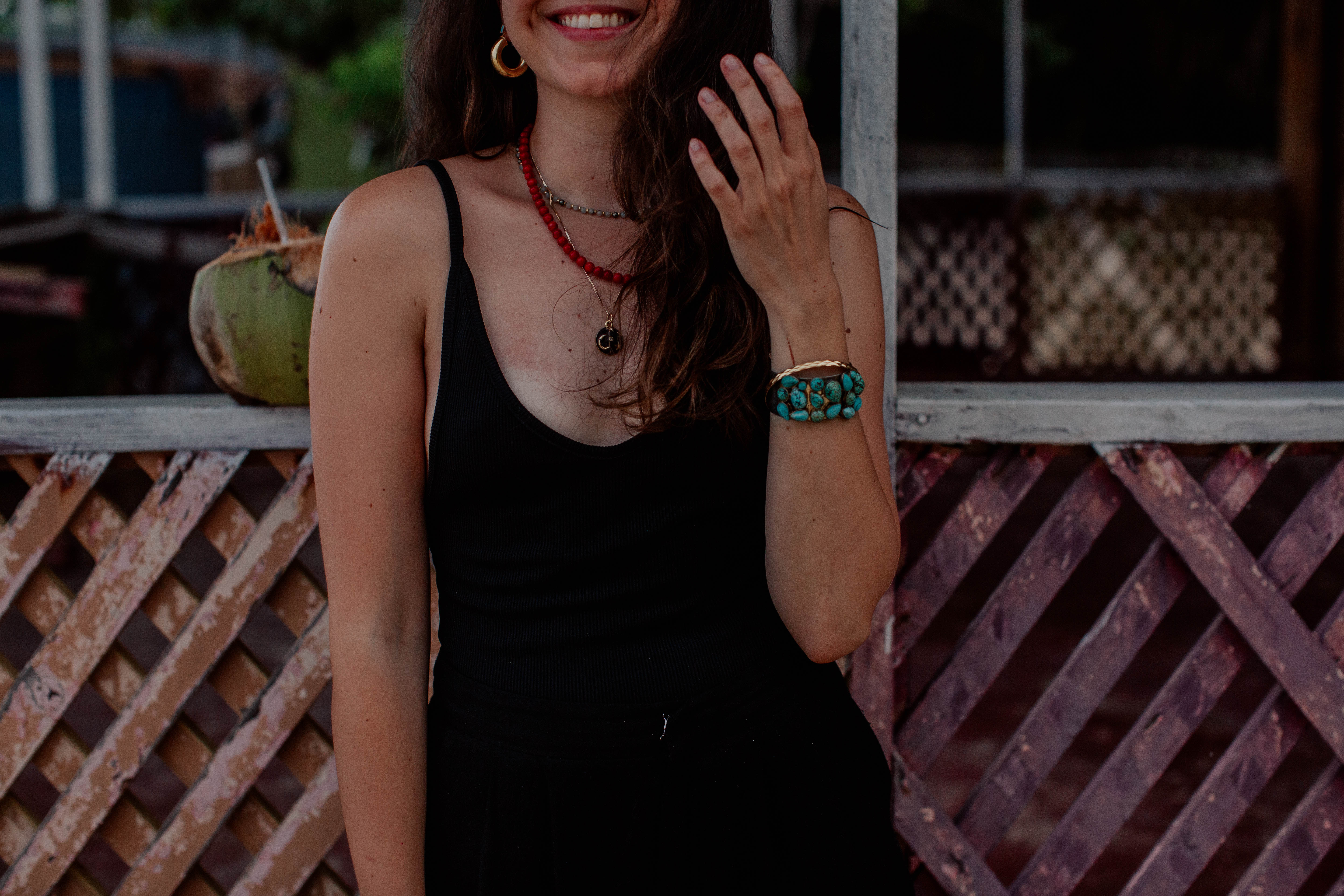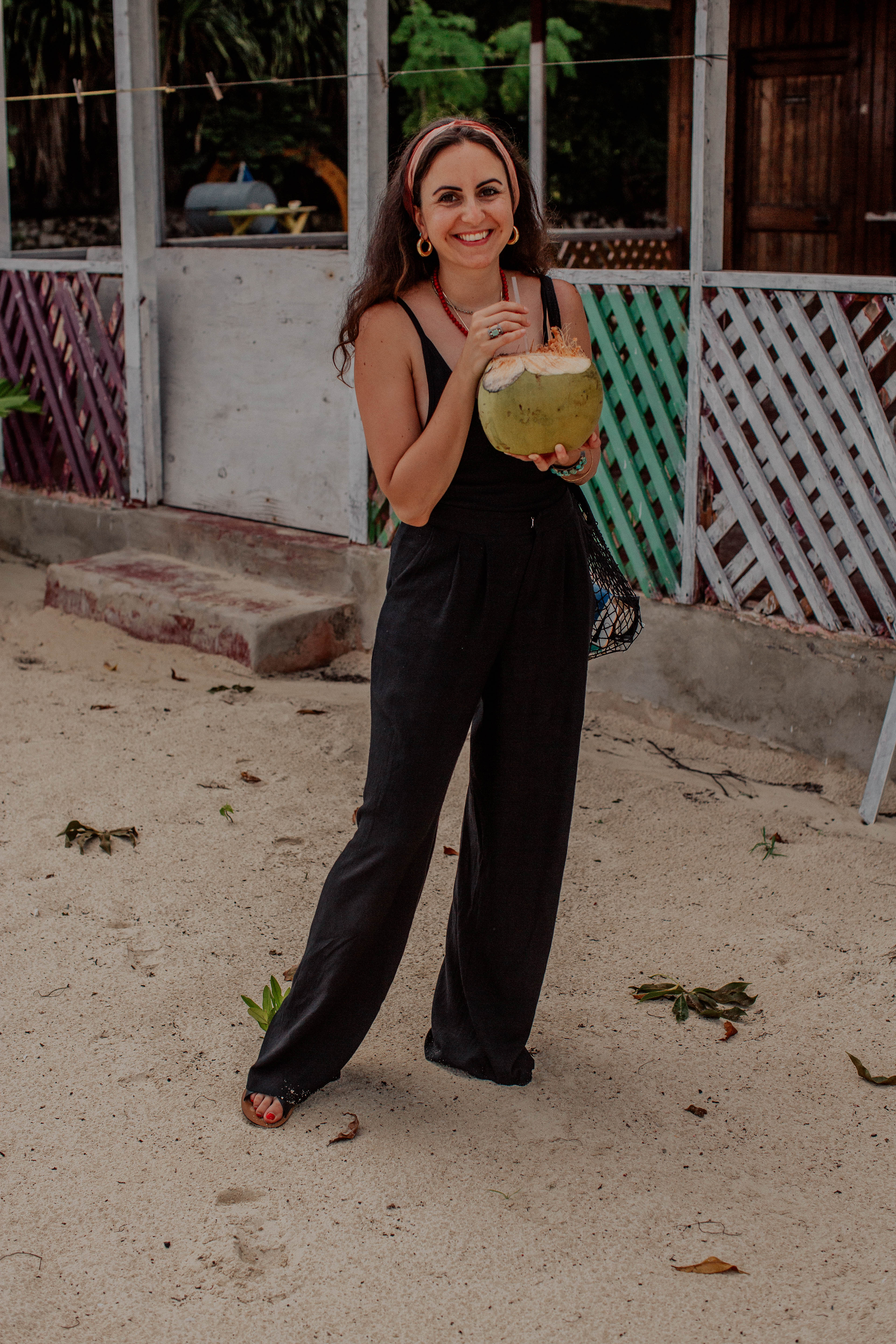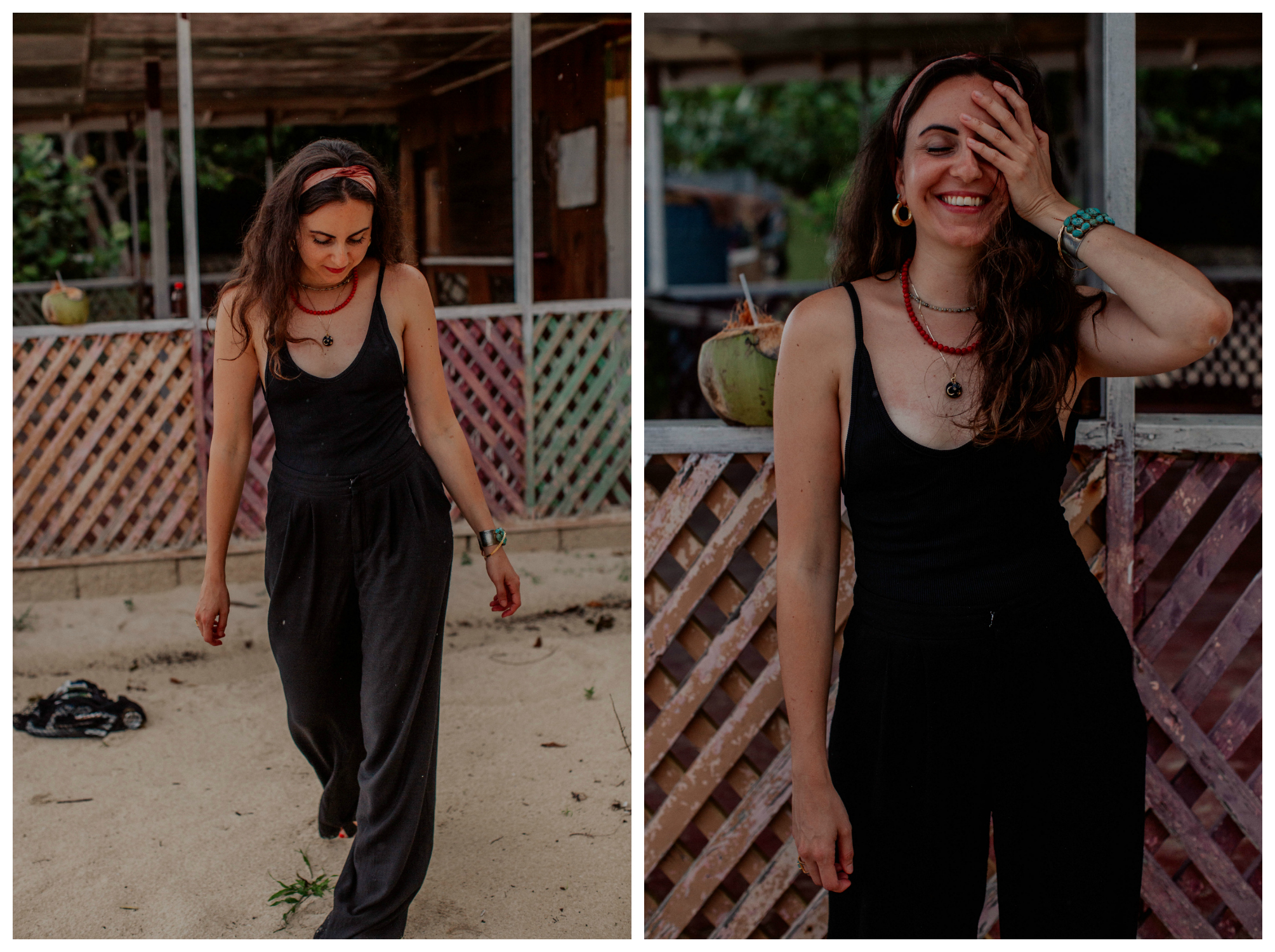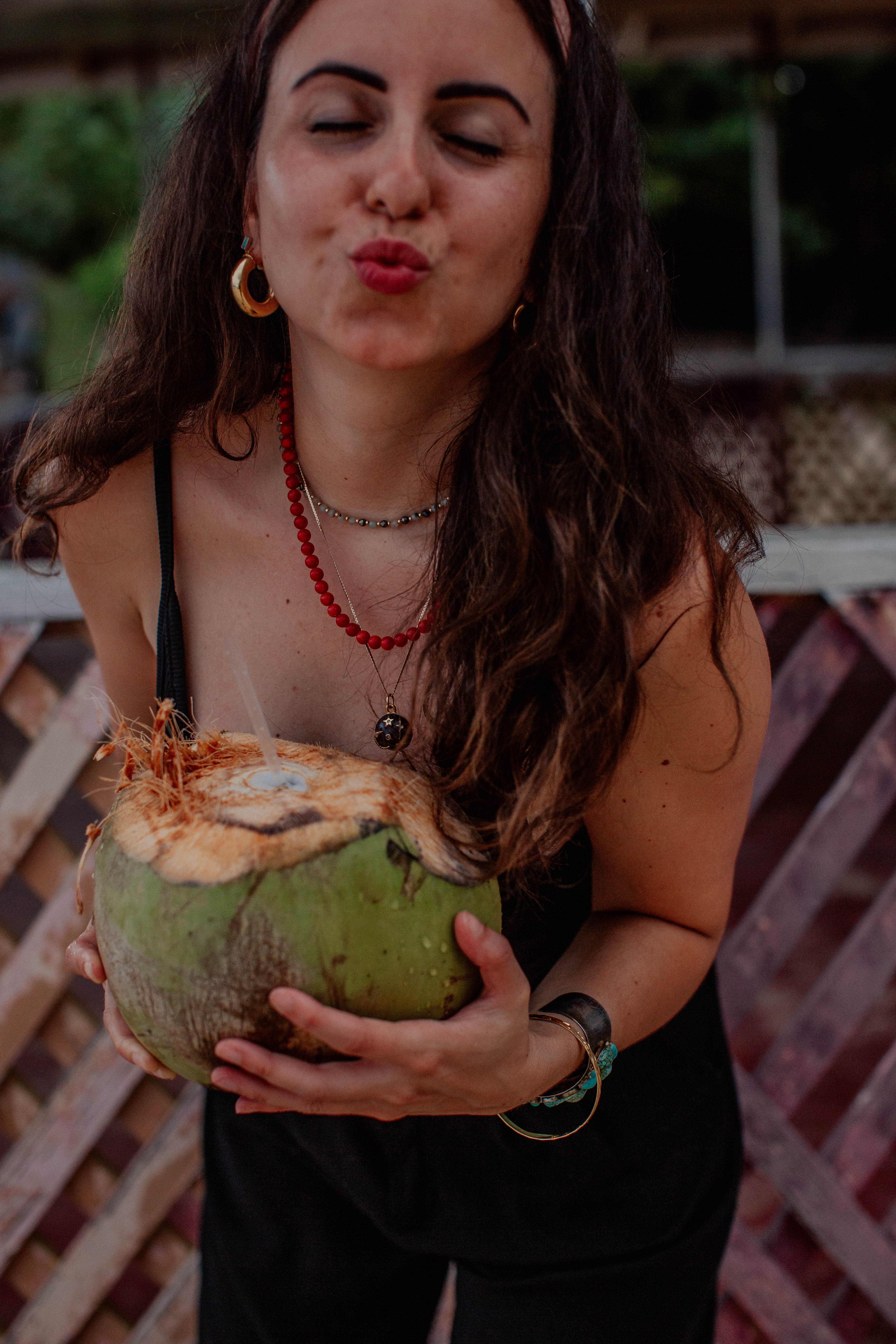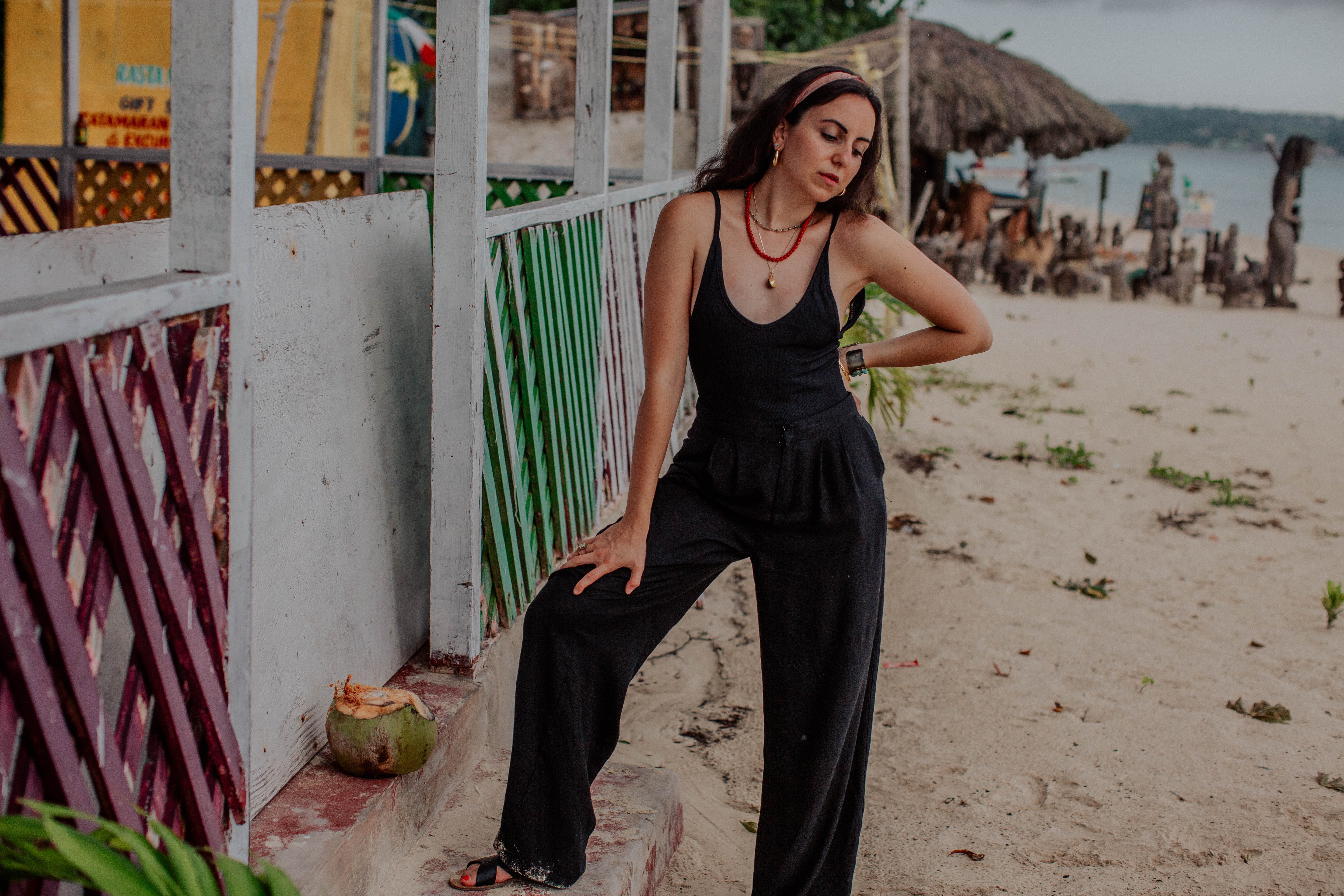 This was my first time traveling to the Caribbean; a location I had never thought of exploring since it always seemed to lack that sense of adventure I so deeply needed. Surprisingly, sometimes you need exactly the opposite of what you think. Looking back at my 5 days beach-side, it was exactly what I needed to recharge and simply be in the moment. Packing for a trip I essentially had never contemplated was a bit of a challenge. I wanted to avoid buying new pieces and use what I already owned. And so I rummaged through my giveaway pile and deep in my closet for anything I felt could be tropical. Bright colored pieces, silk headscarves that would double as turbans, florals and just about every over-sized accessory I owned. I brought necklaces that I hadn't worn in years but had collected from my travels- giving them new life.
This simple, all black outfit went against what I imagine a tropical wardrobe to be but somehow managed to fit in naturally. With a low cut bodysuit that gave me my first side-boob experience, and high-waisted, wide leg pants that I had no problems walking in the sand and ocean in. An ombre-dyed silk headscarf, wild and loose waves and all the jewelry I could layer.
I STILL HAVE SAND IN CREVICES I PROBABLY SHOULDN'T MENTION; A LINGERING SMELL OF SALT WATER AND GANJA INFUSED IN MY CLOTHES, SKIN AND HAIR. TO BE HONEST, I DIDN'T QUITE THINK I HAD IT IN ME TO GET ON ISLAND TIME – IT WAS PRACTICALLY GOING AGAINST MY VERY GRAIN.
---
MINI GUIDE | NEGRIL, JAMAICA
Stay
The Rockhouse
Skylark Negril
Eat
Murphy's – a local restaurant, or rather a shack hidden in the cliffs with twinkling lights, a few outdoor tables and most notably the best grilled lobster!
Pushcart – A local restaurant with an authentic Jamaican vibe. Order the ackee dip with fried plantain chips and the jerk platter.
Rockhouse- lobster cocktail, or perhaps their callalloo soup (a mix of greens pureed with a spicy kick), or their chicken under a rock. All of their selections are delicious, but make sure to keep an eye out for their chocolate cheesecake, an occasional special on the menu worth indulging in.
Skylark – Breakfast, lunch and dinner! Start with an order of their banana bread and the blue mountain coffee experience. For lunch, entertain the ackee and plantain dip with an order of their red stripe battered fish sandwhich with a spice slaw. Finish off with a sweet treat of a fresh papaya, yogurt smoothie.
Pick up a beef and cheese patty at Hammonds in the town of Lucy (half-way point on your drive to Negril from Montego Bay) – the perfect amount of heat complimented by the flakiest of crusts. Think of it as a Jamaican empanada.
All the fresh fruit. There are constant vendors passing by on the beach – bananas, mango, fresh coconut, guinep (think lychee meets grape) – you name it. The perfect and sweet way to cool off from the heat.
For other mini guides check them out here and here….
Let's keep in touch!  Bloglovin / Instagram / Twitter / Facebook / Pinterest