Bonjour! If you guys followed along on Instagram, then you know I was in Paris just a few short weeks ago. What a glorious trip….one of my least planned, on a whim trips and yet one of my most enjoyable. Perhaps it was the company of 3 fabulous women, perhaps it was the endless glasses of wine and cheese du jour, don't even get me started on the men….either way, the trip, a quick favorite, is one I will now compare others to.
With that being said, I decided to split the travel diary into two posts, starting with today's compilation of the delicious restaurants we ate at and the museums we spent a few hours immersing ourselves into. Fair warning, these posts are long and extensive but I hope they make you feel like you were right along with us on this trip and inspires you to perhaps a weekend getaway yourself…because Paris, is always a good idea.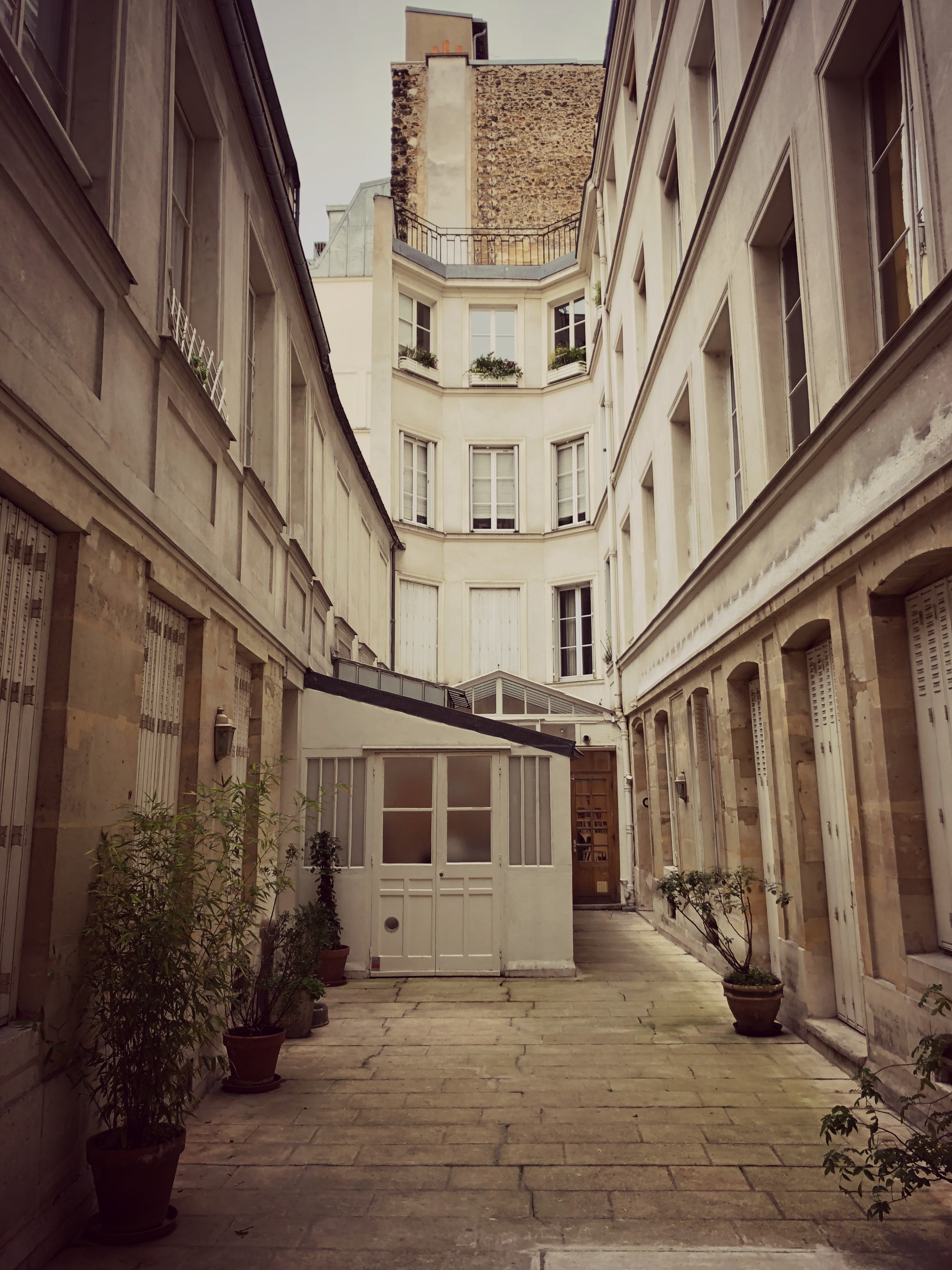 Our lovely apartment was nestled in the St. Germain neighborhood and near some fantastic restaurants and shopping. It had the loveliest courtyard where I could imagine coming home with a fresh baguette and groceries in the afternoons. Does it get more Parisian than this?
THE HOUSE OF DIOR
This exhibit was pure magic. It seemed to go on and on and yet you never wanted it to end. Each room was better than the next, the fashion so intricately detailed, breathtaking. But what really left me in awe was the final room, with it's light installation, dancing stars that looked like falling snow over the beaded details of each, handmade Dior dress. And it was further confirmation that Dior truly does the most iconic red in the fashion world. A must. The exhibit runs through January 7, 2018.
MUSEE DE L'ORANGERIE
Less daunting than some of the other, larger museums, Musee de l'Orangerie was a quick and satisfying visit. Not to mention, Monet's Water Lily series, which takes up the entire top floor, is truly breathtaking. The colors could not be replicated by camera, they truly were exceptional and the scale of these paintings. Such an emotional experience and the exhibit itself, with the curvature of the stark white walls and the Parisian natural lighting made it a special experience.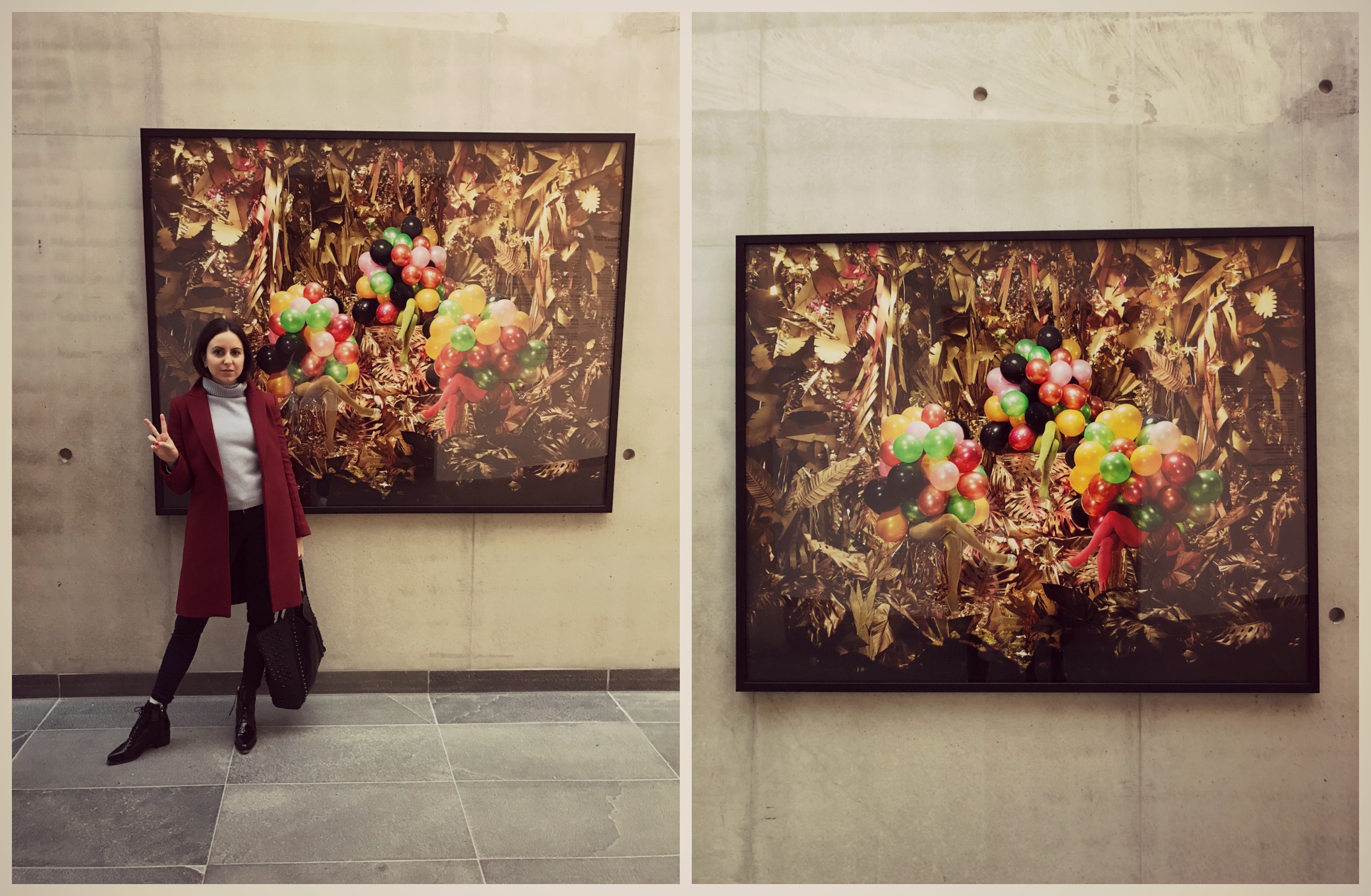 DINING FAVORITES
DERRIERE
Derriere was a true dining experience; while the food was good, I felt that the rest of the space  really caught your attention. An assortment of vintage, mismatched plates, unexpected artwork, a ping pong table in the middle of the restaurant and the friendliest of staff. On the second floor, they had a wardrobe that you walk through to get to their smoking room. If that's not enough for you to make a reservation, I really don't know what is!
LA CREMERIE
Conveniently located right across the street from our Airbnb. This is a true wine and small plates restaurant, they don't even have bottled water on the menu. When I asked for sparkling water, they laughed and told me this was a wine bar. I was appalled and naturally, loved the place that much more. Salmon was at the peak of the season and they had this incredible salmon dish, it was smoked but cut into 2-inch thick pieces. Marinated in a vinaigrette of  pomegranates, radishes, fennel, lemon, olive oil and it was the best salmon, hands down, I've had. Filling yet light and refreshing. We also ordered the mozzarella di buffala which had a sundried tomato and wild mushroom topping. It was incredibly rich and delicious. Wash that all down with a natural, slightly effervescent, organic red wine and you've got yourself the perfect dinner.
If the food and small space of 6 tables wasn't enough to make you swoon, the "story" behind La Cremerie and it's secret club, will. Perhaps our waiter was feeding the American girls a story they would eat up, and eat up we did, but as the story goes, la Cremerie became a place for scorned lovers of a particular Parisian woman, to congregate and share stories after hours. It eventually led to becoming somewhat of a private "sex club" after hours that requires a lovely password, or perhaps just a reservation? Either way. we may or may not have returned after dinner…
CAFE LA FLORE
A quintessential parisienne brunch experience. Make sure to order their chocolat viennois, a think, drinkable hot chocolate with the most delicious, house-made whip cream. Delicious breakfasts, coffee and people watching. They also have outdoor heaters that allow you to enjoy the outdoors in the cooler months.
L'AVANT COMPTOIR
This restaurant was my idea of perfection; standing room only, small plates, an extensive wine list and fromage du jour. They also had pan-seared foie gras, which was much harder to find in Paris than I anticipated. Most of the foie is served as a terrine, cold, so this was a pleasant surprise. There's also a reason why it is Anthony Bourdain approved and why it's always packed. Not to mention, they play disco while you eat your seared foie gras. Next door, they have their sister restaurant that is all seafood and you can buy oysters of the day and bring them over so you can indulge in both food from the land and the sea. It was so good, we went back twice. This restaurant is an absolute must!
ANGELINA
We felt compelled to try the infamous Angelina, that's been overshared on just about every social media outlet. It's definitely become a quintessential Parisian staple, and I get the appeal. It was lovely. I would be lying if I didn't admit that I thought it was a bit "hyped up", if simply for not being overly trendy, but nonetheless we had a delicious breakfast. From croissants filled with scrambled eggs and cheese to wild mushroom soup with a poached egg, they've got it all. Their desserts and pastries probably even more impressive and they have a lovely selection of prepackaged items that make for great gifts.
FS PARIS
The George V, what can I say. Sure, it can be stuffy to some, but it is the epitome of refined luxury to me. Tucked off the Champs d'elysees, you find yourself with a menu of teas, an assortment of desserts and a waiter by the name of Maxime, who's smile may have been sweeter than the chocolates shaped liked the most delightful mushroom morsels. I ordered the Four Seasons specialty which was a melange of rose, vanilla and lavender tea and it was as aromatic and soothing as the name suggests. The holiday installations, and the ceiling of roses were just as memorable as the tiny bites and the gentleman, in a tux, playing covers of mainstream music on the piano.
HOTEL COSTES
It oozes cool…literally. From the moment you step in the the mirrored hallway, the intense scent of their signature scent, damask rose, hits you and beckons you to stay for a while. It lived up to it's hype; from the crowd, to the chill-out tunes that have made their compilations such a hit, to the obscene amount of roses to the delicious meal. When can I move in? I ordered the tuna crudo and the best vegetable potage I've tasted. It was so good we went back several times and I made sure to bring that sexy scent back with me! Please go. Hands down, one of my favorite spots in Paris. The people watching is just as delicious.
There is no shortage of delicious food in Paris, from street food to Michelin star rated restaurants, there is something for everyone's budget and taste. Truth be told, one of my absolute favorite things to do when abroad is to shop the local markets and grocery stores for in-season produce. After a late night dancing at Kong or sipping champagne at Hotel Costes, you'll be happy you have a fridge stocked full of smelly cheese, mortadella and crackers. The best part? I managed to drop a few pounds while I was there simply for walking off my decadent meals.
Tomorrow, I'll be sharing where to shop, nightlife and all my other favorite Parisian highlights!  Hope you enjoyed the post! xx