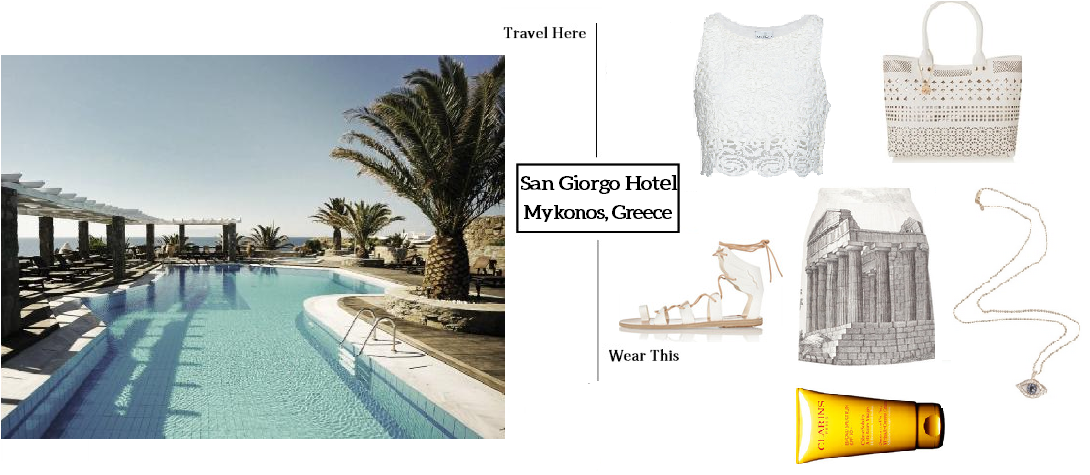 Miguelina Lace Crop Top
|
Clarins Sunscreen
|
Sydney Evan Evil Eye Jewelry
|
Big Buddha Tote
|
Dolce & Gabbana Linen Skirt
|
Ancient Greek Sandals
Travel Here|
There is something so mystical about Greece- maybe it's the thousands of years of history or the breathtaking views that catch you by surprise. Whatever it is, its a magical experience. While Mykonos is known for their wild nightlife,
San Giorgo boutique hotel
is exactly the place to stay for a calm and serene recovery. The boho-luxe style is prominent in this chic hotel; filled with vintage kilims, a neutral color palette that doesn't compete with the blues of the sky and sea and simplicity at its very best. Spend your days exploring the quaint island or dip into the Aegean and recharge your soul. Everything was thoughtfully selected at San Giorgio, down to the last detail. I don't know about you, but the ancient winds are calling my name!
Wear This| I LOVE this printed skirt from Dolce & Gabbana. It is so fitting for a trip to the Greek isles and paired with a lace crop top adds a feminine touch to the otherwise architectural skirt. The sandals are woven and even have a wing at the Achilles heel. A nod to Greek mythology! Don't forget to wear your eye necklace to ward off the evil eye. A laser-cut tote in a neutral ivory is perfect for exploring the island or even stashing your beach essentials. Make sure to bring along your SPF. A Greek goddess should never burn!