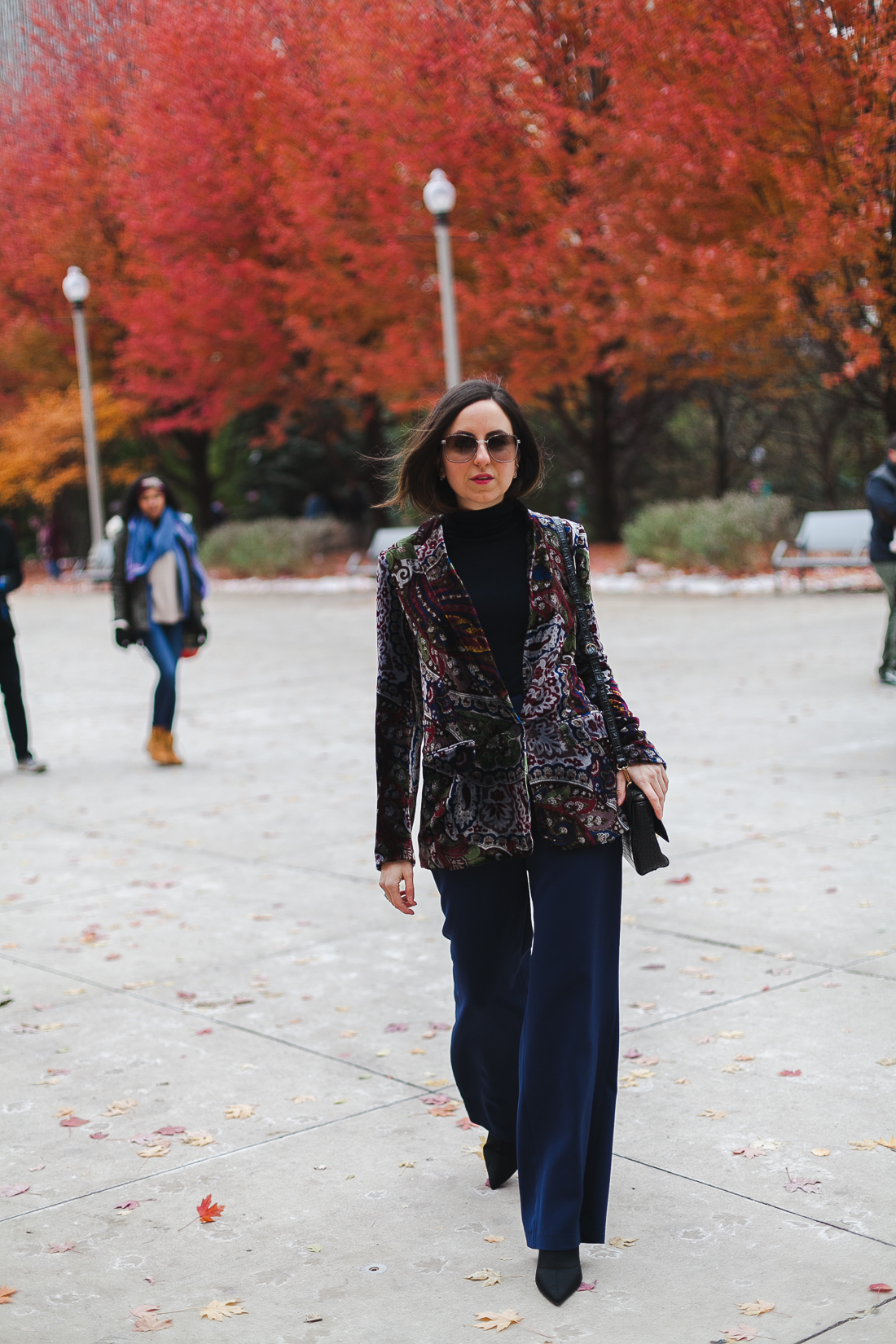 Happy Thanksgiving! I hope your day is filled with tables filled with your favorite foods and cozy time with family and friends. I'm writing today's post from the airport waiting for my flight to Paris this holiday weekend. Airports, one of of my very places to be- the coming and going of people from around the world. Goodbyes and more importantly, long-awaited hellos. While you're reading this, I've probably already found my way to a Parisian cafe, hiding away from the cold as the rain slowly falls outside, washing the cobblestone streets.
Let's talk about this amazing look before I get all romantic and nostalgic for the city of lights, shall we? I had featured the first of these two looks, here, where I focused on moody florals. Today's look is a different approach to the Thanksgiving outfit. I had purchased this paisley, velvet blazer last year from Zara and had never worn it; I had actually put it into the donation pile and recently stumbled across it again. I'm so glad I did. I've received so many compliments on it and it truly is the perfect combination of colors and pattern- visible enough to catch the eye but muted enough not to overpower an ensemble. My favorite combination of sorts; slightly mysterious, a team player but always itching for a bit of attention. Perhaps also, my ideal man.
Scroll down for more of this look and to shop other velvet blazers for the Holiday Season!
Shop my look ▼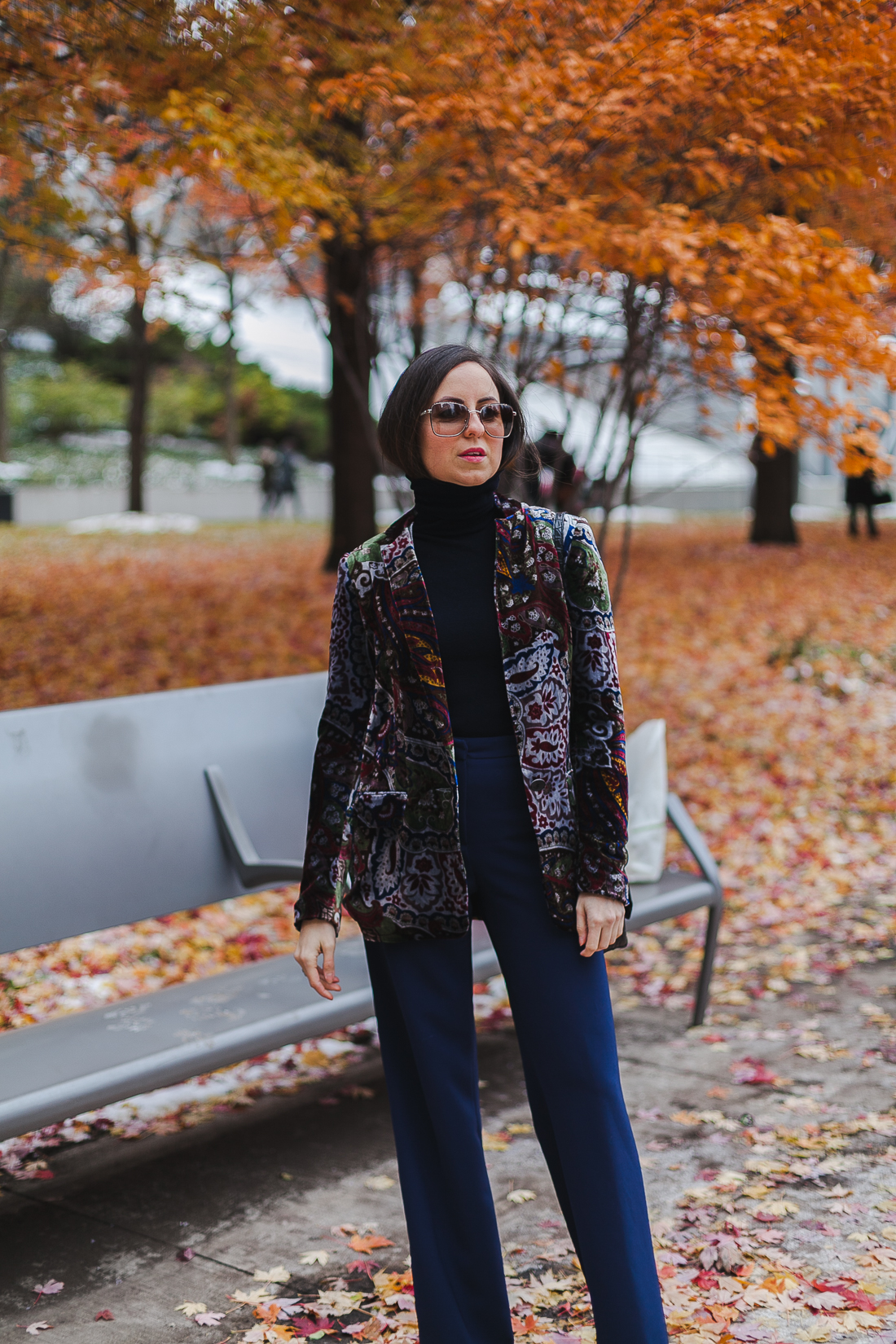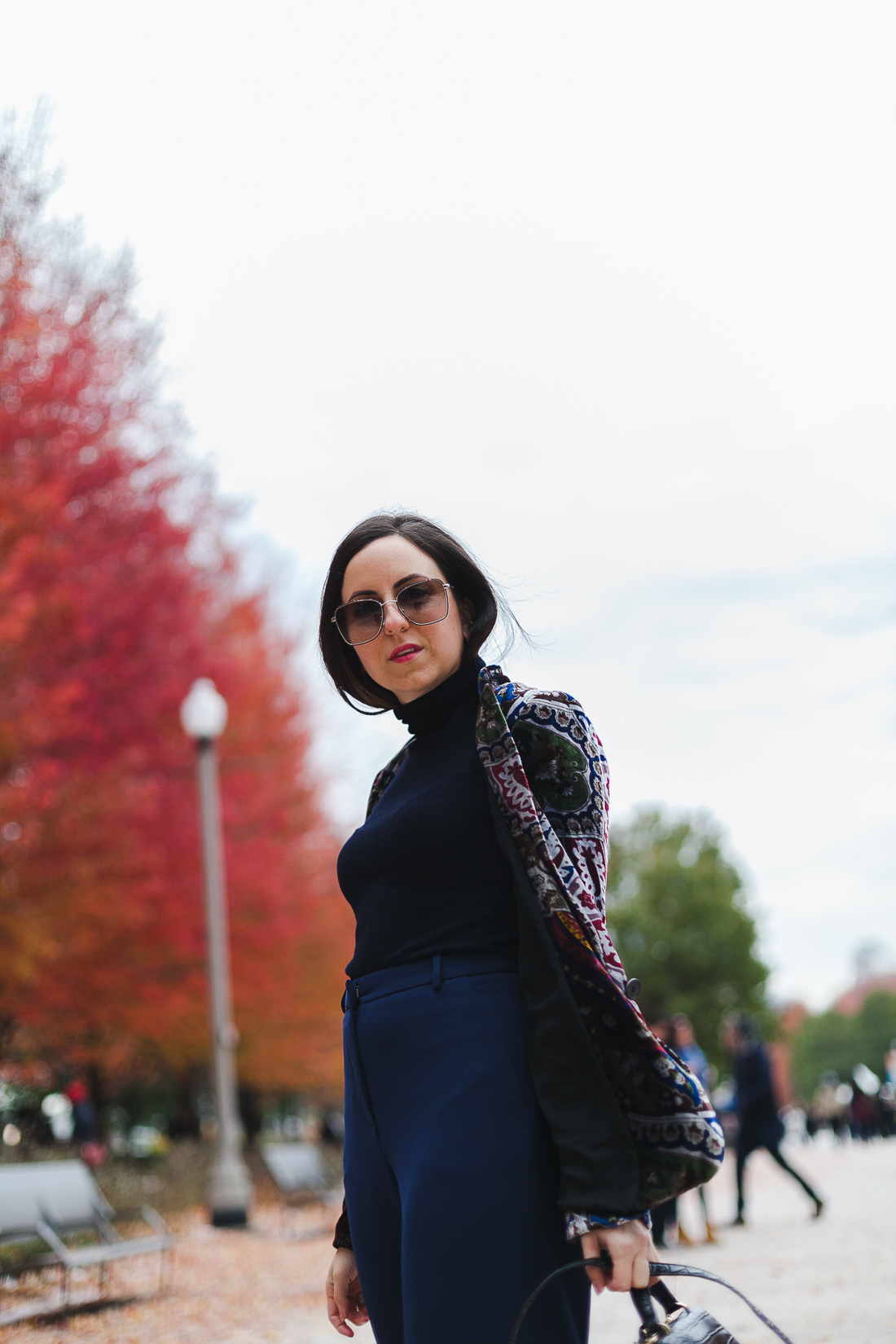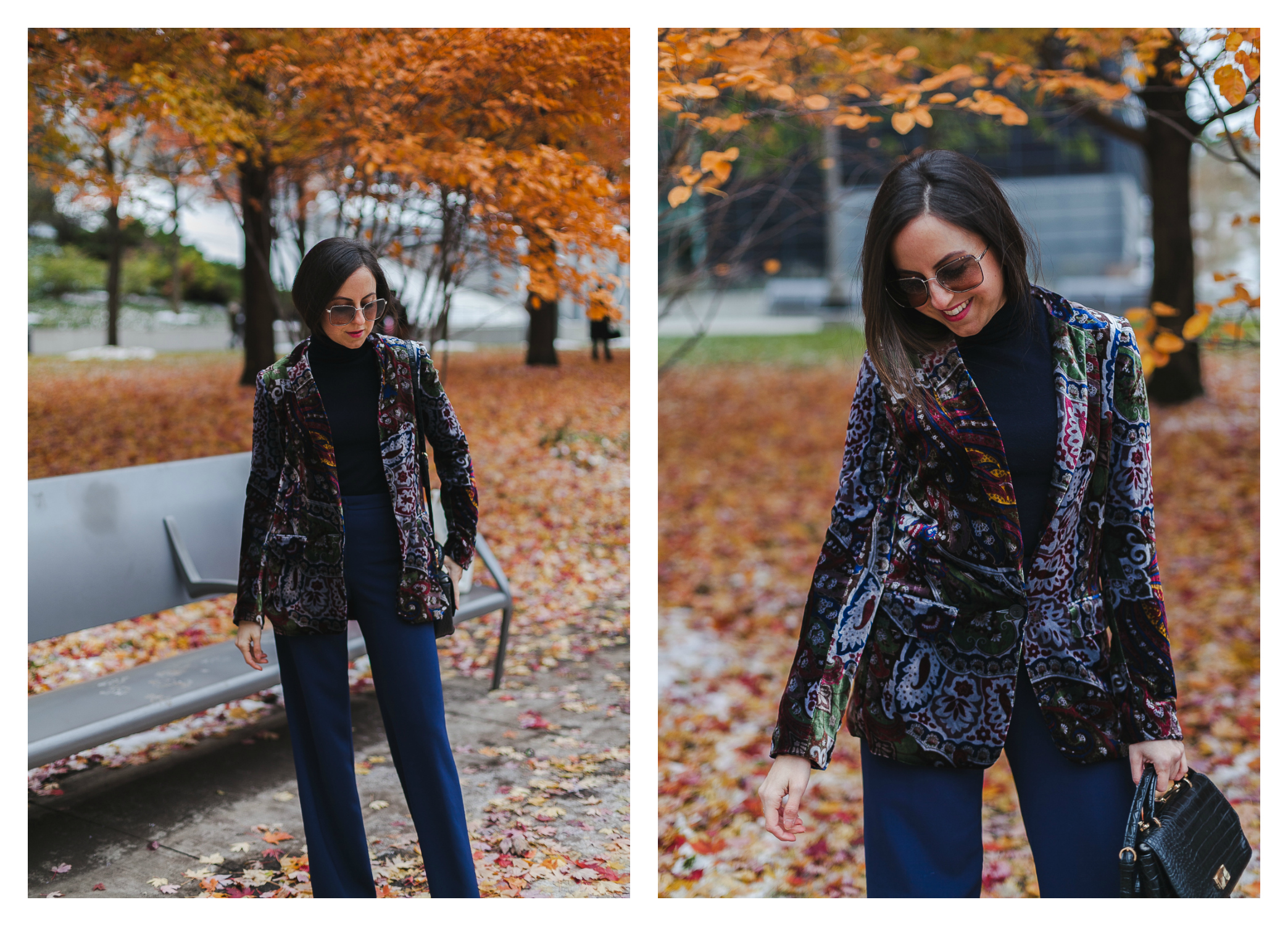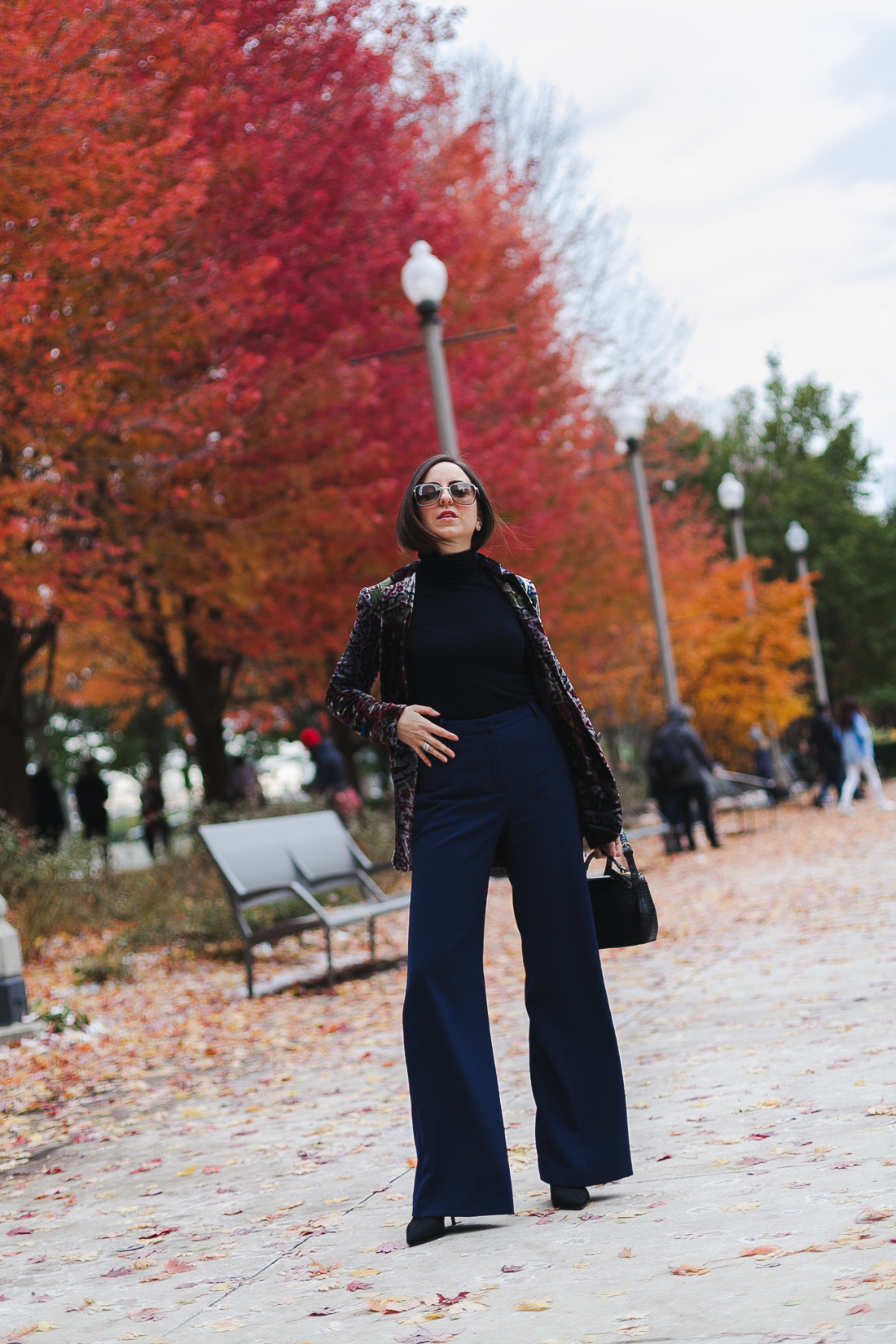 Velvet blazers are all the rage this season and for good reason, they make a statement, they are forgiving in all the right places, they create a beautiful silhouette and they are warm. Oversized is personally, my favorite style. I love a high-waisted pant but also love it paired with a midi skirt, or mini in that case, just as much. They can polish up an entire outfit.
Since I've been on this 70's kick that may just be permanently etched into my personal style moving forward, this look came together easily- with a high-waisted navy pant and a well-fitted turtleneck in the same navy blue. I really didn't want anything to take away from the blazer and I wanted to bring out those beautiful blues that may otherwise go unnoticed. Also, the "turtletuck" is most definitely a thing. I promise you. I've seen it on so many faves, Man Repeller, Olivia Palermo, French girls… you get my point. You can achieve a faux bob in minutes, look uber chic and effortlessly undone.  You know the look, and all you need is a…turtleneck? A pair of over-sized Prada sunnies in a faux tortoise shell and a small croc-embossed purse polish off this look.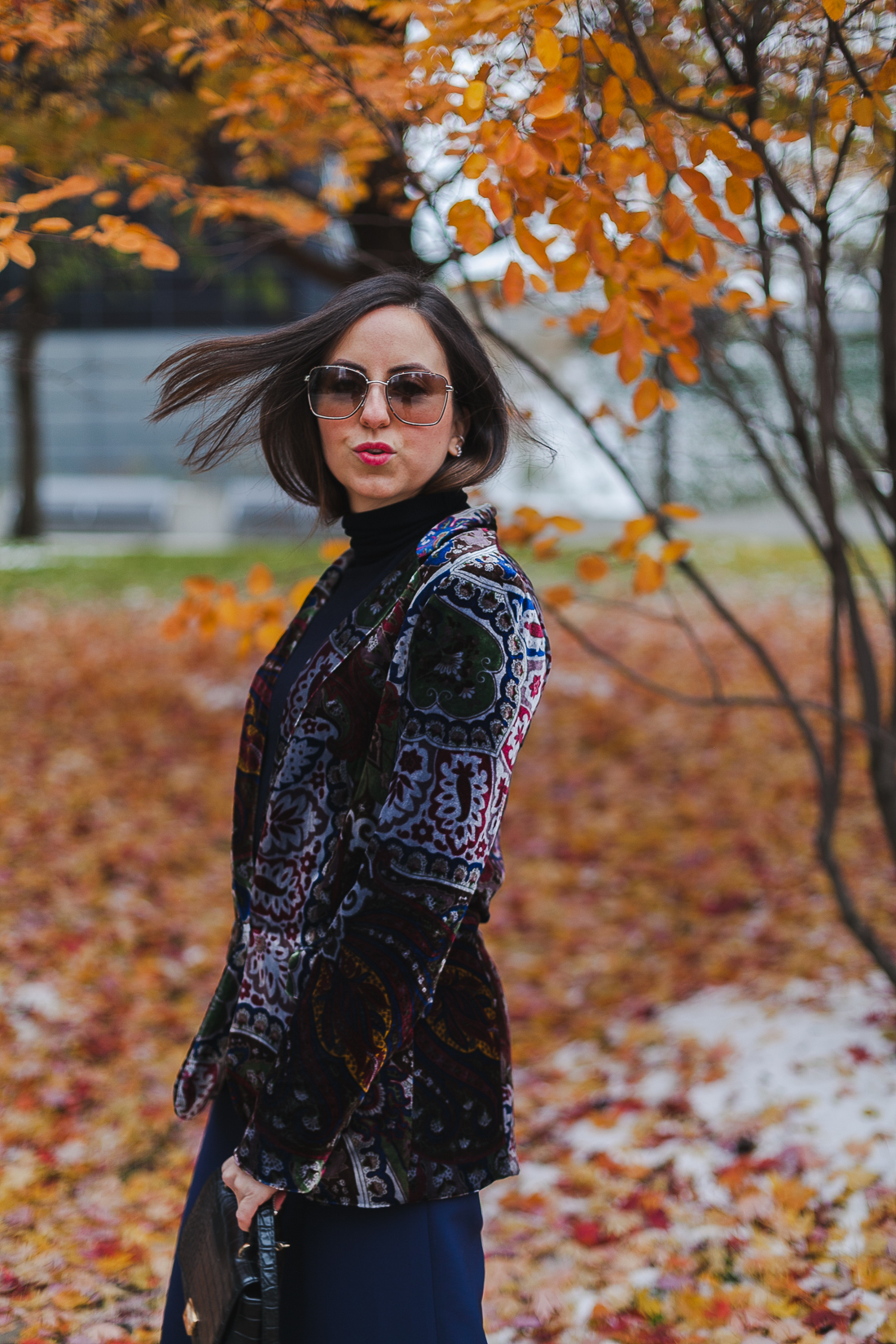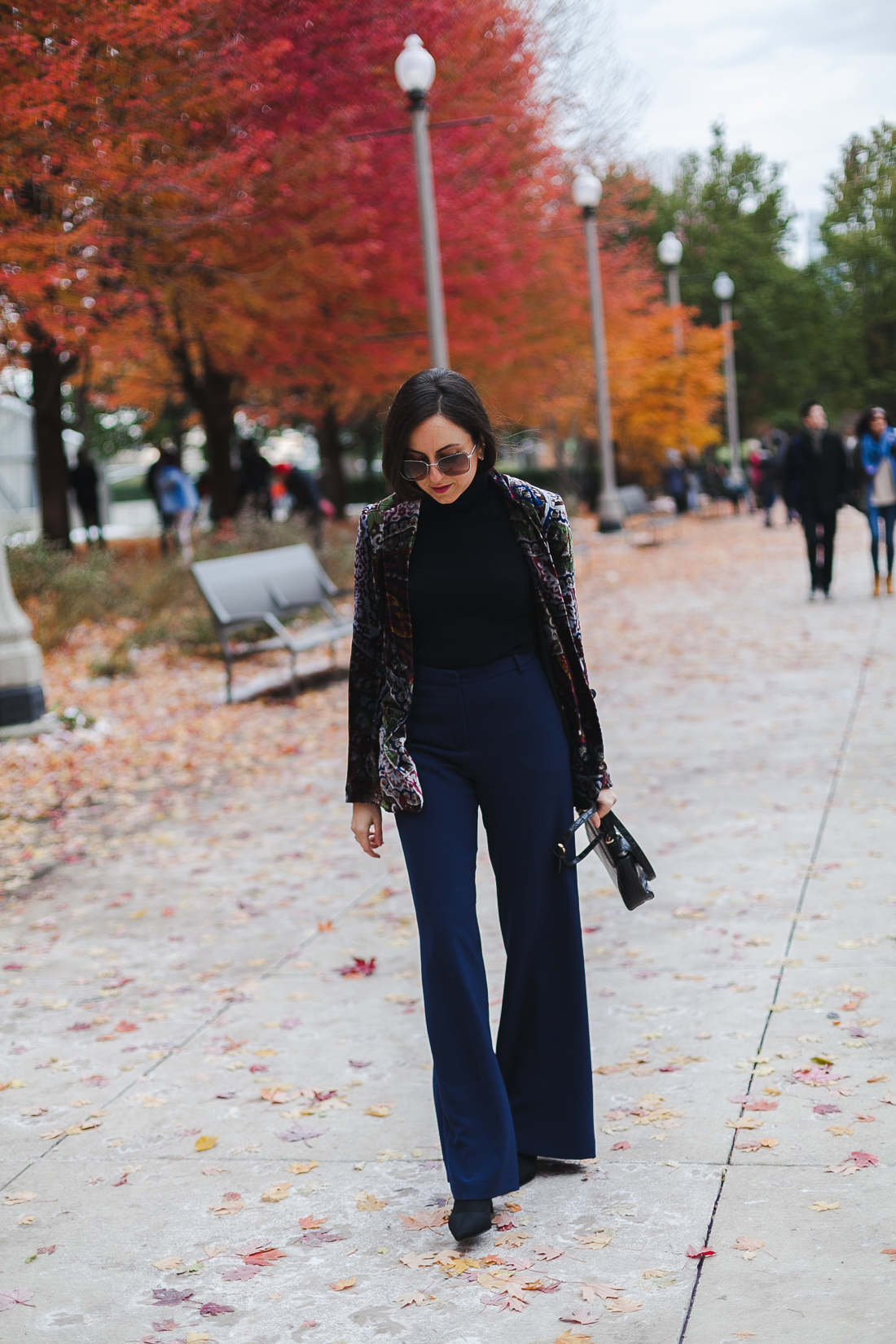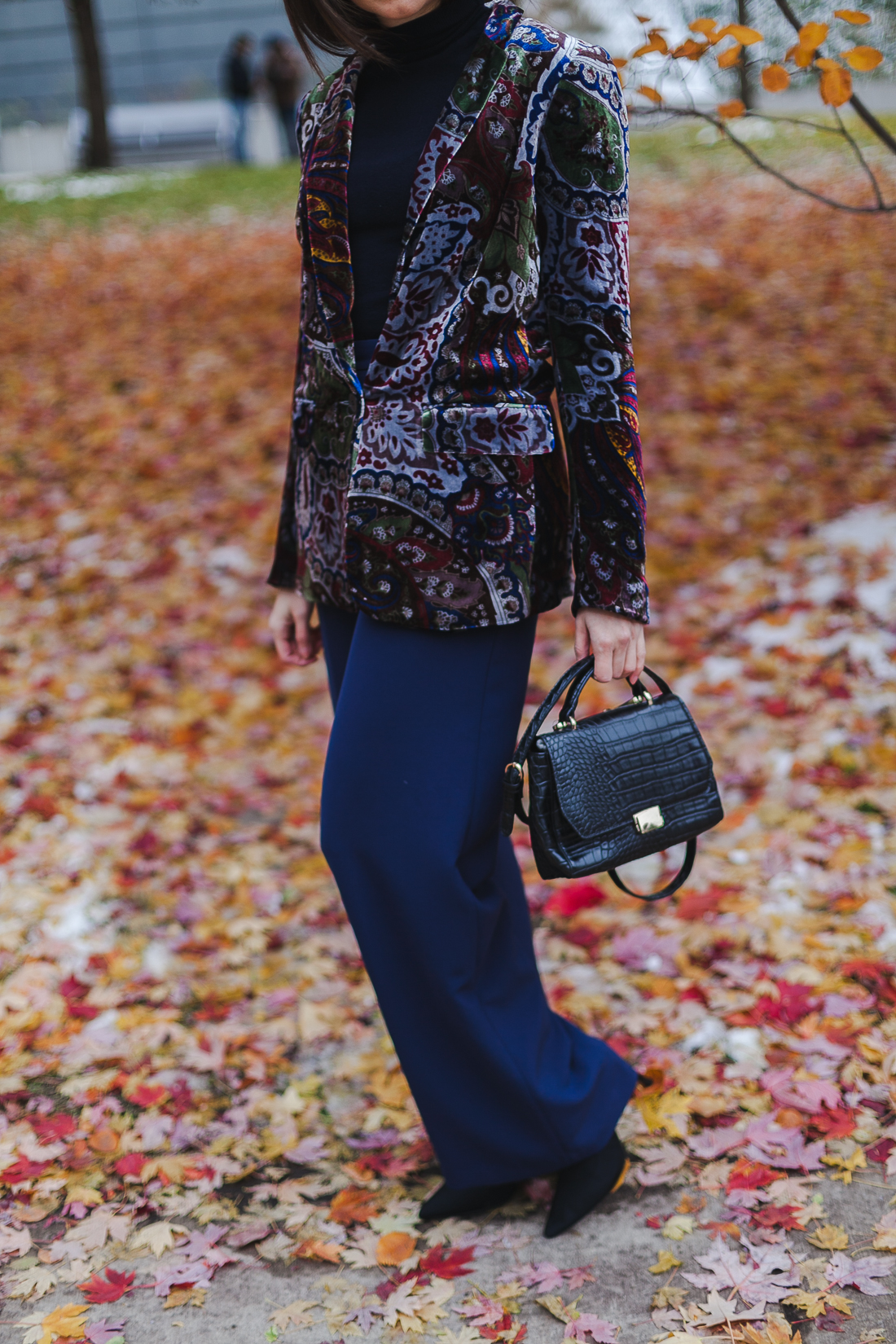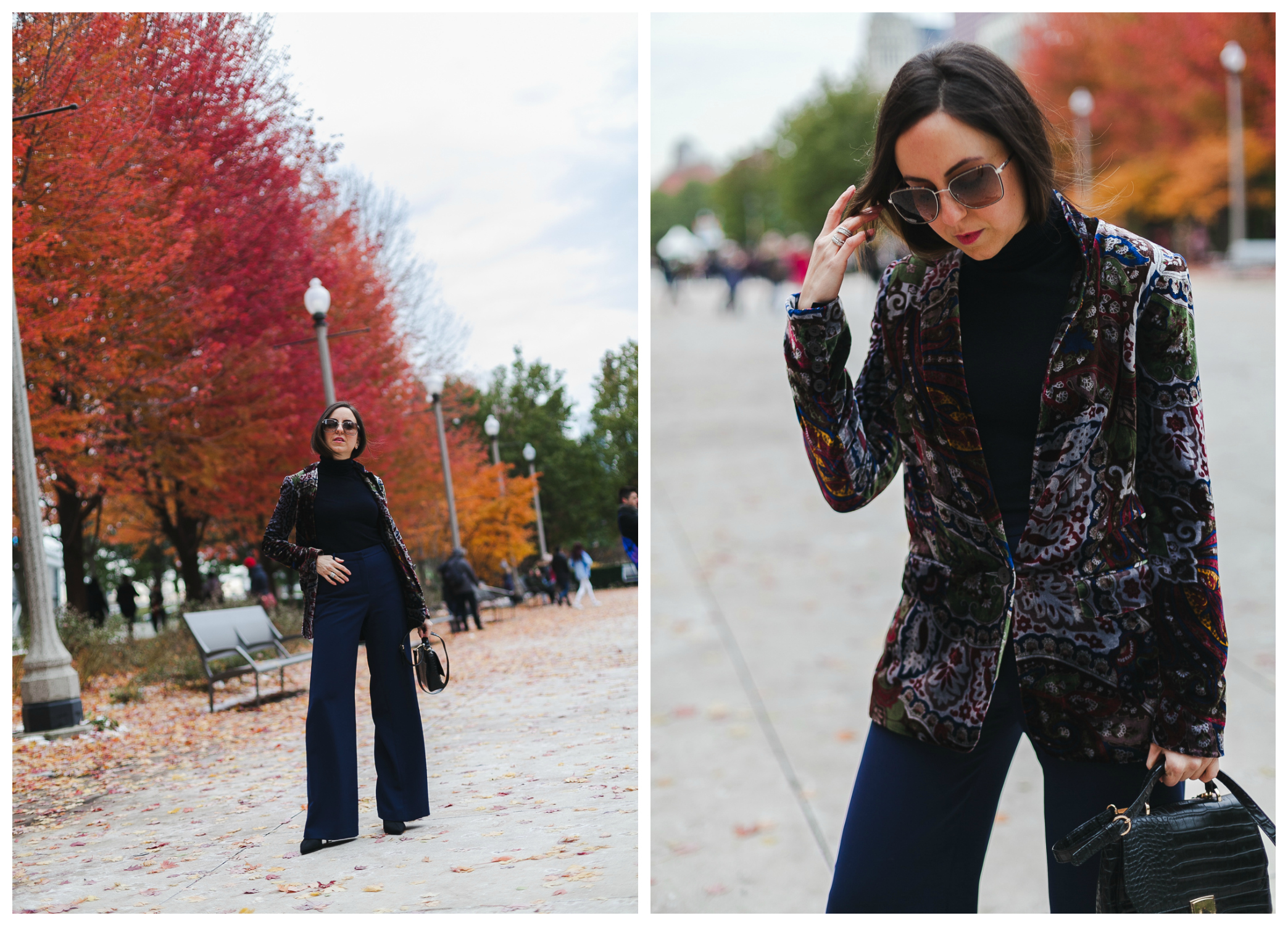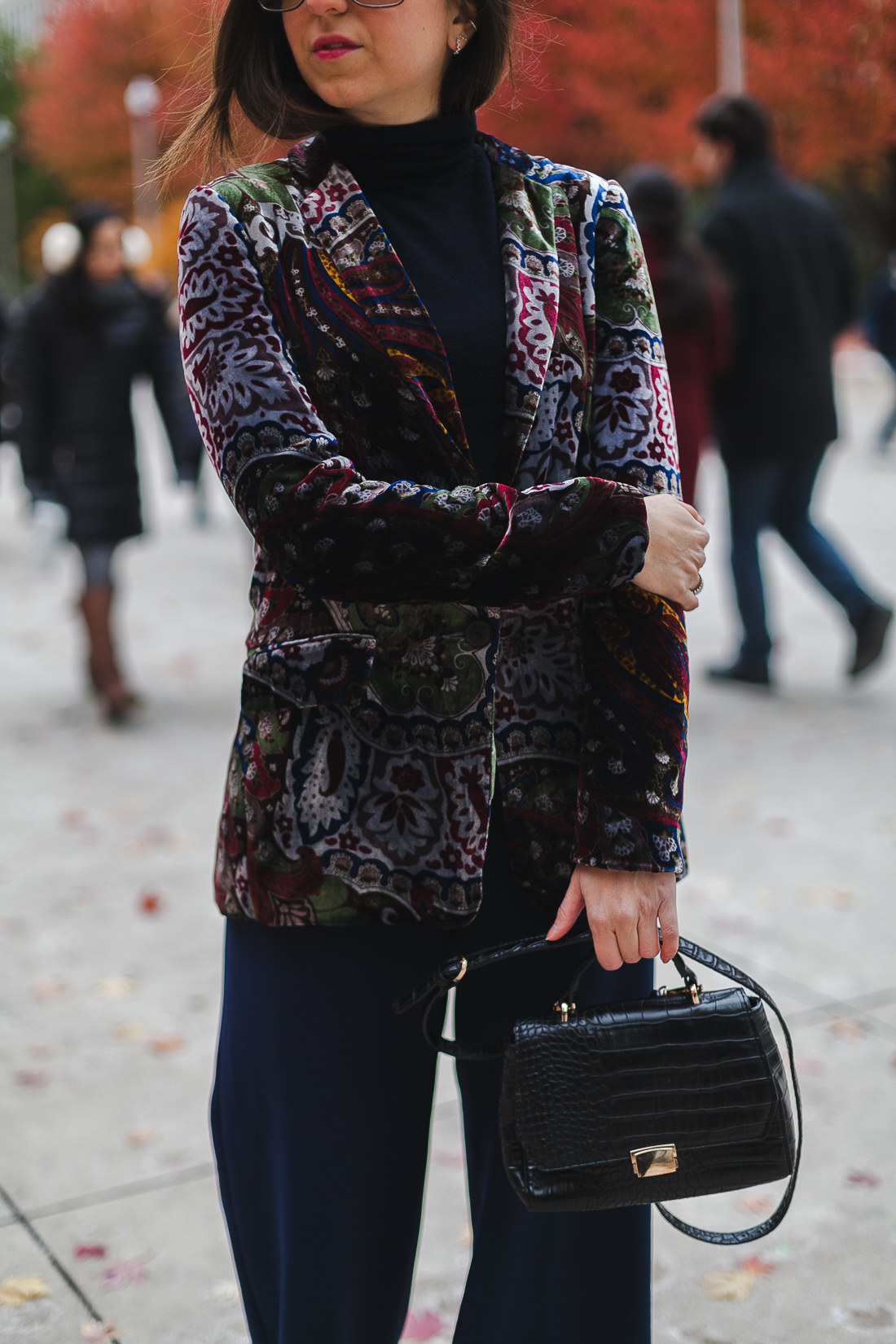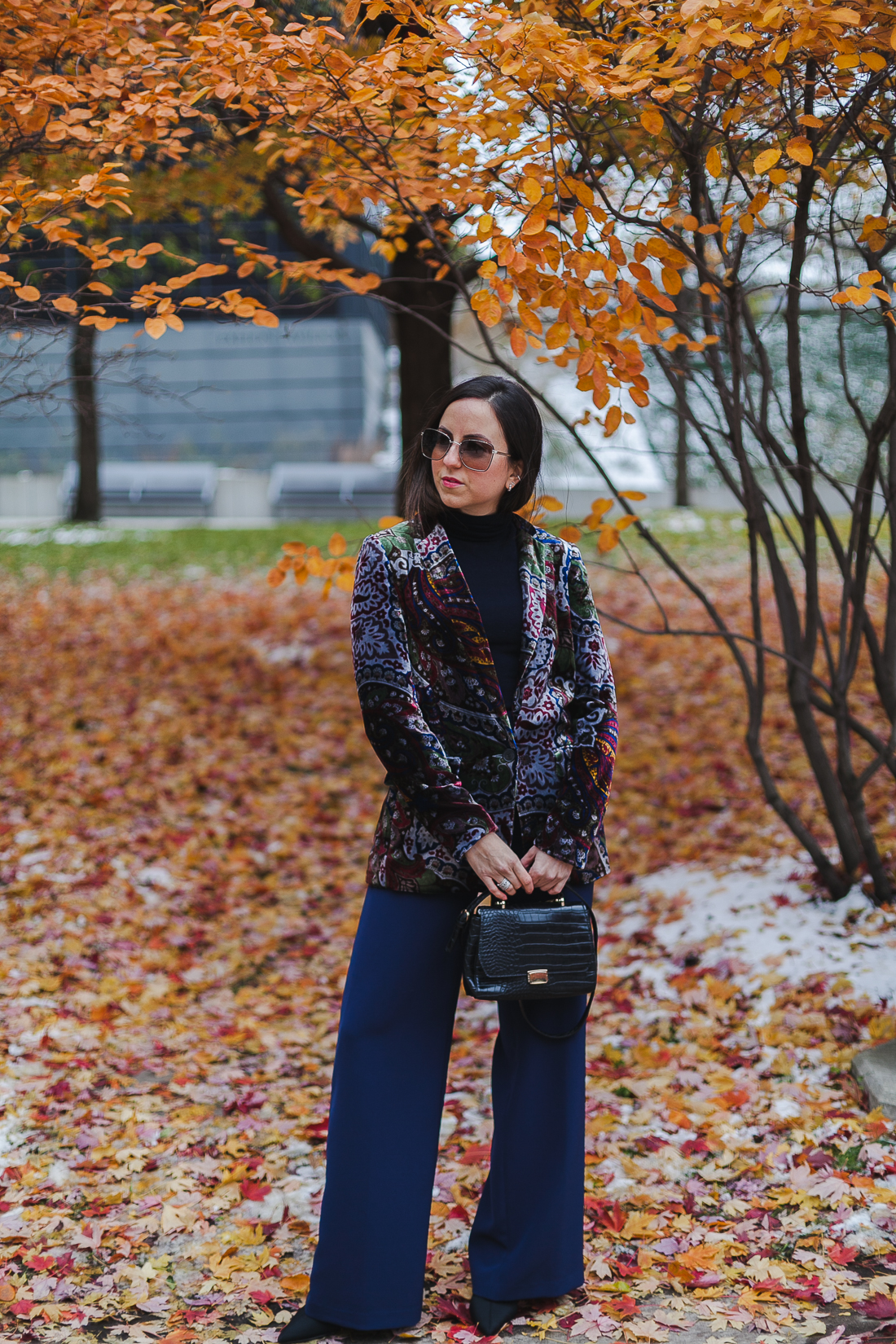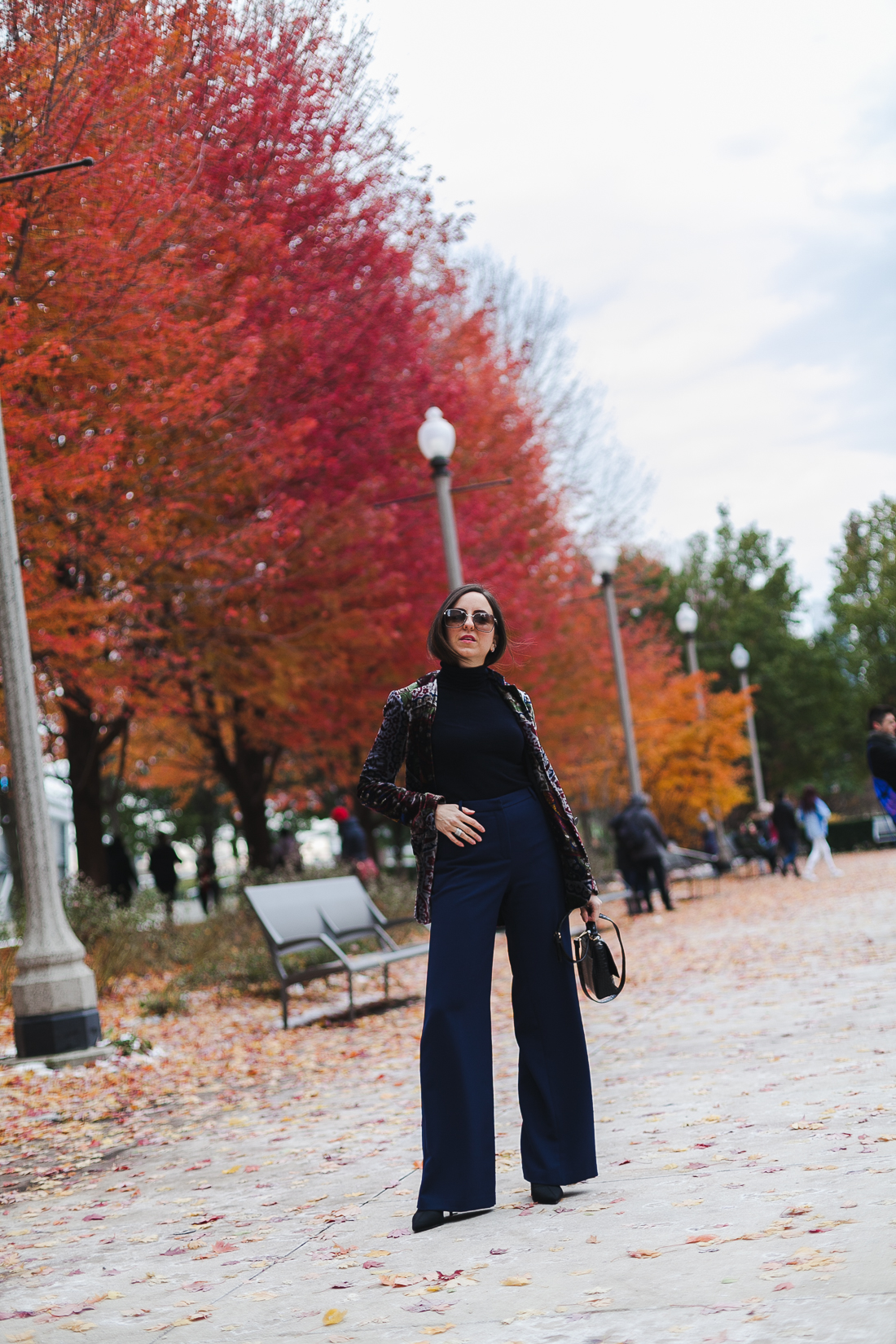 I just want to take a moment, because I don't know that I, or any of us frankly, say it often enough, how grateful we are. I've noticed these moments of gratitude tend to come over me when I allow myself to slow down. I know I don't speak solely for myself when I say that this life, is often times moving at lightening speed and it's so important to make time to stop, reflect and take inventory of all of the amazing people and opportunities we have. I'm far too aware of the things I may not have that I desperately crave rather than those that I do. Personality flaw, to say the least, but I'm working on it. I've even started a journal where I write down at least one thing a day, as minuscule as it may seem, that I'm grateful for.
With that being said, I really am incredibly grateful for you all- the fact that you even take the time out of your busy schedules to take a moment to read my words, well it's nothing but humbling. I'm so so grateful for the small but carefully selected group of people in my life that continue to inspire, uplift and care for me. All of my experiences, both good and negative, that have taught me how strong and resilient I am. Grateful for those, too. Grateful for my health, for the opportunity to see this glorious and wonder-filled world, to experience different cultures, grow and expand my perception of others and with that, myself.
I'll always strive for more, that's truly ingrained in who I am as a person, but that doesn't mean I can't appreciate or be thankful for all that I have in this very moment. Happy Thanksgiving, friends.
Photos by Jennifer Coffey Photography
MORE VELVET BLAZERS