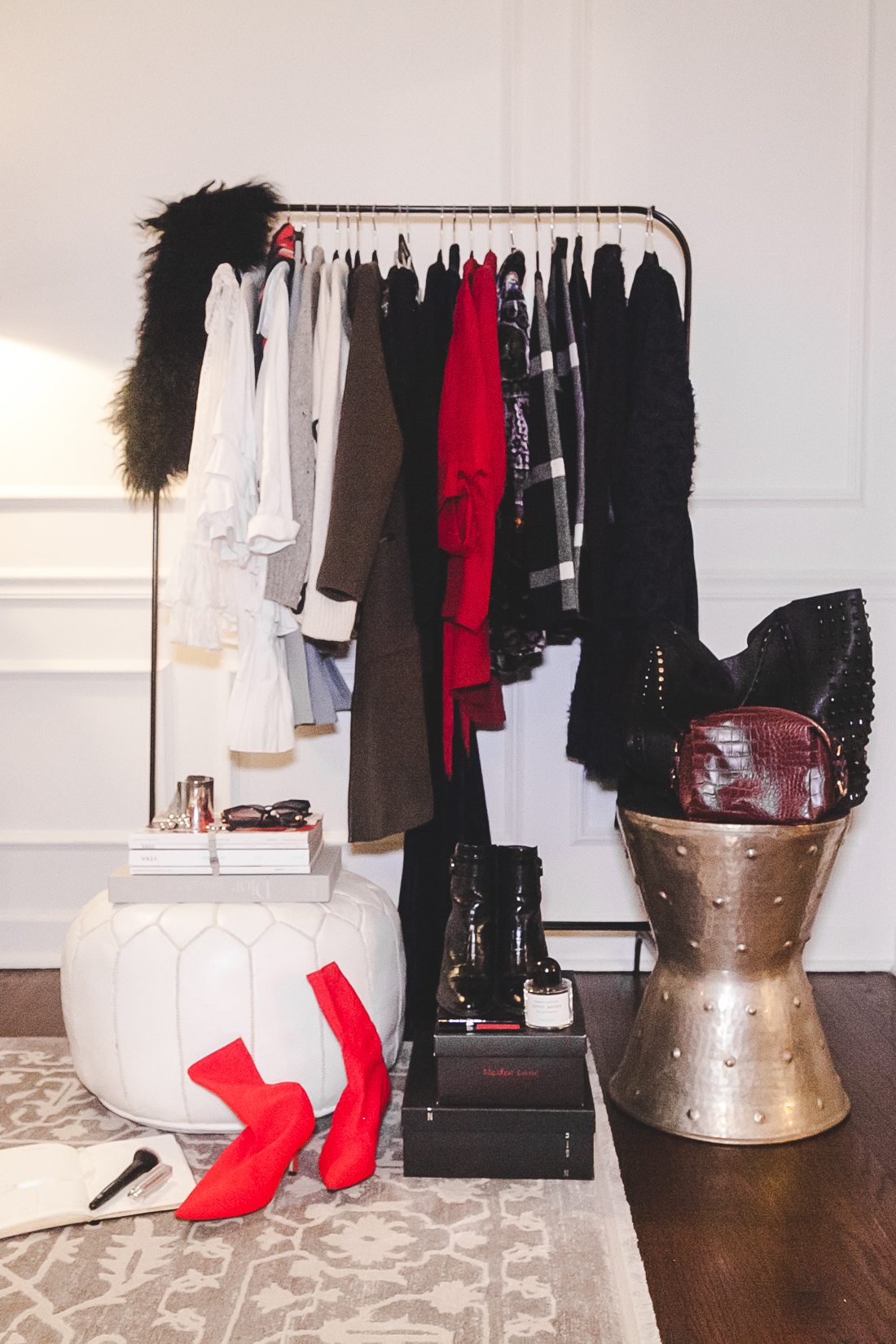 There's something incredibly romantic about Paris in the Fall. Years ago, I had the opportunity to spend a month in Paris during the holidays and it's cold, often times rainy disposition created a certain longing for the city. I'm headed back to Paris tomorrow and and have filled a suitcase full of black, white, red accents, ruffles, fur and silver jewelry! Scroll down for a peek at what I will be packing for my trip to Paris tomorrow and tips if you plan on finding yourself in the city of lights any time soon!
Shop my packing list ▼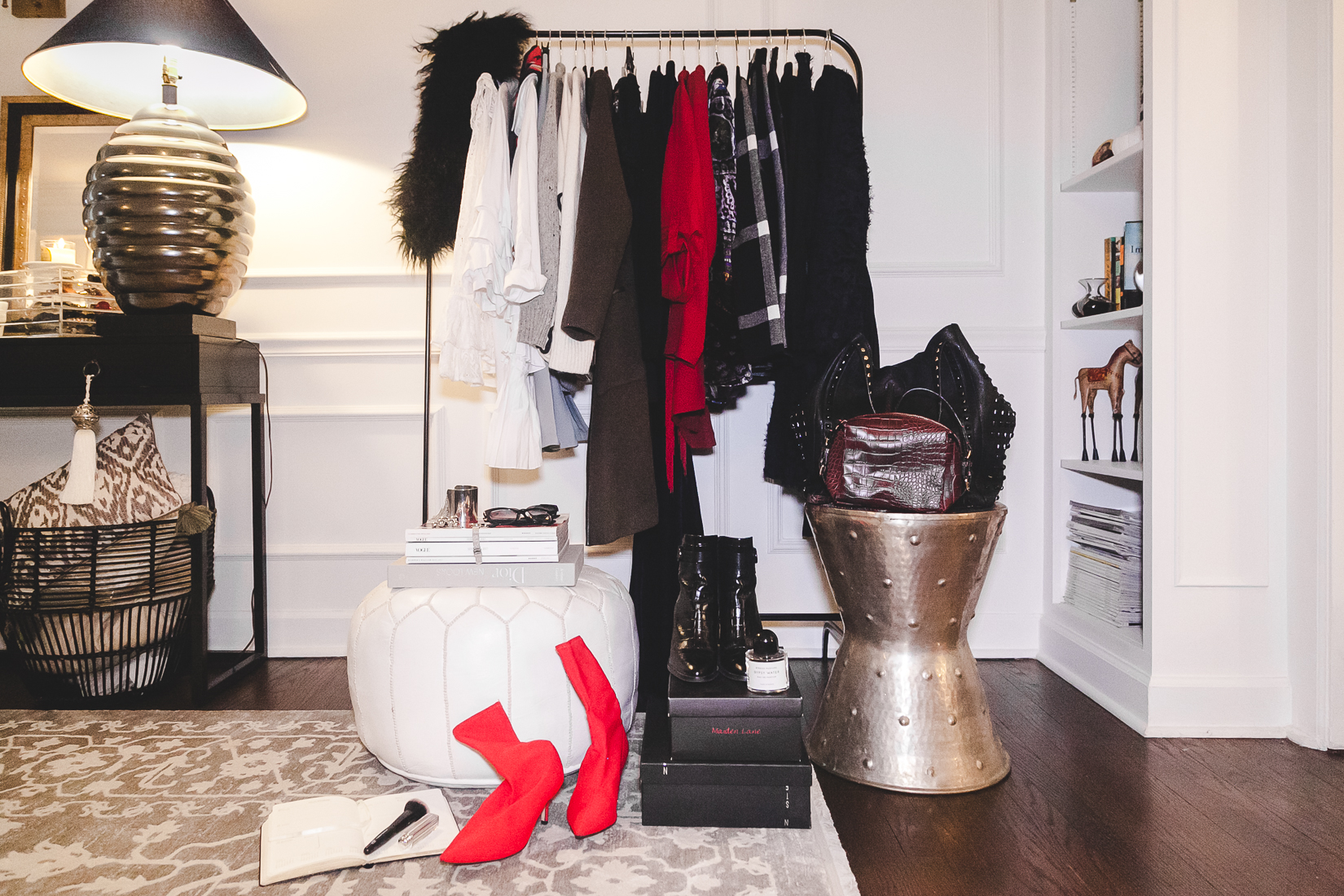 ACCESSORIES
I tend to travel with an over-sized purse that doubles as a travel carry-on. This black, studded tote is a recent purchase and an immediate favorite. I also tend to bring a small cross-body bag for days spent wandering the cobblestone streets of Paris. I need two hands to drink my latte and shop!
I've become quite fond of silver jewelry lately and it's a nice contrast to the colors of the wardrobe I'm bringing. A statement earring, cuff and a simple watch are among the few pieces I'll be bringing along. A pair of cat eye sunglasses and statement-making, Gucci eyeglasses should help hide the late nights dancing to disco at Queen. And my perfume du jour? The spicy Bal d'Afrique from Byredo, and of course, my go-to red lip from Dior in their classic red, 999.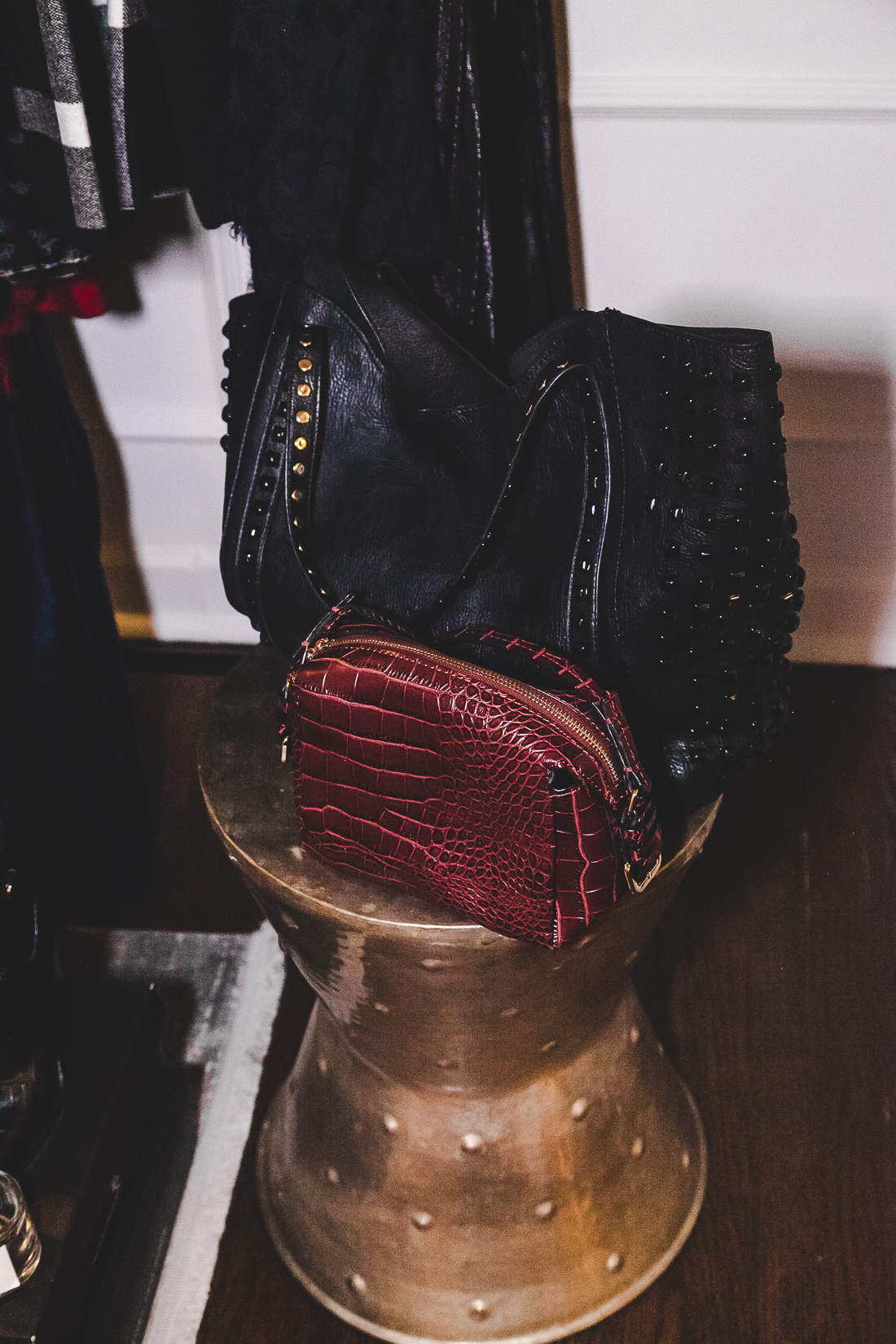 SHOES
Even though they are not pictured, I always make sure to bring along a flat, boot for walking. These red boots, are quite the statement piece and you can never go wrong with a good ankle bootie. These croc-embossed boots are new from yoox and their chunky heel makes them perfect for walking!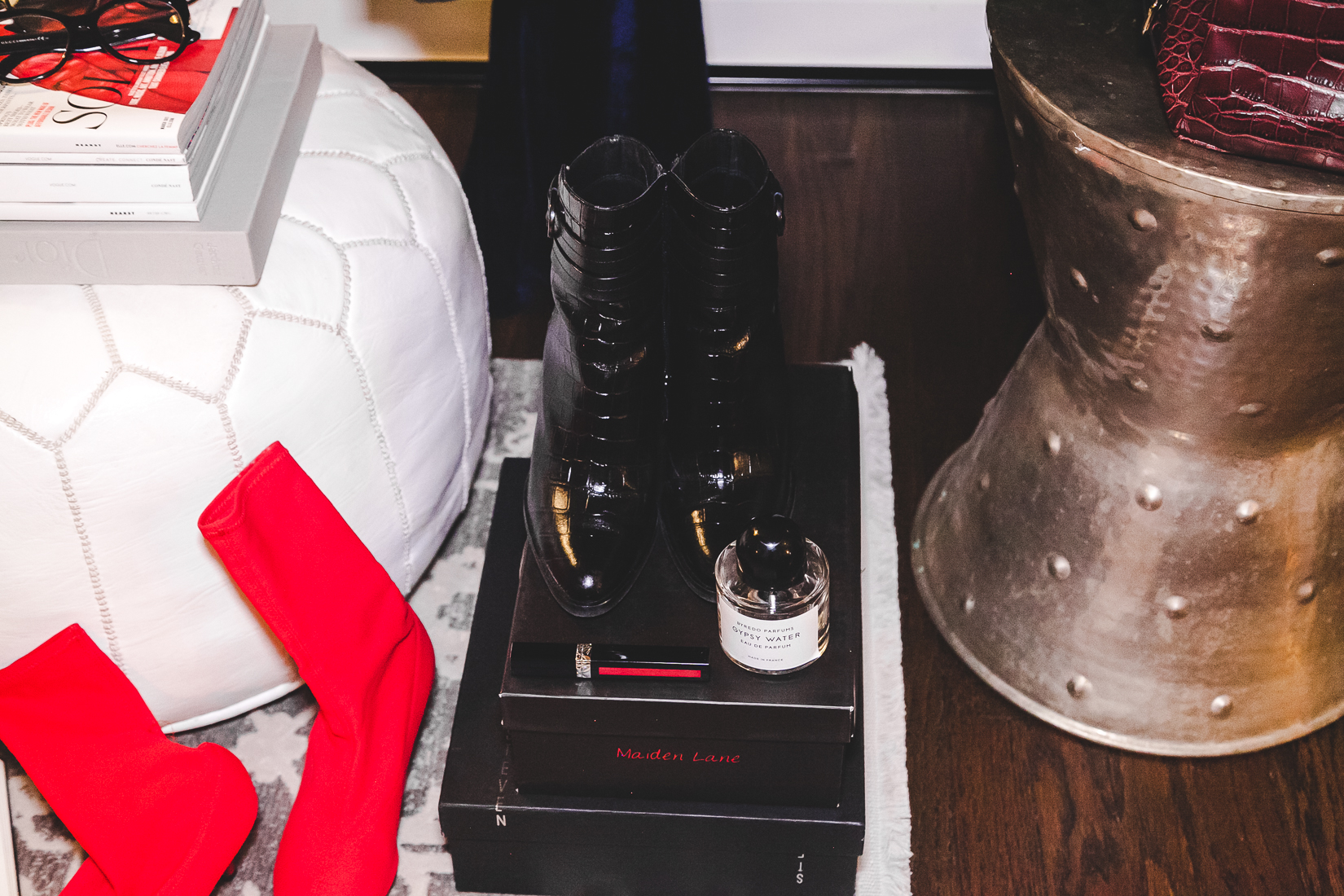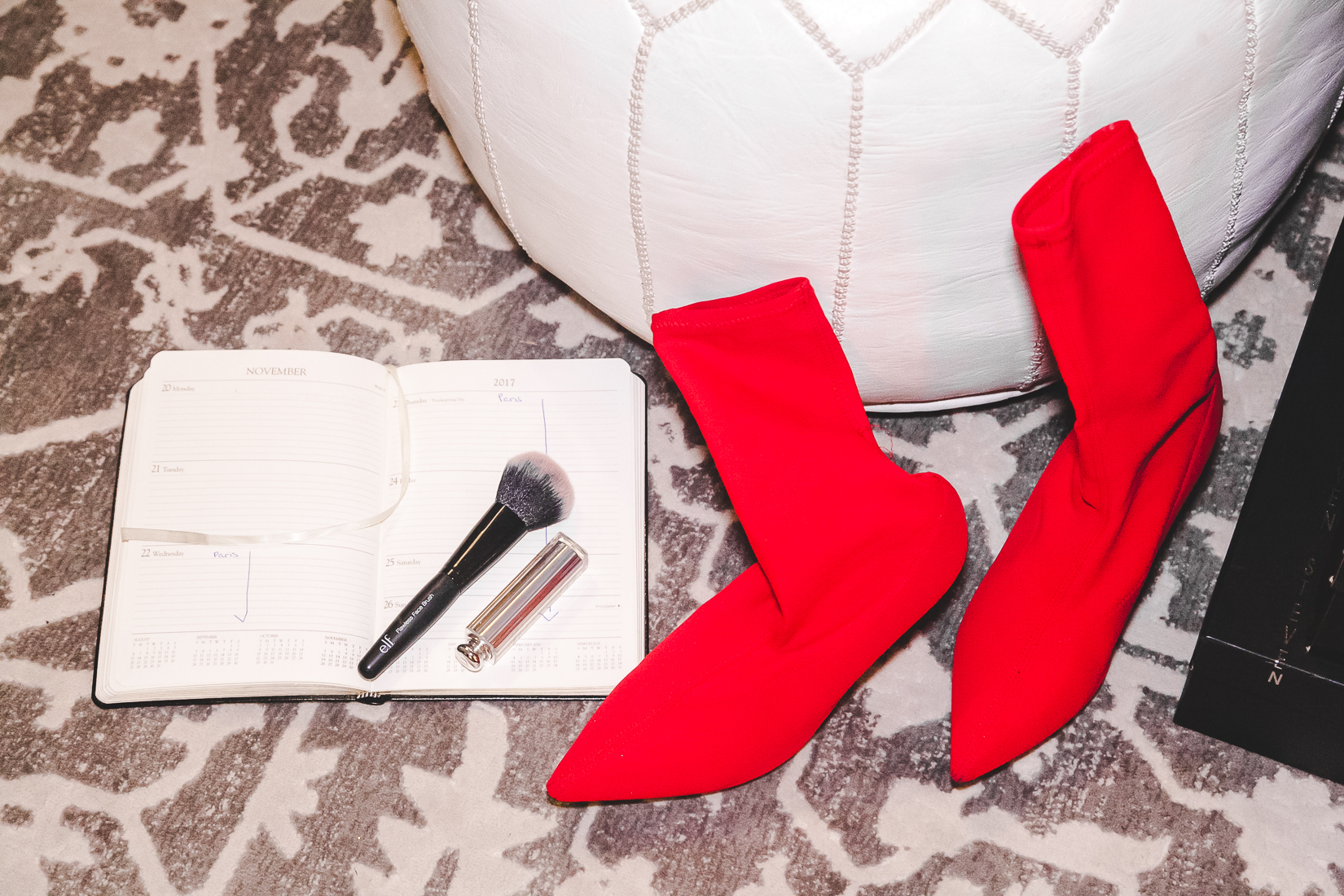 OUTFITS
I've brought a few staples along that truly feel Parisian in every sense of the word. White blouses with ruffles elevate a simple jean, while dresses paired with chunky knit sweaters can double from day to night. I'll be bringing a few fun blazers to wear over my button downs, paired with a belt and a neck scarf for a casual lunch at a cafe or a skirt and sweater co-ord for exploring the Louvre museum.
A few dresses, a pearl belt to accentuate any outfit, and a red tunic for that extra pop of color! For an evening out, I've brought a velvet, midi wrap dress in the perfect midnight blue, leather leggings for an edgy look and a Mongolian fur stole that I can throw over any of the jackets I bring.

I'm sure I will throw in a few last minute things into my suitcase, as I always do, but otherwise, I generally have my outfits planned by the day/occasion. It helps to have a mix of planned outfits and basics that you can mix and match!
Photos by Jennifer Coffey Photography
SHOP MORE OF THE PARIS PACKING LIST