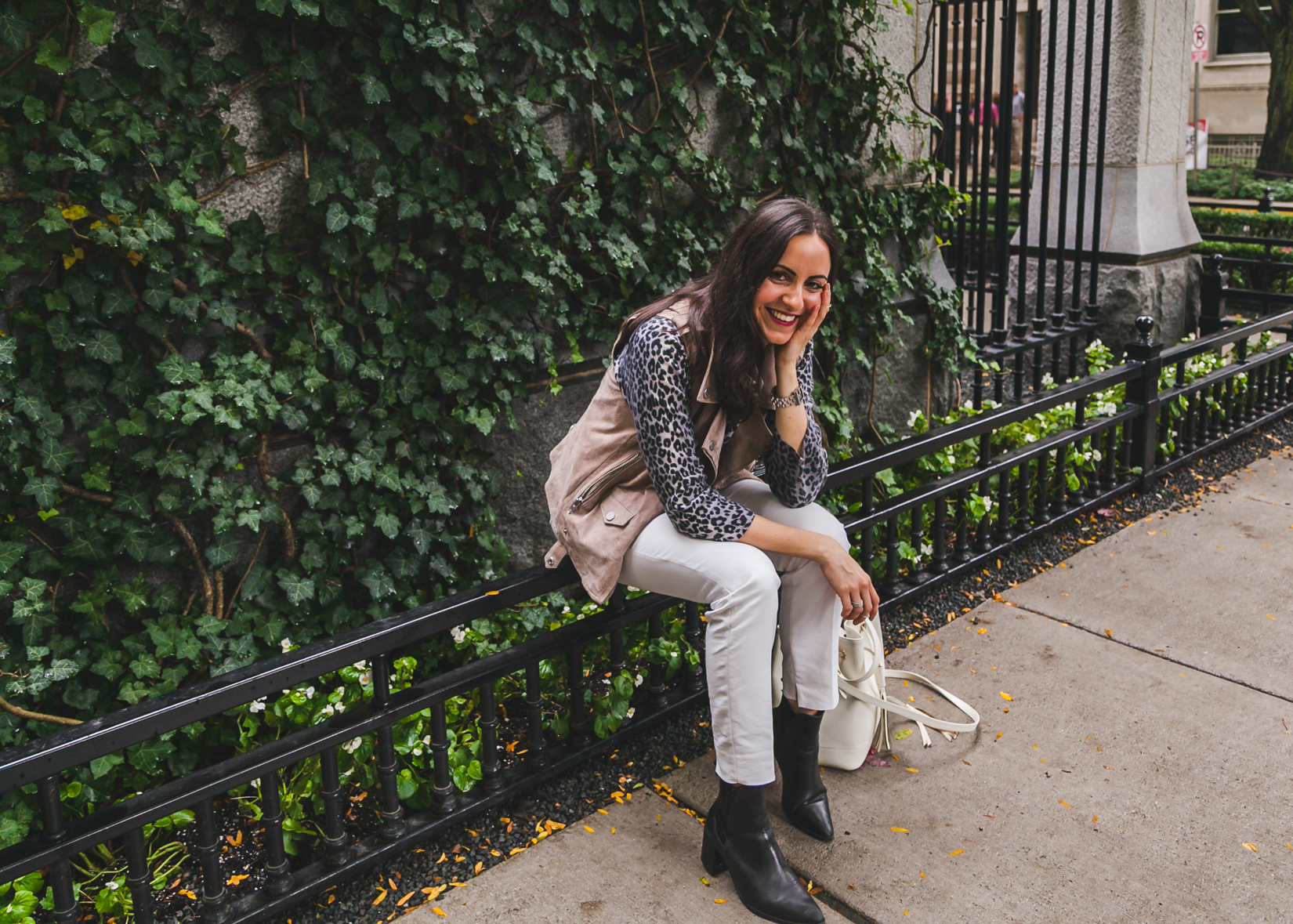 I truly feel like I just wrote this last post and here we are again, officially into Fall, despite the abnormally warm temps in Chicago, and entering into October. For the October IT List, I was inspired by the trends I saw at #NYFW and just about everything from the 70s.  I've started a seasonal list of pieces I would like to add to my wardrobe, that way I'm not  impulsively buying but being more mindful in investing in pieces I love. Let's just say, it's a work in progress…. As for this roundup, well it's a collection of items and beauty products that I already own, am pinching pennies to save for or simply don't need but really, really want to buy! What's on your Fall wish list?
1. The Skin Savior: After my facial with celebrity aesthetician, Georgia Louise in New York, I bought the recommended hyaluronic serum from Dr. Sturm and the plumping effect is unbelievably immediate. You need this in your beauty routine!
2. The Statement Dress: When I saw this dress, it literally took my breath away. Dreaming of how and why I need this dress in my life. It's what disco dreams are made of! Fashion Gods, you hear me?
3. The Over-the-Knee Boot: After seeing this on one of my favorite bloggers, Chriselle Lim, I've been pinching pennies and opting out of daily lattes so I can splurge and buy these gorgeous boots. The cut and heel of the boot are incredibly sexy and timeless, an investment piece!
4. The Fur Vest: I happen to love wearing furs in the cooler months. Sorry PETA?! I've been eyeing a fox fur vest and especially love that raspberry-colored, one for Fall!
5. The Perfect Sunglasses: After seeing Atomic Blonde, Charlize Theron girl fan over here, I knew I needed to get a pair of these sunglasses! They make every outfit chic!
6. The Red Purse : Red is HOT this Fall! If you don't feel comfortable sporting an entire look in the IT color this season, then at least add an accessory or two! You know I'm a sucker for just about anything croc!
7. The Plaid Blazer: Borrowed from the boys is a major trend this season and Theory always knows how to make the perfect blazer. I happen to have a darker version of a plaid blazer that I wore here, but really love this version, too.
8. The Link Necklace: Don't give all the fun to statement earrings! This necklace sits on the collar and the different size links give it a unique look- classy and fresh!
9. The Vampy Lip: As soon as there is a chill in the air, the first thing to change are my lip and nail colors! I happen to love this Bobbi Brown Luxe lipcolor in Brocade, Bond and Parisian Red!
10. The Fall Scent: Byredo fragrance has become my signature brand for perfume- I love all of their scents but have a few favorites that I rotate. Bal d'Afrique is my go-to for Fall months- inspired by Paris in the 1920's and African culture, it's a blend of spicy, exotic and completely refined.