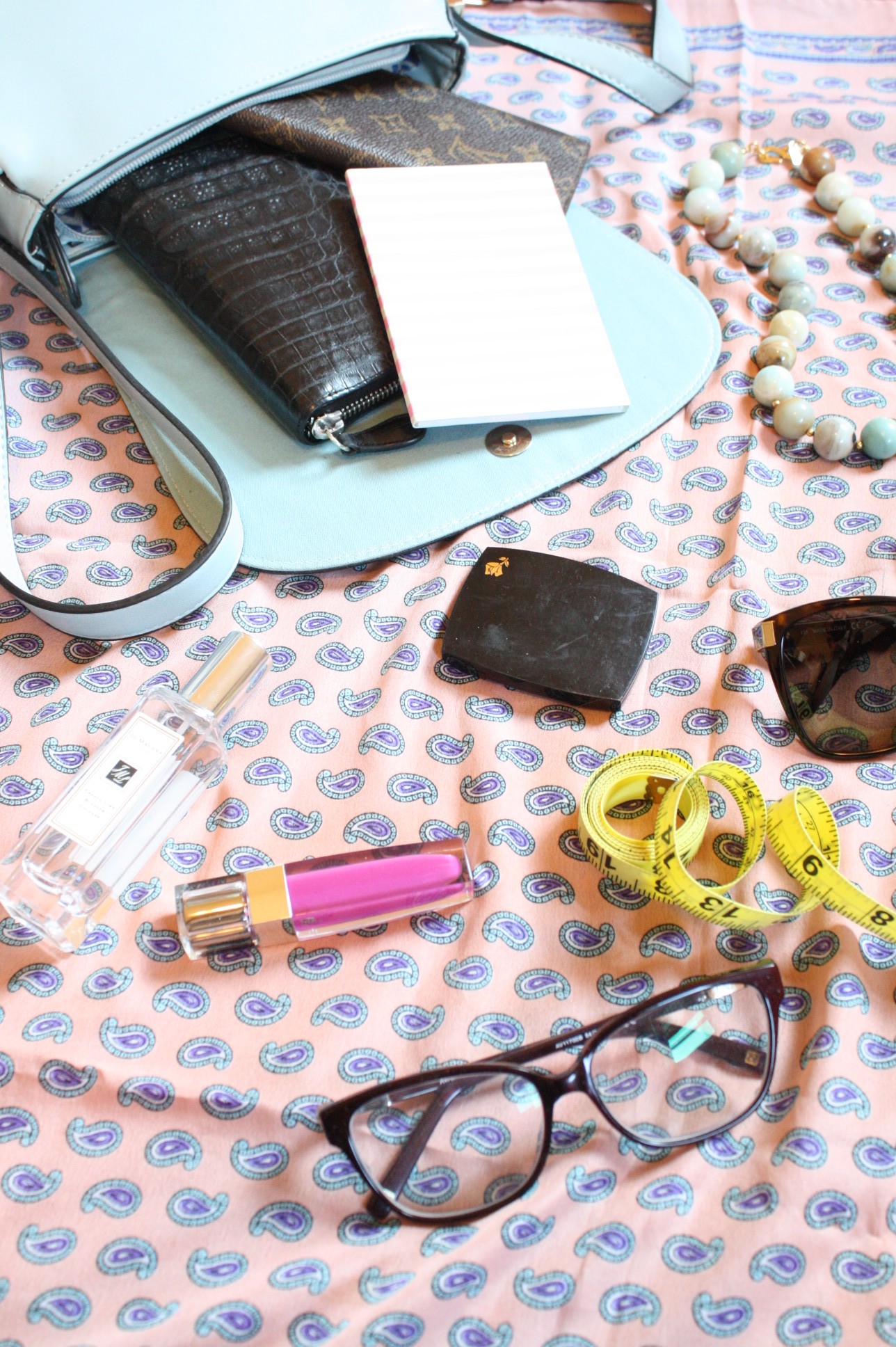 My bags change frequently with my outfits but the goodies I carry inside usually stay the same! Today, I'm sharing a glimpse of what I'm carrying with me on a daily basis! And men wonder why our purses are so heavy? Psshhh. Necessities, my dear. Necessities.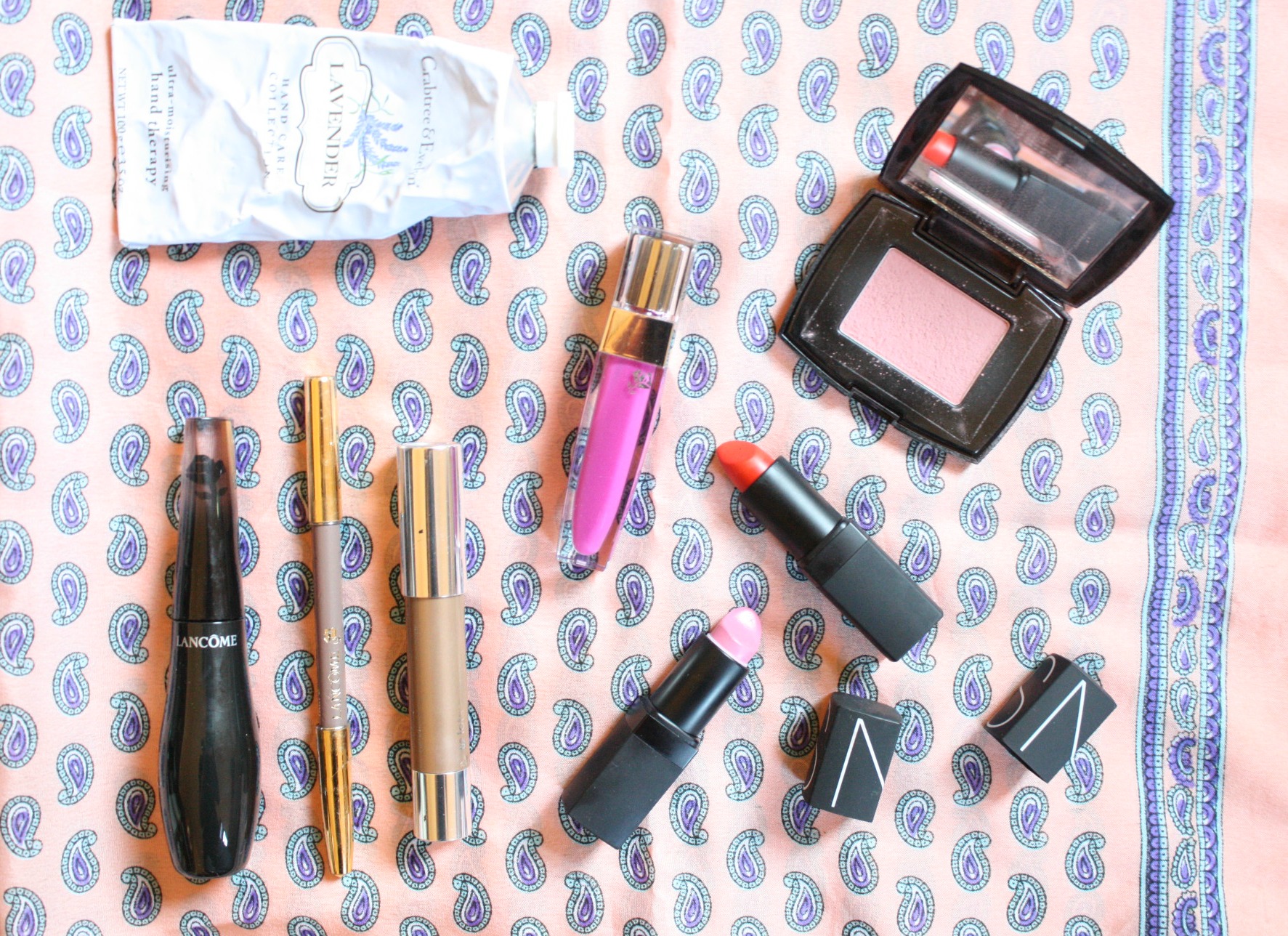 1. Makeup
I promise these all have a home in a makeup bag- they do not, repeat, do not, roam freely in my purse. I've been wearing a pink blush, Lancome's aplum, as of late and love the natural, flushed look it gives. My lip colors usually rotate between a pop of color or a nude lip. Nars Roman Holiday and Heat Wave are two of my faves. My eye game is minimal, a chubby stick from Clinique in Lots' o Latte, Lancome's eyebrow pencil in taupe and Lancome's new mascara, Grandiose, that is a-mazing! I always make sure to have lotion on me and I love the thick and creamy hand therapy from Crabtree & Evelyn in lavender.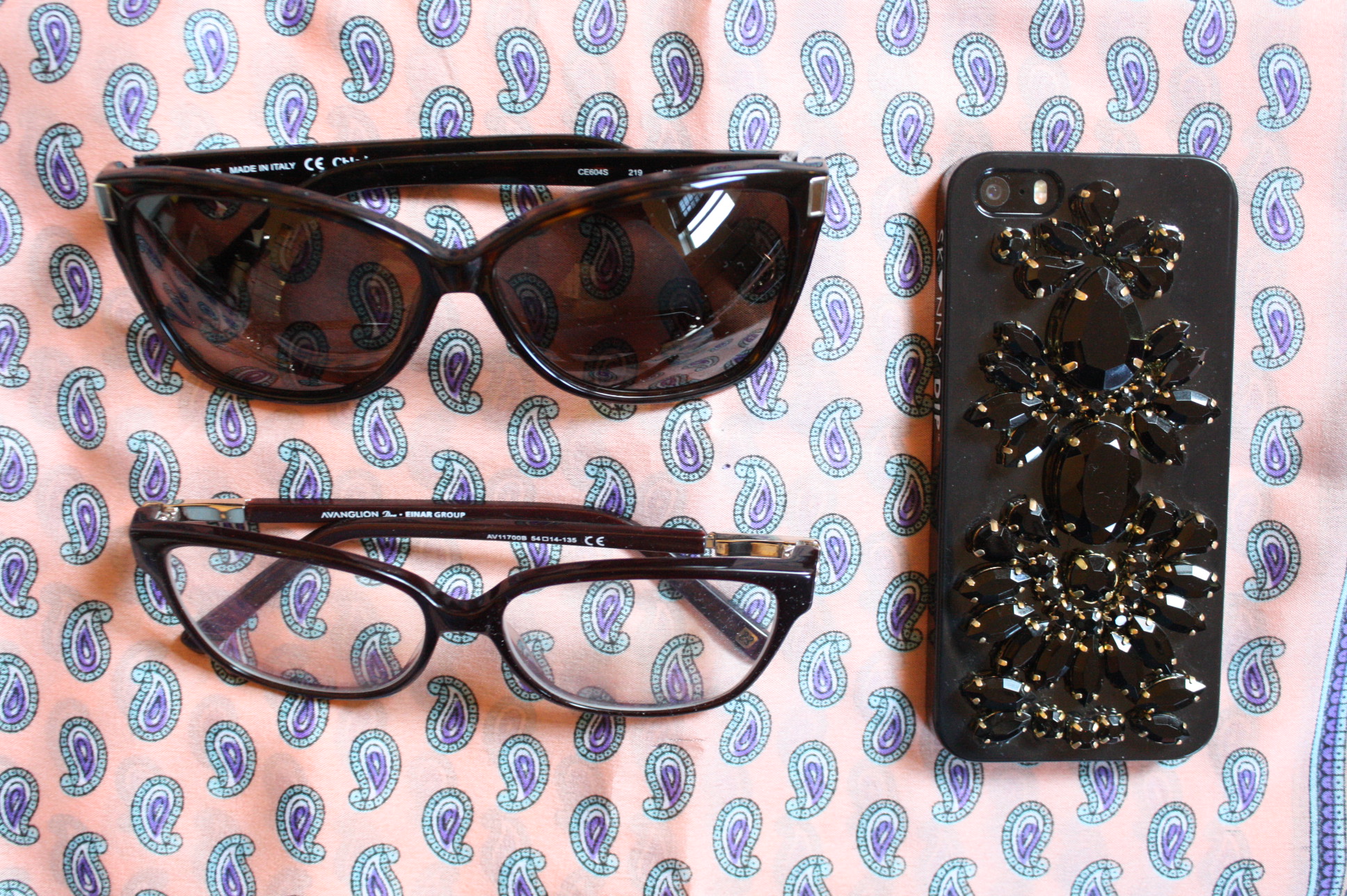 2. Sunnies and My Iphone
I wear very weak glasses but they do make everything that much more cripser for me. I feel like a Claritin commercial when I put them on! I switch them around, but these from Avanglion that I bought in Europe, are currently what I'm wearing day to day. As far as my sunnies, I just bought these Chloe beauties and I love how big they are! Bigger is better! And can we talk about that Iphone case? Obsessed! In any other color, it might be a bit much, but it's perfection in all black. I think I should give one of these away. What do you think?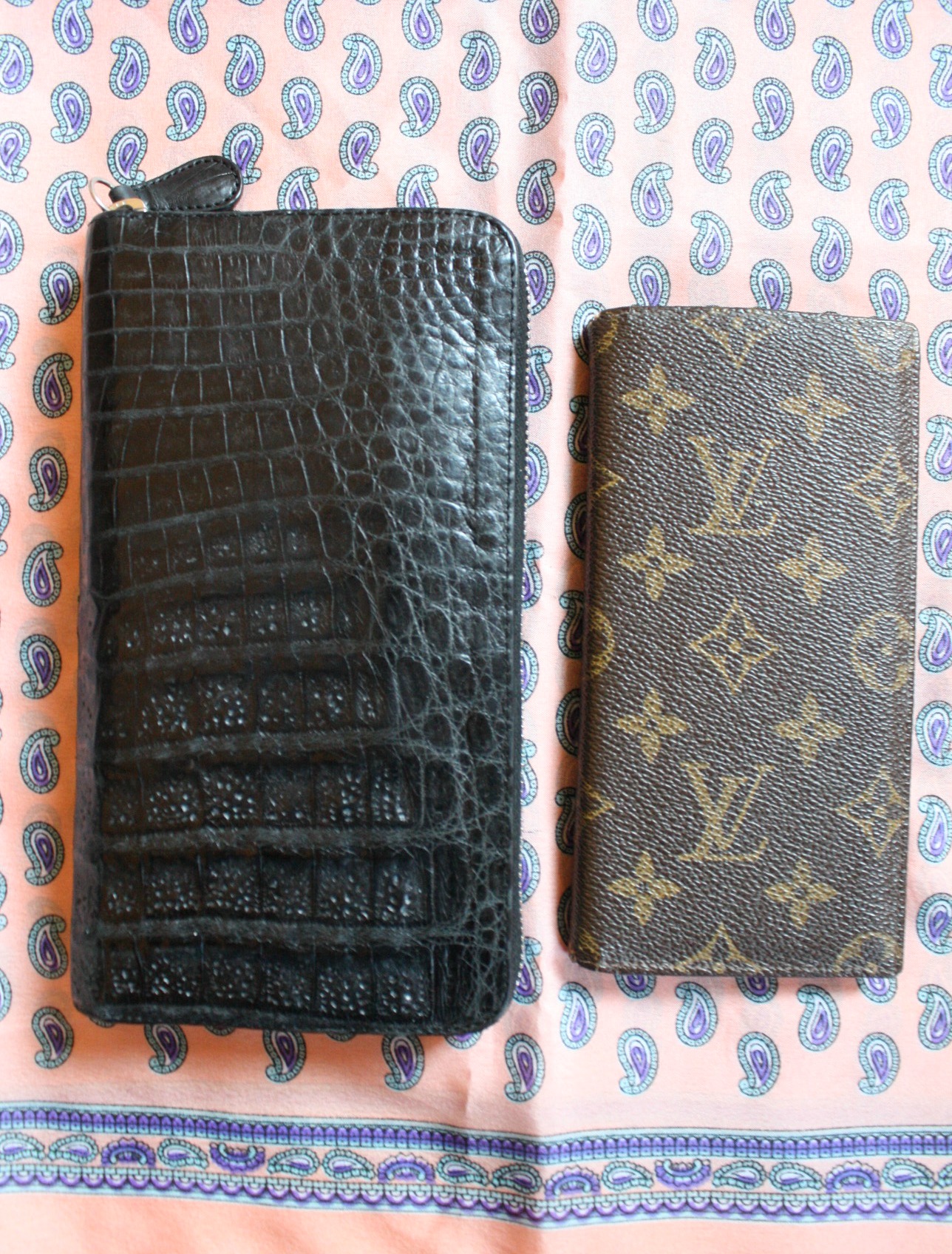 3. The Money
My wallet is almost a purse of it's own, but I absolutely love all the compartments and the um…alligator skin? Yes, real alligator. This has to be one of the best gifts Petar bought for me. Ok, I bought it for me on his behalf, but that's kind of the same thing. The best part? I got it for a steal on Gilt! It's heavy duty and frankly, I wouldn't be able to accomplish much if I didn't tote it around with me. Can you remember the last time you wrote a check? Exactly. My Louis Vuitton checkbook makes those rare times of writing a check that much more luxurious.
4. Scents and baubles and… a tape measure?
I could have left the unglamorous tape measure out of the photo but then this wouldn't be very realistic. Yes, I carry a tape measure around. I'm hunting for furniture regularly and need to be able to get dimensions quickly to snatch a piece up. Jo Malone, you devil, you. I can't get enough of these amazing perfumes and I always happen to French Lime Blossom with me. It smells like Summer and I could use perpetual Summer. You feel me, Chicago? I make sure to always have a piece of jewelry that I can throw on if an impromptu meeting or dinner pops up. I surprisingly don't hit up flea markets drenched in baubles but I might reconsider. I just happened to pick this gorgeous jade necklace from Fox's.  The color is so good!
I can't get enough of this powder blue for Spring! I saw this bag at Fox's, one of my favorite stores, and picked it up for… ready for it? $29! Should I jump for joy? Applaud myself? Cuz that is an amazing deal, thank you very much! A cross-body saddle bag in the "it" color for Spring? You're welcome! Btw, they had it in black and a pale pink!
I literally spilled the contents of what's in my bag! I'd love to know what you carry around all day in yours? Do you have mini bags within your purse to compartmentalize or is it a hot mess? No judgement here!