After a few of you asked about the kitchen, I knew it was time to share a progress update with you all! I'm not close to done, but we've definitely tackled the bigger part of the project: painting the kitchen cabinets.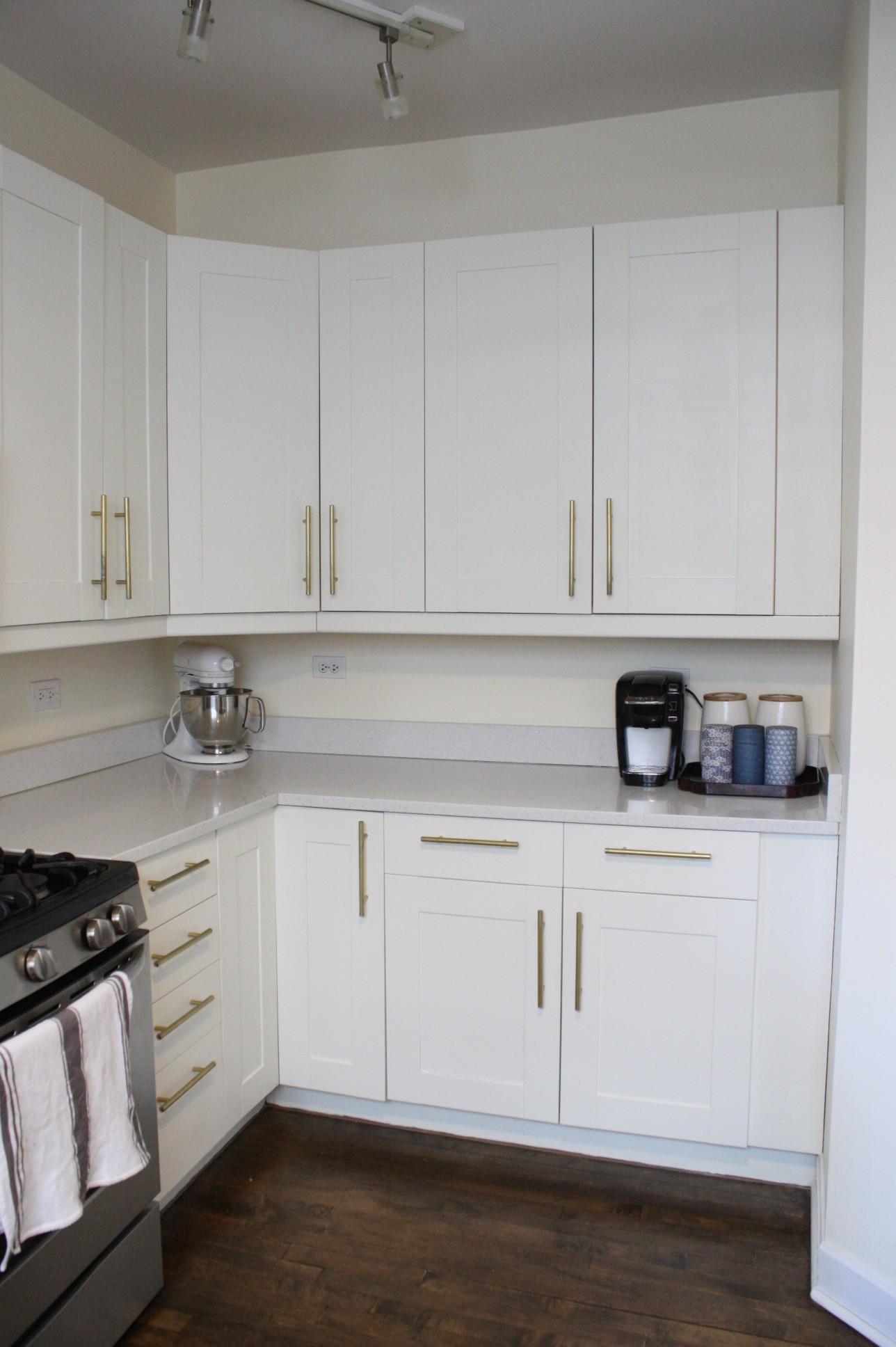 If you remember this post a while back, I was confident enough that I would get this project done in 6 weeks… yah, so we know how that turned out. Nevertheless, we picked a weekend to take off all of the cabinet doors and sides and we took them up to my mom's to paint them outdoors. This was during the summer and it took us a good three days to get all of the pieces painted and dry enough to take back home.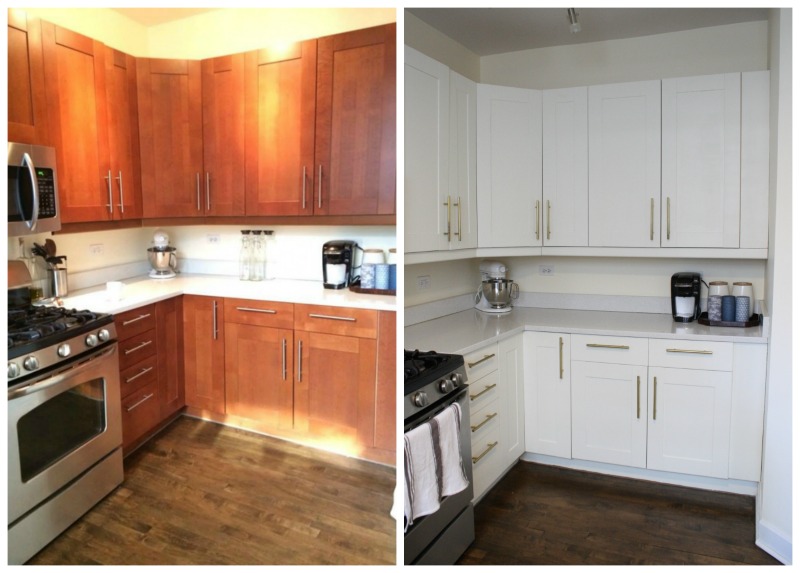 The kitchen cabinets that came with our condo were the Ikea Adel doors in medium brown. Even though they were practically new, I wasn't really feeling the "orange" colored wood. It especially clashed with our newly, dark-stained floors. I wanted a bright and fresh kitchen and that meant a coat of white paint. Which by the way, there are sooo many white paint colors to choose from. I was bouncing back and forth between Benjamin Moore's White Dove and Decorator's White.  Took me forever to settle on a color, but after endless research and indecision, I finally went with White Dove. This article was great for discussing the undertones of both colors.
Ikea is pretty adamant about not painting their cabinets but after reading quite a few forums, a lot of people seemed to have great success. I especially liked this forum and used it for reference when figuring out our process. I think one of the key points is to thoroughly clean the cabinets. There is so much grease build-up from cooking, that the paint, or primer, won't stick properly.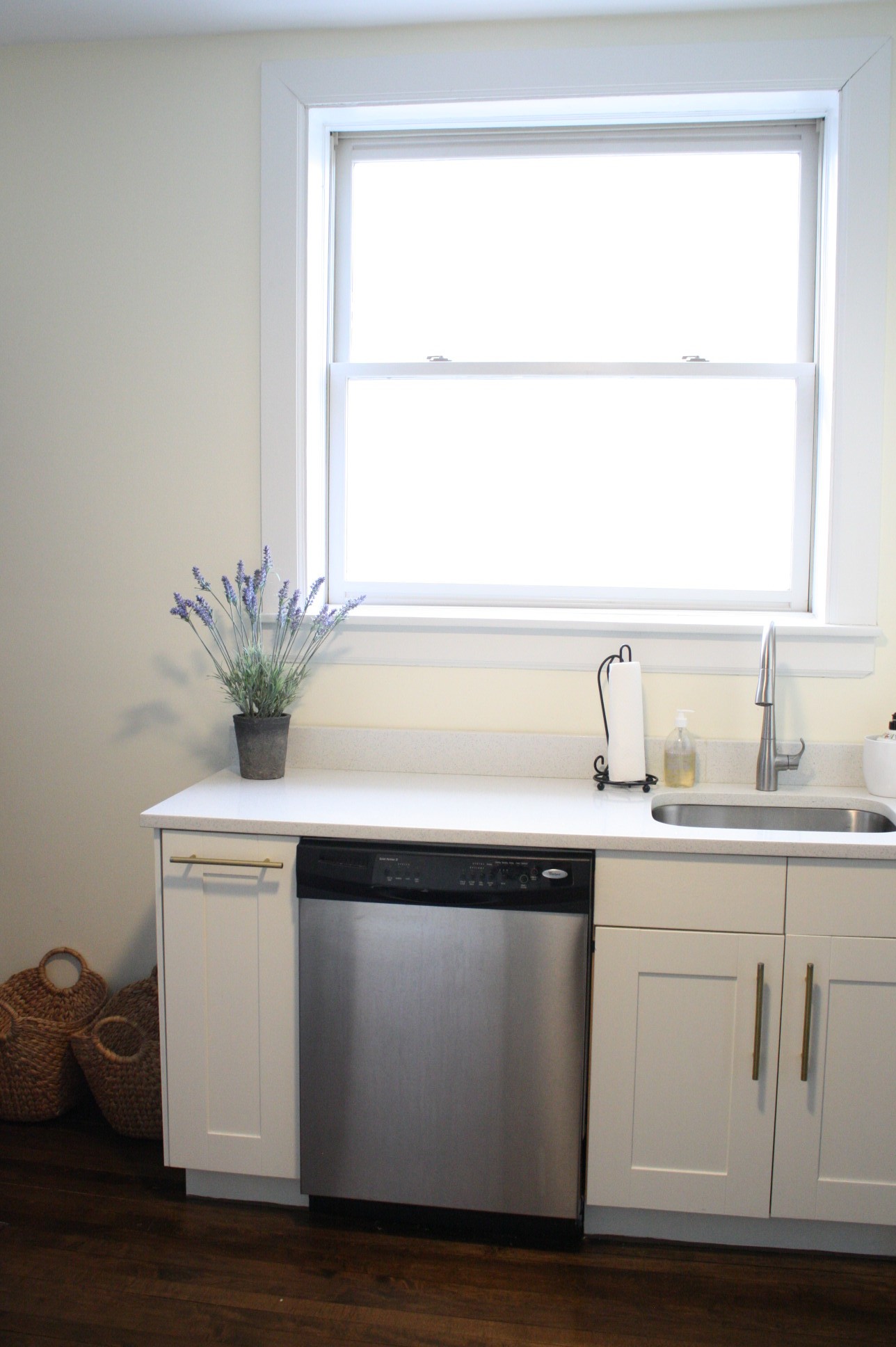 To give you a bit more insight on the process, we wiped all the cabinets down with a damp cloth. Make sure to only use water when wiping them down, other chemicals might interfere with the primer. We considered sanding them first, but after reading reviews of the primer, it wasn't necessary. We did however, sand in between coats of primer and paint to ensure a smooth finish. For this, I like the fine sand paper blocks with an angled edge for ease of use.
After they've dried, we primed them with a high bonding primer by Valspar. This bonds to all kinds of surfaces, like the glossy veneer from Ikea. It also allows the cabinet to pick up the paint, without having it rub off. We first tried this with a spray gun and had no success. Eventually, we ended up going the old-school route and hand rolled them for a nice and smooth finish. We primed both sides twice before painting. Then we used a flat finish in the Benjamin Moore White Dove and did 2 coats of this, as well. Using a paint roller.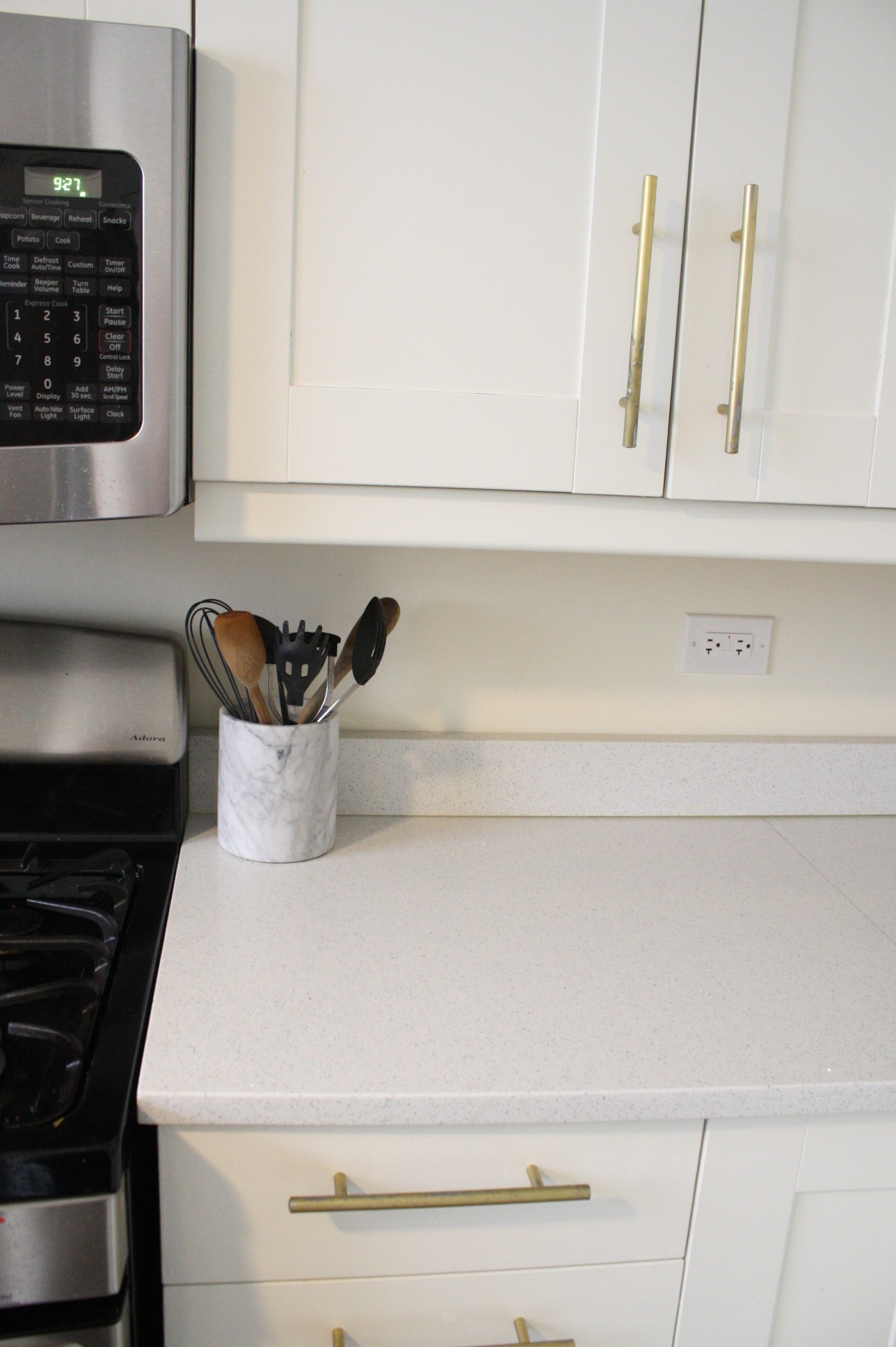 While painting is time consuming, it was waiting for all of the coats to dry that took the longest. It also allowed for much-needed breaks. I had gained some serious muscle in my right arm after all the hand painting!
Initially, I wanted to get new hardware for the cabinets, but we decided to give some love to the pulls that came with the cabinets. We spray painted them gold and while the idea was great in concept, from all of the cooking and grease build-up, the spray paint has already started to fade. As you can see from the photo above. Back to my initial idea, I am looking at picking up these bad boys. Same concept and all in beautiful brass.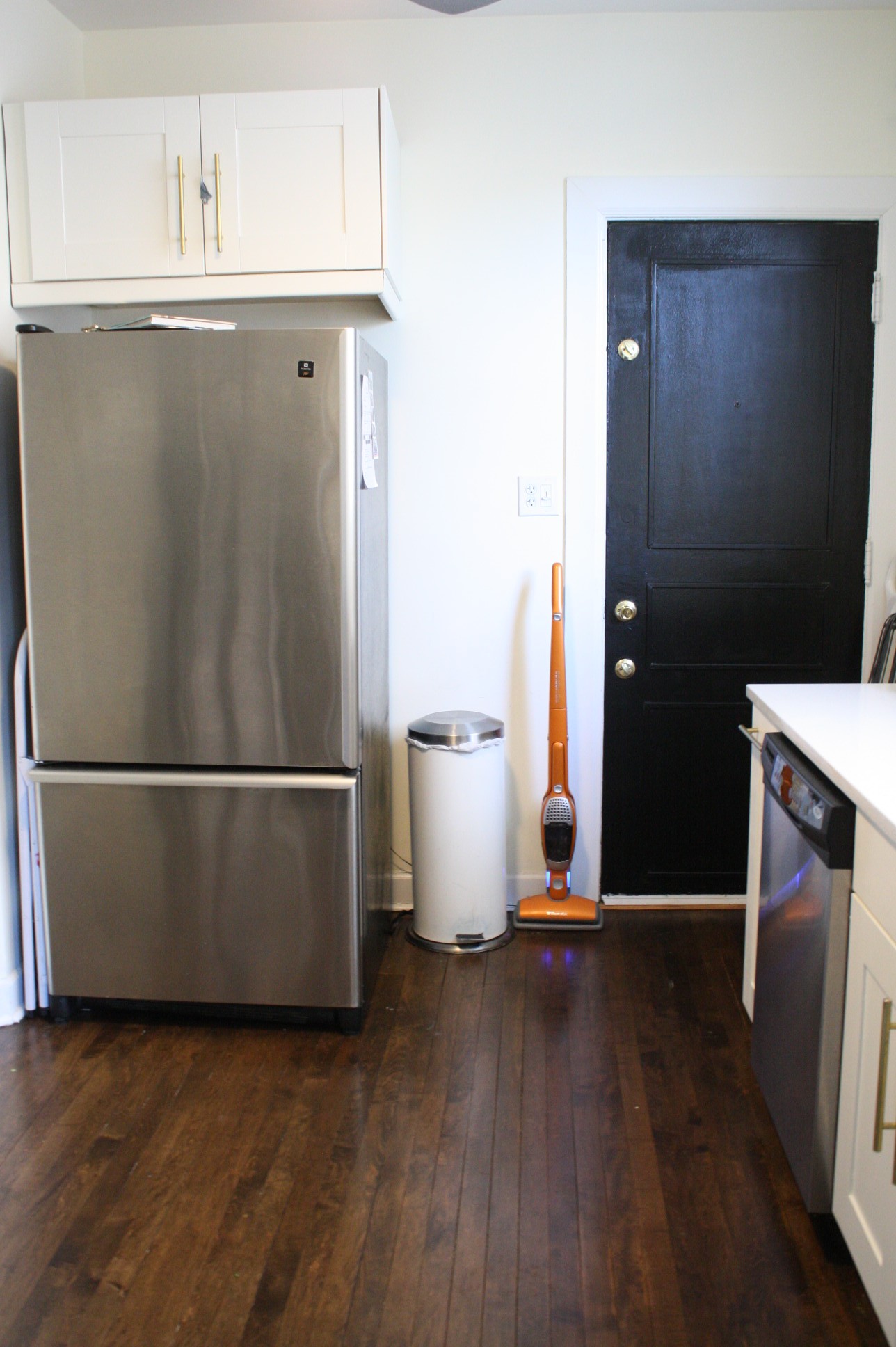 I still have quite a few things to check off my list:
I found out that we do need to have a fan when cooking. Condo living yo! But that doesn't mean it has to be gigantic and steel grey. I've found a few sleeker options that are less of an eye sore.
That vintage rug/runner could find a lovely home on these dark and sexy floors.
A new light fixture to replace the track lighting by the oven
This delta faucet must get into my kitchen, like, yesterday!
Thinking of painting the trim on the windows black to mimic a steel window I so desperately want. Bonus point- it will match the door.
Some fun and inexpensive art- really leaning towards vintage oil paintings with pretty blues and greens.
That nook next to the fridge still kills me. I have no idea. I'll get back to you on that!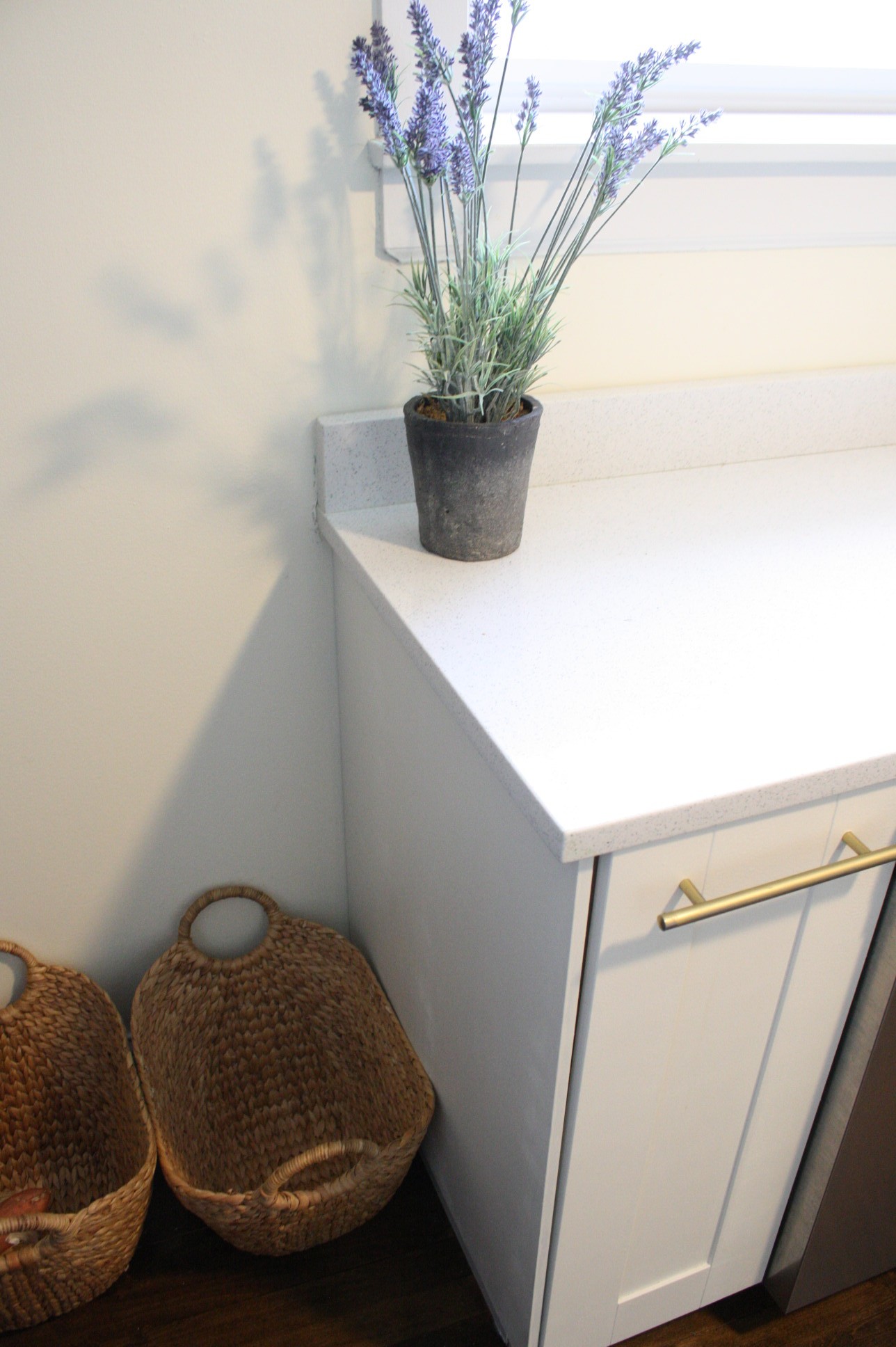 So, yeah, basically I didn't do anything by the looks of that incredibly long list up there… Way to feel accomplished. But seriously, the white cabinets make a world of a difference and if you're thinking of tackling this project, I say go for it!
I'll definitely share more progress updates as they happen. Especially, since the hardest work has been done and the rest are more cosmetic changes!
I hope this helps! Xx