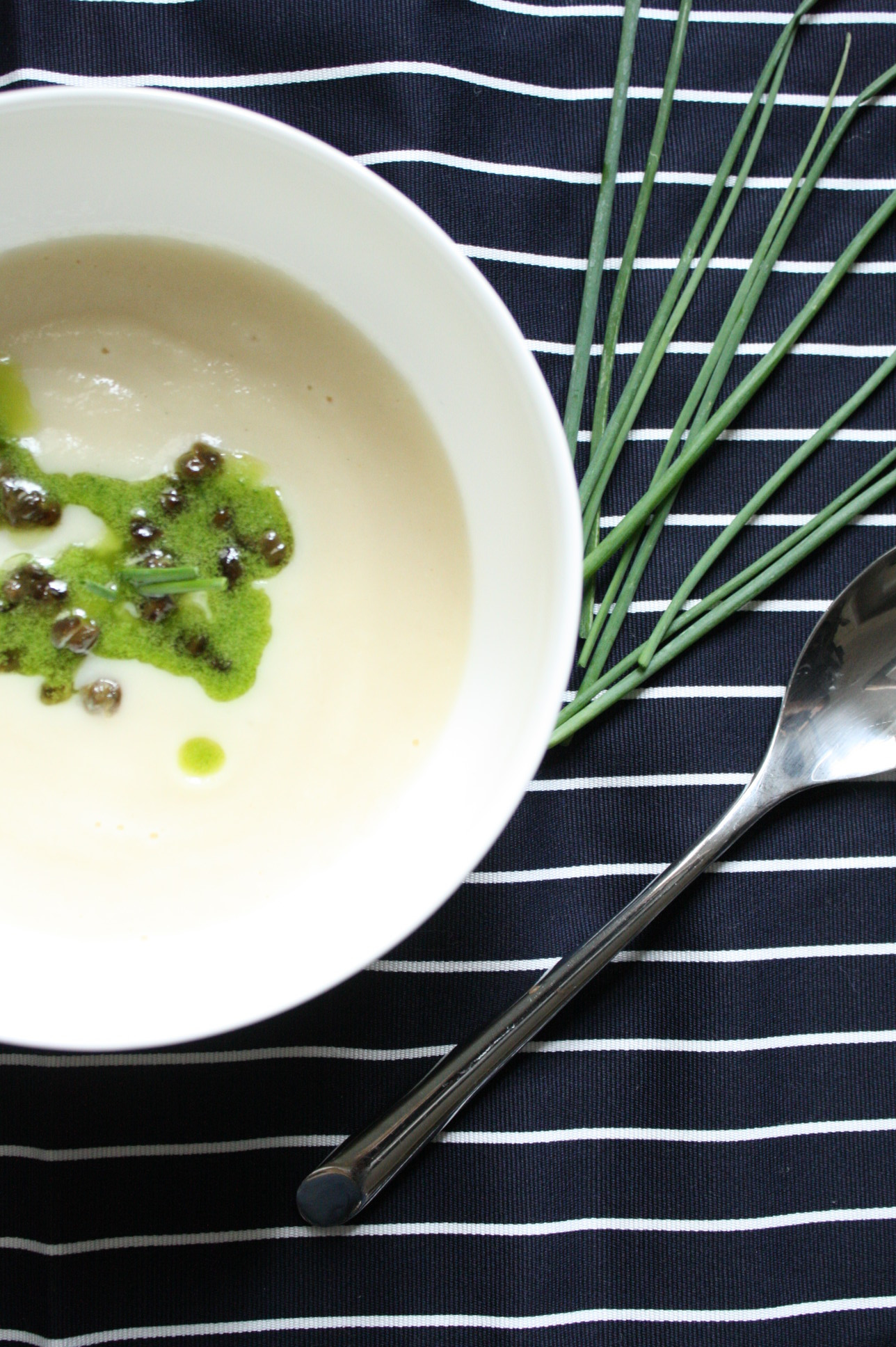 I ate some delicious food while we were overseas but even then, it is possible to have too much of a good thing. Disregard cappuccinos- never enough of those! So when we got back home, it was great to finally get back in the kitchen and whip up something warm and delicious.
I make a soup every week- most of the time I just rotate my favorites and occasionally, I'll throw in a new recipe. This week, with it being a new year and all, I figured why not? So, I scrolled endlessly through pinterest and came across this recipe for cauliflower soup. I read 'crispy capers' and I was sold! Cauliflower is tasty and healthy for you but what makes this entire recipe are the extra toppings, ie: crispy capers and chive oil. Why have I not made chive oil before? So easy and absolutely out of this world delicious. I used whatever was leftover and poured it over my sweet potato salad. I'm thinking I need to make a chive pesto, too. Can't. Get. Enough.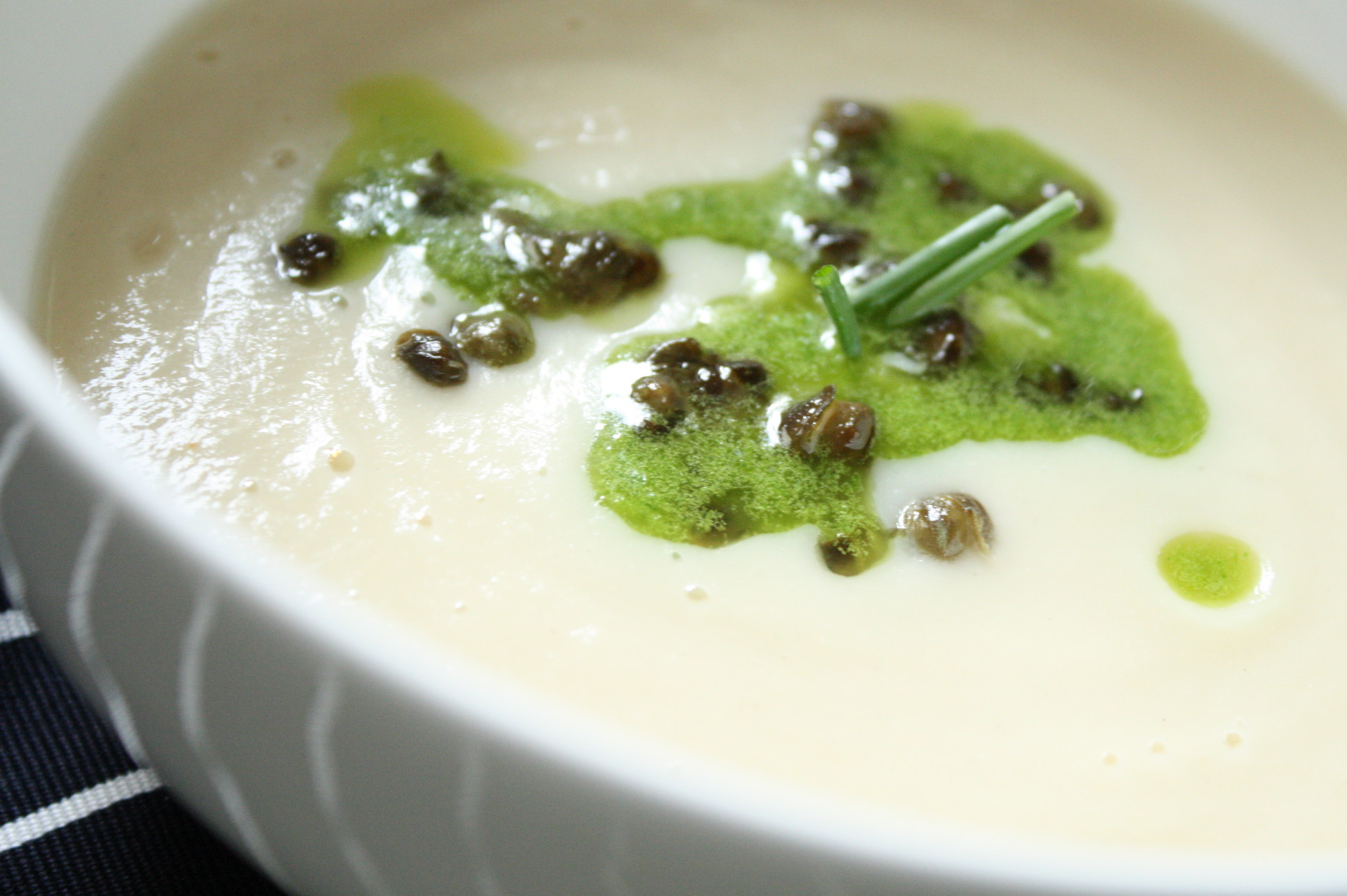 Not only is a soup filling and a perfect way to warm up in the winter, but it also elevates my meal to a whole other level. I feel like I'm in a restaurant eating 2-3 courses for lunch. Throw in a glass of champagne and I'm a lady who lunches…in front of my computer,writing up posts, that is. Nevertheless, this soup is heavenly. The cauliflower has such a clean taste- it's the perfect canvas for tangy chive oil and crispy, salty capers.
And, well, it's pretty. That's important, too. You want to eat tasty, pretty food. Call me superficial, but that's just how it is. This recipe takes less 40 minutes to make, including prep time and will solve your Monday blues. Promise. So go be fancy and have a two-course meal, why don't you?
Ingredients:
1 sweet onion, finely diced
2 tablespoon olive oil
2 tablespoons unsalted butter
1 head of cauliflower, chopped
3 cups low-sodium chicken broth
1 cup water
1/2 cup milk (I used almond milk)
1/4 cups capers
salt and pepper to taste
chive oil
1/4 cup chopped chives
3-4 tablespoons olive oil
Directions:
Heat a large pot over medium heat. Add olive oil and 1 tablespoon butter, then add onions. Stir to coat and cook until softened, about 5 minutes. Add in chopped cauliflower and chicken stock, then cover and cook for 30-35 minutes, until softened. Stir occasionally and mash the cauliflower.
While cauliflower is cooking, make the chive oil. Combine the chives and olive oil in a blender or food processor and blend until totally smooth. To fry the capers, heat a small skillet over medium-high heat and add 1-2 teaspoons of olive oil. Add dry capers and shake the pan, tossing for 1-2 minutes until crispy and fried. Set aside.
Once the cauliflower is cooked, take half, including the broth, and add it to the blender with half cup water. Puree until smooth. Add the remaining cauliflower and broth, with another half cup water and half cup milk. Puree until smooth. Salt and pepper to taste. Garnish with chive oil and capers. Enjoy!