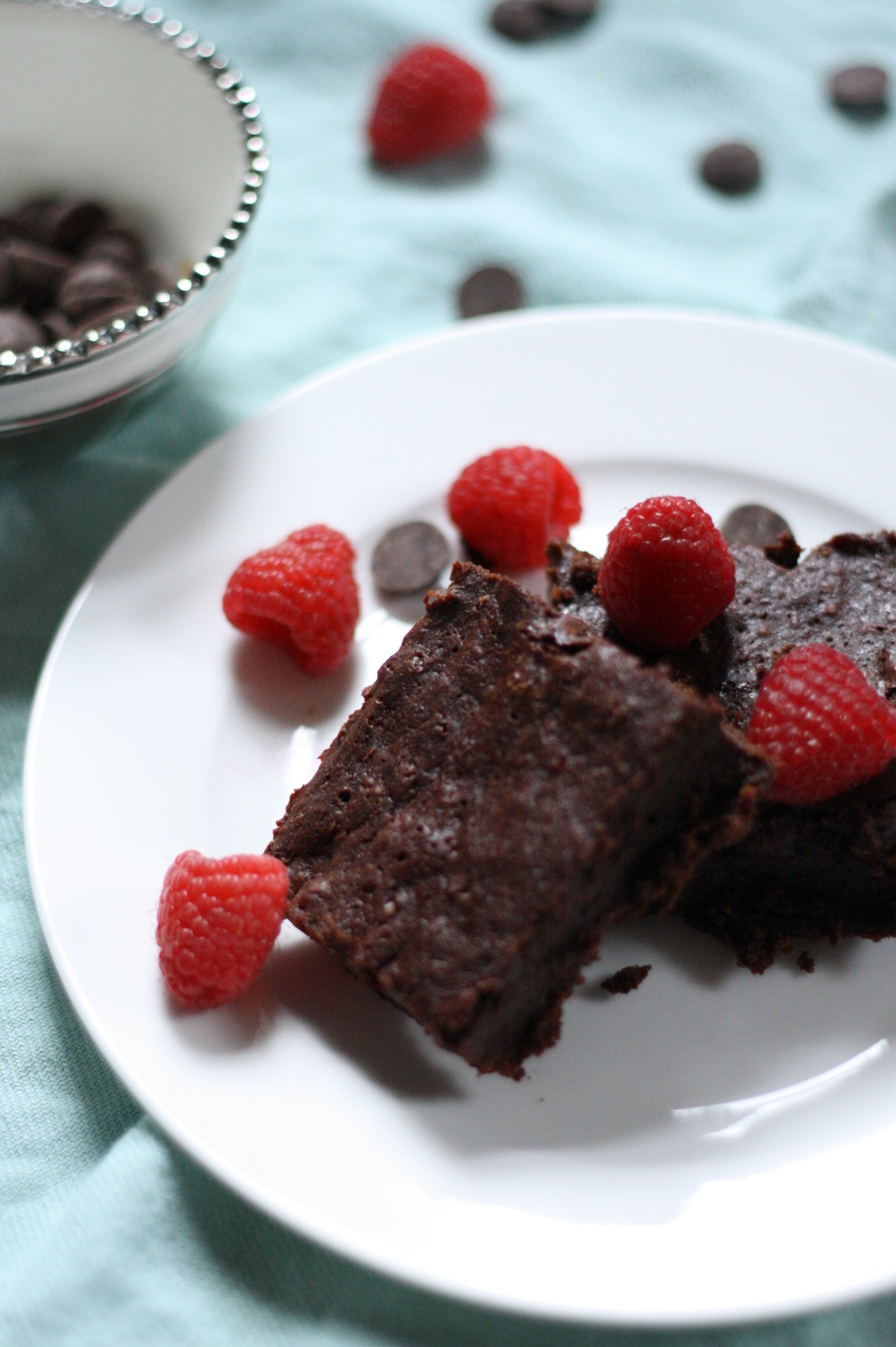 I've never been a big fan of sweets. Gasp! I know, I know. They used to force me to eat my birthday cake as a child. But, I wasn't raised on desserts or sweets. It was never my thing.
Chocolate, now that's what I crave. Obviously, as I've gotten older, my sweet tooth has grown as well and lately, the past month, I've been craving brownies. Desperately. All that chocolatey gooeiness and well, basically I've just been craving chocolate. I decided to whip up a batch from this book over the weekend and since Petar was home I would have some help devouring the entire batch!
This recipe happens to be gluten free, no flour, and is absolutely delicious. I happen to like the dense and chewy texture and since I used dark chocolate, the bitter not-too-sweet flavor pairs perfectly with fresh raspberries! Best part? These brownies are a 5-ingredient recipe! How easy is that? This was also my first experience baking with coconut sugar and was pleasantly surprised. I wasn't sure what to expect to be honest. You can find coconut sugar in specialty grocery stores or even Amazon!
So, what's the deal with coconut sugar?
I did a little reading because I wanted to know what all the hype was about. By no means does coconut sugar have the same superfood benefits as coconut oil or butter, but it is a better alternative to regular table sugar. Coconut sugar has minerals like zinc and iron along with antioxidants . It's also considered a low glycemix index food which means that it won't spike your blood sugar as much as other sweeteners. However, this only makes up about 22% of the ingredients. The rest? Still considered a sugar. Definitely a great alternative, but like with all sugars, definitely be mindful of how much you consume.
Ingredients
1 tablespoon Vanilla Extract
4 large eggs
1 cup coconut sugar
1 cup dark chocolate chips (I used Ghirardelli bittersweet chips)
1/4 cup vegetable shortening (you can substitute with butter)
Instructions
Preheat oven to 350F.
Grease an 8-inch square baking dish with vegetable shortening or butter.
In a saucepan over low heat, melt the chocolate chips until smooth. Stirring constantly.
Remove pan from heat and mix in the vegetable shortening and coconut sugar. Stir in the eggs and vanilla extract until thoroughly combined.
Pour batter into the prepared baking dish.
Bake for 20 to 25 minutes until a knife inserted into the center comes out clean.
If you can wait that long, let the brownies cool.
Cut and serve! Enjoy!