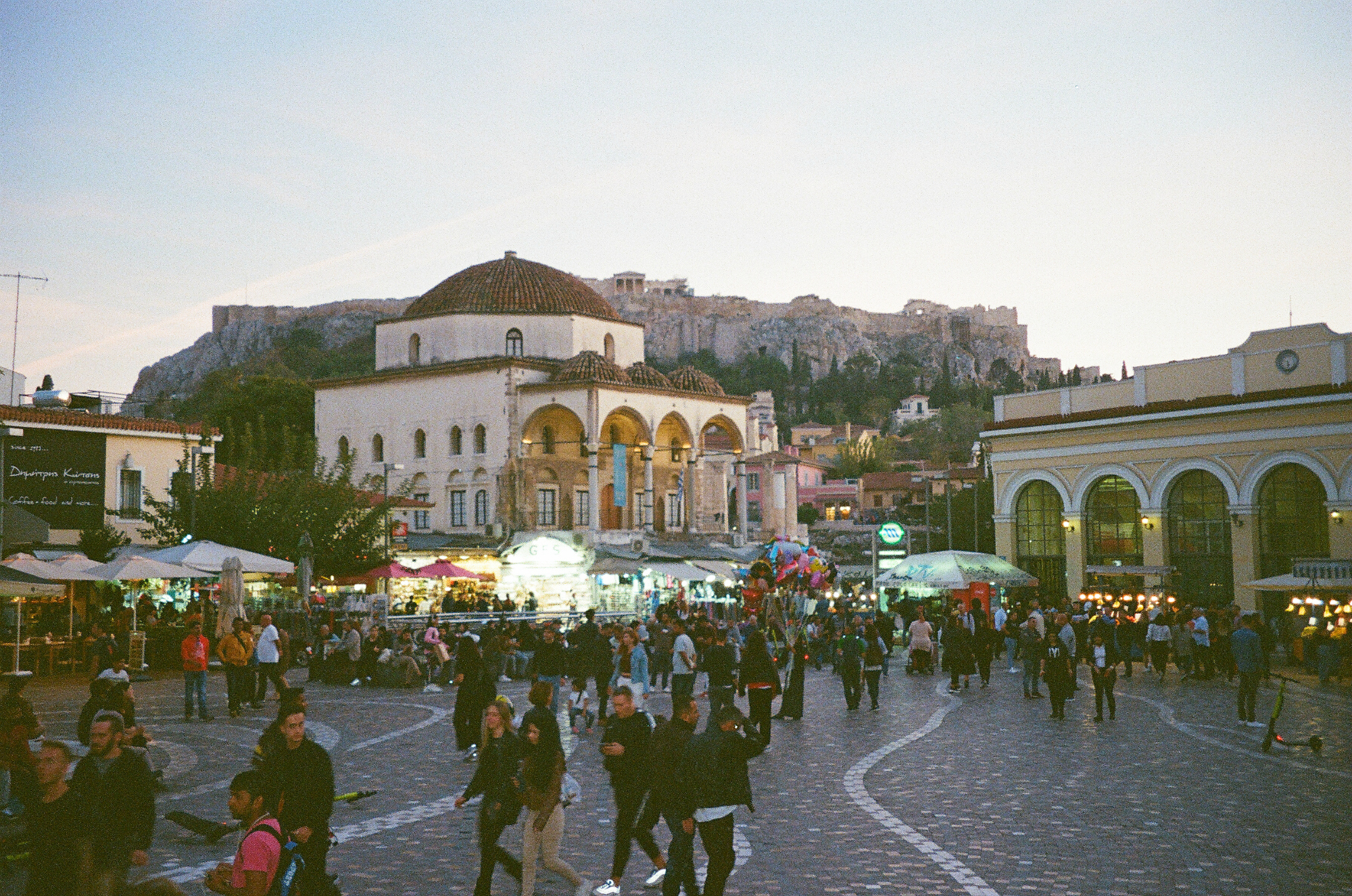 I managed to purchase a tree, ornaments and trimmings in under 45 minutes from a store called Jumbo, nonetheless and throw it together 48 hours before a 2-week trip. I was determined to make it feel as festive and "normal" in my new home, in my new city…as I possibly could. Today marks 3 months since I sat on the plane, Palmer in tow, chasing a vision of a new life. It's wild to think I've been away that long, from a place I've always called home and yet, I don't miss home all that much. Frankly, I don't miss it at all. I miss the people I left behind, a few particular restaurants – I would kill for a piping hot bowl of ramen from Wasabi on Damen – and my condo with all my collected momentos and never-ending hot water supply.
So, what's it like picking up all your belongings and moving countries? Let me preface this with the fact that Greece has always been a familiar face – the one you pick out in a crowded room and sends a reassuring smile your way. Greece is comfortable even with its idiosyncrasies and lack of convenience. The Hellenic Post may as well be where civilizations go to die- it is the black hole of this nation. But Greece is home. I suppose it's acceptable to love two places equally but differently. Perhaps we aren't meant to be monogamous when it comes to choosing our place to build and thrive. Perhaps, these places choose us.
I've settled into a cozy apartment on Lykavittos Hill; as the name suggests, it's the highest point in Athens which offers great views of the twinkling city below. From one balcony, I'm greeted by a view of greenery, an unexpected and difficult to find quality in a bustling city center. Palmer and I make the same walk each morning; passing the wild orange trees, slowly making our way down the slippery marble steps covered in oil from the fallen olives and entering the pine covered walkway of the hill. I've come to be quite fond of this quiet neighborhood and am especially grateful for the covered parking that comes with my apartment. Another luxury for Athens. My 15 boxes recently arrived and not one broken item. Truth be told, as grateful as I was to see my things, I had grown accustomed to traveling light. I appreciated having less and the freedom of movement it allowed me. Notwithstanding, I've enjoyed unpacking all the things I bought at Home Goods, all 30 scented candles, and even more so, all my vintage books that I truly treasure.
Things move at a glacial speed, here. I blame it on the endless sunny days. There's no rush when you have the sea and the sun and frankly, I don't disagree. I'm connecting, mingling, pitching, writing, working and while it's slow, I am trusting in the process and learning to be patient. Learning to respect it. It would be an understatement to say that I'm not incredibly determined to learn about all Greece has to offer and share it with you. In case you doubt my words, please refer back to me harvesting olives in the Peloponnese -shredded fingers and the like for a taste of liquid gold. I'm nothing if not determined.
I've found a gym I happen to quite like and when I'm done sweating, there's an OK Market next door that sells my favorite Lindt dark chocolate with sea salt. One of the few in the entire capital that carries it. I call this balance and a small reward from the universe. You worked out today, bravo you. Chocolate, it is! I've made some new friends, met interesting people that have been nothing short of gracious with their time and knowledge of this city. I've enjoyed 65 degrees in the month of December and have spent quality time with dad. An added bonus? I'm a 2-hour flight from some of my favorite destinations on the globe.
This is my first time spending the holidays in Greece. A refreshing welcome to not having the usual consumerism shoved down my throat. This year, I've felt more compelled by community, breaking bread, long conversations fireside and human connection. There will be no holiday gifts this year, but rather a look ahead. Plans for the next year.
In retrospect, it's funny to think how much easier it would have been to say that I was moving to Athens for a dream job, or even a dream man. I even thought about playing the martyr card and telling everyone I was moving solely to care for my stubborn father. That's a guaranteed ticket upstairs, right? I felt these would have warranted the justification and better yet, the approval of those I was sharing the news with. But truth be told, I moved because, wait for it, I wanted to. Greece wasn't the end goal, friends. Choosing myself was. And I felt most like myself, here. In Europe. Greece… is simply the catalyst for the reminder I so desperately needed. The best part of it all? Regardless of the outcome of this chapter, it will be a wild success simply because I finally chose the most important person in my life. Myself.
2020 is going to be a really good year. Dare I say, it will be my year? I can feel it in my bones. Because for once, I'm not afraid to chase after what I want. So, while I'm not incredibly big on resolutions…a mantra for the new year just might do the trick.
Cheers to a fearless, thriving, open-hearted 2020 filled with curiosity, joy and above all, endless adventure. x
Y