We all do it- we read fashion magazines, check out the latest and greatest styles but when it comes down to our own fashion, we tend to stay in our comfort zones. No one really feels like getting strange stares or hearing "you look different" from your coworkers…but after a while, who the heck cares! As far as I'm concerned, color and I haven't always had the best of relationships (see photo below); however I promised myself that I would make an effort to push the envelope…
This morning's outfit isn't necessarily about color… (I said I was starting out slow), but it is about layering and infusing some current trends into my everyday. Cashmere is my #1 go-to staple in the fall and winter. It's luxurious and most importantly, warm!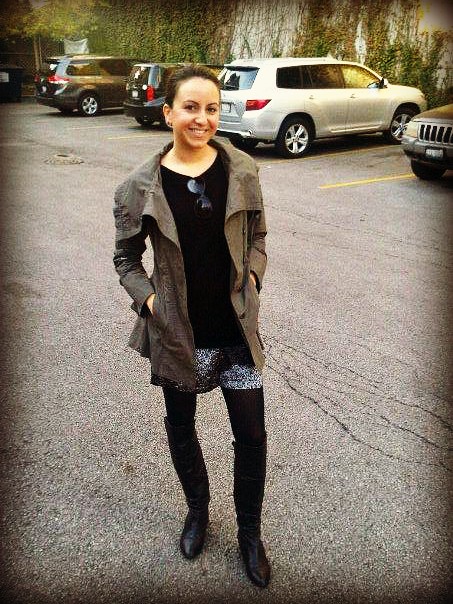 I've created a similar look below that won't break the bank but will still add versatility to your wardrobe. This look can easily be taken from day-to-night: Swap out your boots for some pumps, add a statement necklace and you're ready for a night out on the town.

Topshop Jacket// Cashmere Sweater// Asos Black Satchel//  Dorothy Perkins Dress// Piperlime Boots
For a similar and more budget-friendly look of the cashmere sweater, check this one out at Nordstroms! Leopard is so in right now and the military and leather give the feline look a bit of an edge. Have fun and play around with different patterns and styles. It's a work in progress!
Have you taken any fashion risks lately? Wear anything that really got you out of your comfort zone? Feel free to share, or better yet, send me a photo at nomadluxuries@gmail.com!
Xx
-Y