Good Morning- I have been waiting to share this all with you for quite some time and I am so excited the day is finally here! I could barely sleep last night! After a few hints and months of work, NoMad Luxuries has a completely new look and feel that I hope you will love just as much as I do! For all the new faces to NoMad Luxuries, welcome! I am so glad that you stopped by! I do hope that you'll stay awhile and check out the blog.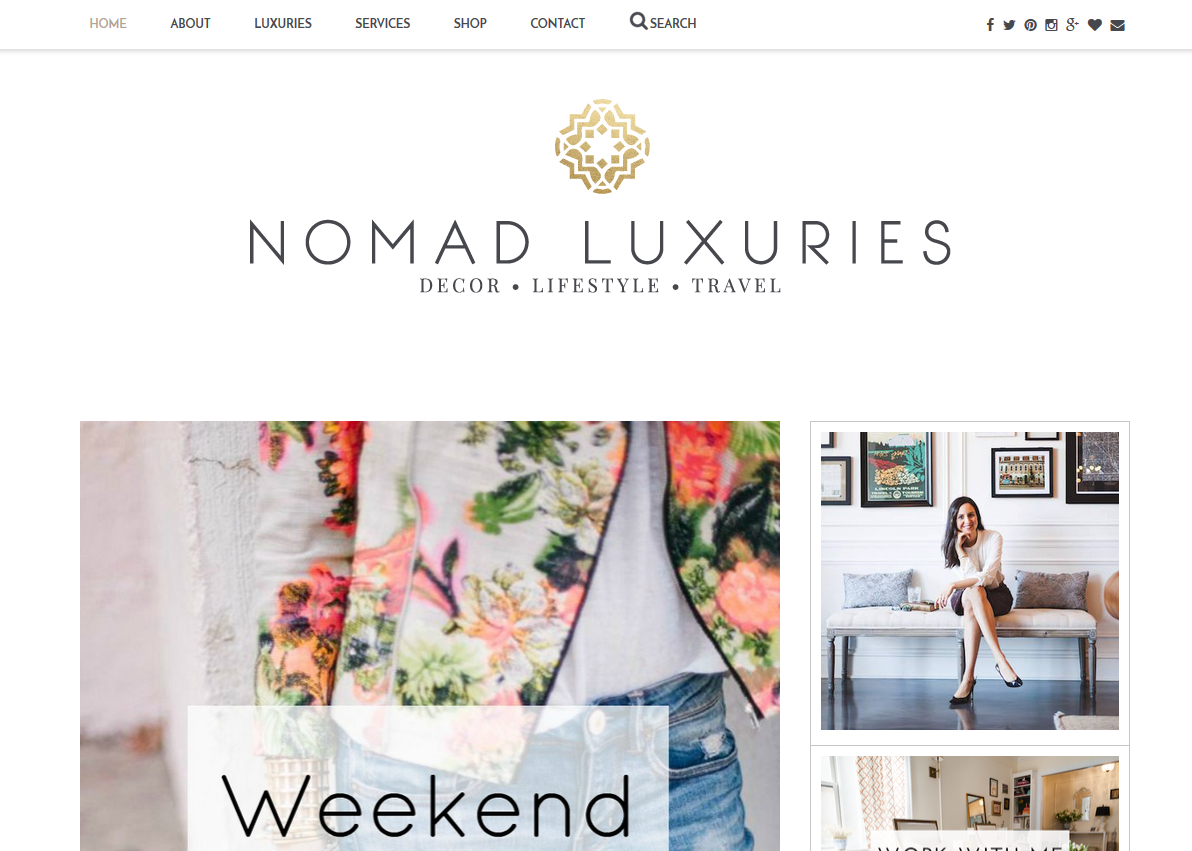 Why don't I give you a bit of a tour? Not only is the new site easy on the eyes, but it was created for you in mind. My About Me section at the top of the navigation bar has a dropdown where you will find a slideshow of my home tour, collaborations that I've worked on and Yana Puaca, where you will find the inspiration and meaning behind the blog and new information about me and some of my favorite things!

I have organized my posts in Luxuries, where you will be able to find content grouped by specific categories. Beauty, food, interiors, style and travel are where you will find most of the posts fall into with a few miscellaneous sprinkled throughout.

The Shop page will take you directly to the fabulous vintage items I have available for sale. These are updated regularly and for now can be found on my Chairish page. The Services page has more information on the services I offer, E-Decor, Travel Planning and Vintage Finds, and an easy to fill-out form when you're ready to work together! And lastly, the Contact page is also easy to navigate and fill out. Whether you just want to say hello or you had something specific in mind, feel free to send me an email! I'd love to hear from you!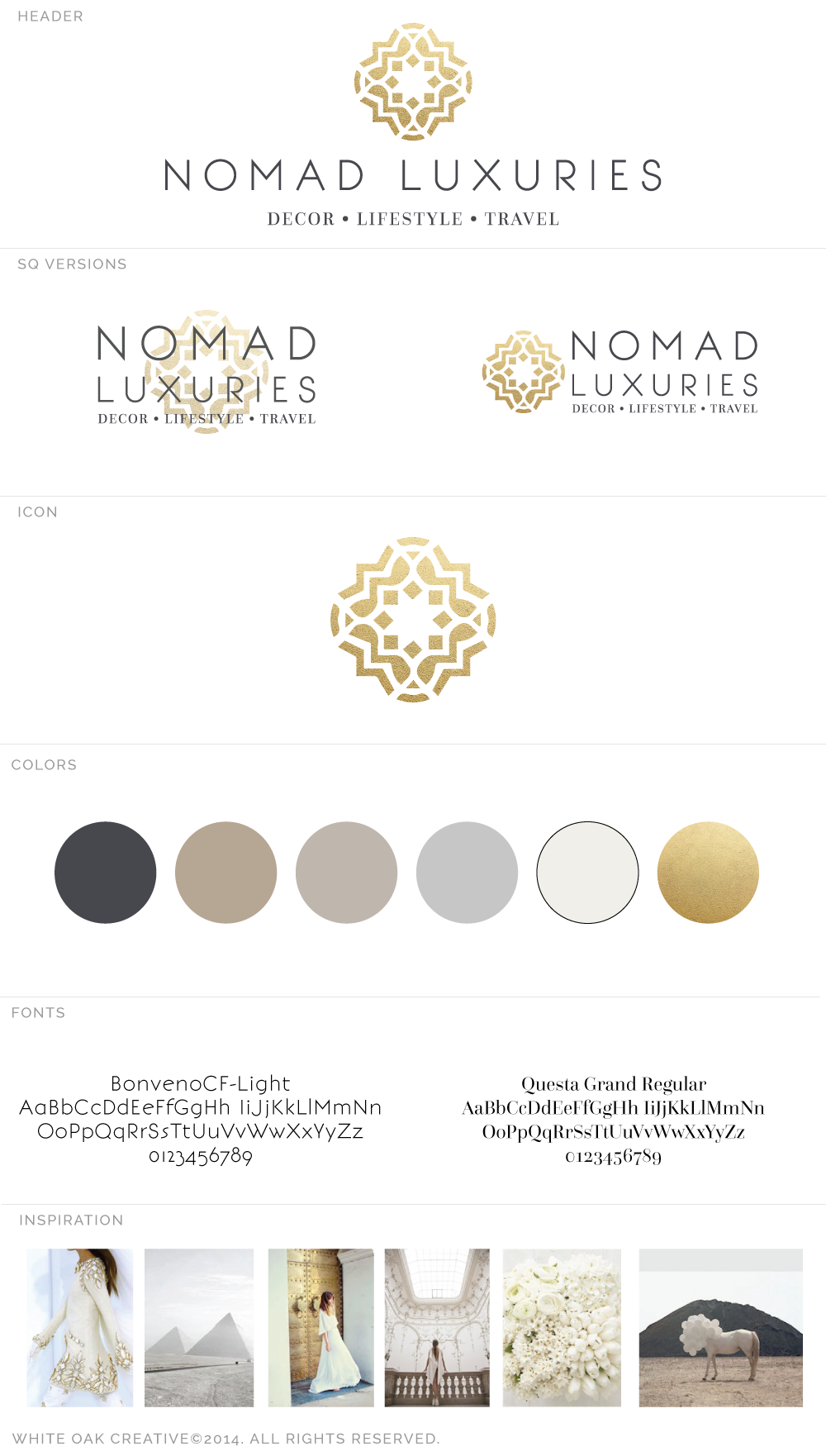 I knew that I wanted to take NoMad Luxuries to the next level and by doing so, I would need a brand new look and feel. I was recommended to Lindsay at White Oak and Creative and cannot even begin to tell you what an amazing experience it was. A complete rebrand can be incredibly daunting and Lindsay made the whole experience so enjoyable and stress-free that even asking those hard questions, like "who is NoMad Luxuries?" and "what do you represent and offer"? were easier to answer. This lady is the real deal and worth every penny- I couldn't be more grateful. Thank you!
I included my final branding board above to give you a bit more of an insight on the process. By creating a Pinterest Board and pinning different images that inspired me, Lindsay was able to translate that into a logo and color scheme that I absolutely love. Her process was incredibly intuitive.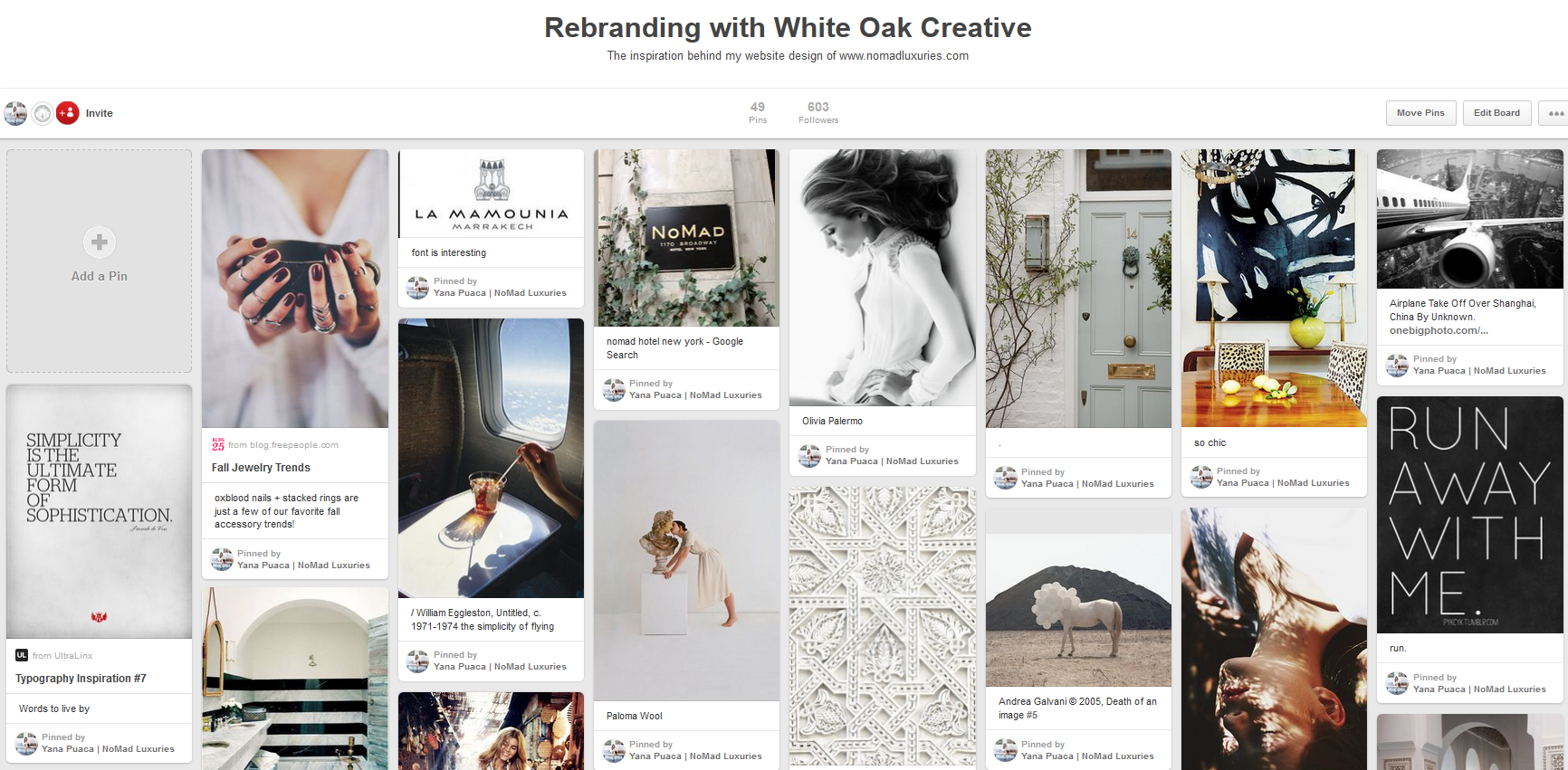 Besides creating a beautiful website, Lindsay also designed my business cards and literally handled everything from SEO to mailchimp and everything in between!
I feel like a completely new person this morning! The new and improved NoMad Luxuries is better than I could have ever imagined and I am so excited to continue to create, inspire and bring fresh content to you! Thank you for all your continued support, I am beyond grateful. And, thank you again to Lindsay for your talent and patience! Xx