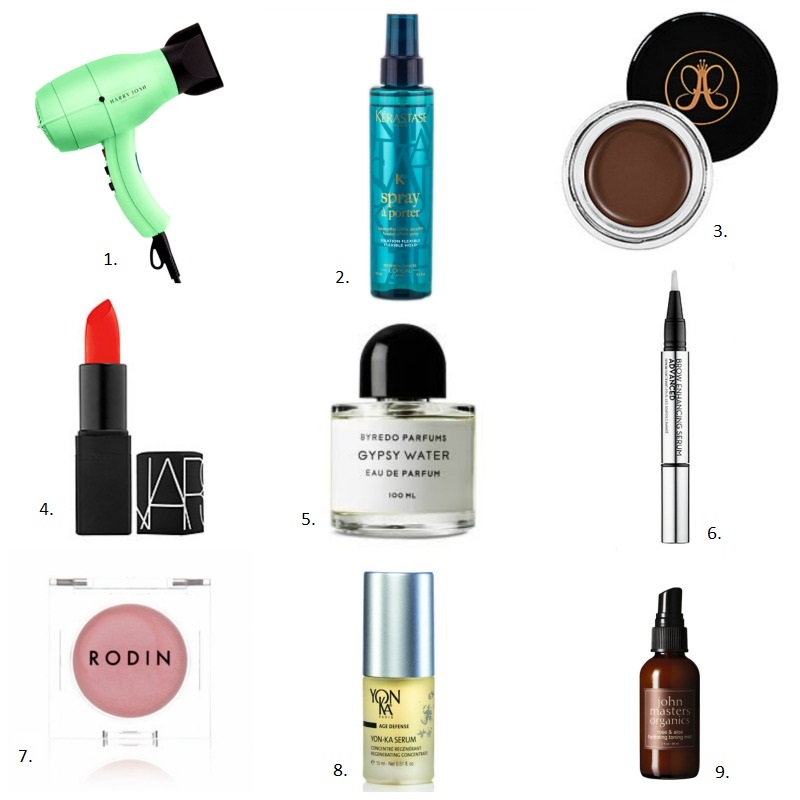 1.// 2.// 3.// 4.// 5.// 6.// 7.// 8.// 9.//
As you saw in my previous post, I'm pretty serious about my skin care routine and with Spring around the corner, my beauty routine adjusts according to the hypothetically warmer weather. I've been eyeing these products and hope by adding them to my daily routine, I'll not only look and feel refreshed from this harsh winter, but be beach-ready come Summer.
My hair either needs to be curled or straightened, and always needs to be blow-dried. That can do a lot of damage to my locks and after reading rave reviews about this blow dryer from professional stylist, Harry Josh, I just think this might be worth the hefty price tag. For the days that I really don't care, and there are those days, I love to rock a beachy-hair look. This beach-wave spray from Kerastase is supposed to do the trick and until I'm back on the Mediterranean, I'll fake it till I make it!
I've been really digging the full brow and it's been popping up everywhere lately. This Brow Pomade by Anastasia is supposed to make your brows look full and keep the hairs in place. Extra bonus- you can use it as an eyeliner! If you're not so keen about coloring those bad boys in, this serum, also by Anastasia, will help stimulate eyebrow growth and help you achieve fuller, longer brows.
Orange and coral is the IT color for lips this Spring and I need this NARS lipstick in Heatwave. It's the perfect hue and saturation with a matte finish. When I'm not sporting a bold lip, I'll be brushing on Rodin's lipbalm to keep my lips soft and help them recover from the harsh winter months.
I already swear by Yonka products and recently added this serum for extra hydration, but I'll be keeping it in my beauty routine all year long because it makes my skin super soft and gives me that glow. I've realized the importance of using a toner but the convenience of this toner from John Master's that comes in a spray bottle is a win, win. Not to mention, it has rose and aloe for extra hydration to keep your skin supple all day long. And, I can't forget a spring scent. I've been wanting Gypsy water from Byredo not only for it's scent but the name just speaks to me!
What are you adding to your beauty routine this Spring? Any favorites making a second appearance?
Xx
Y