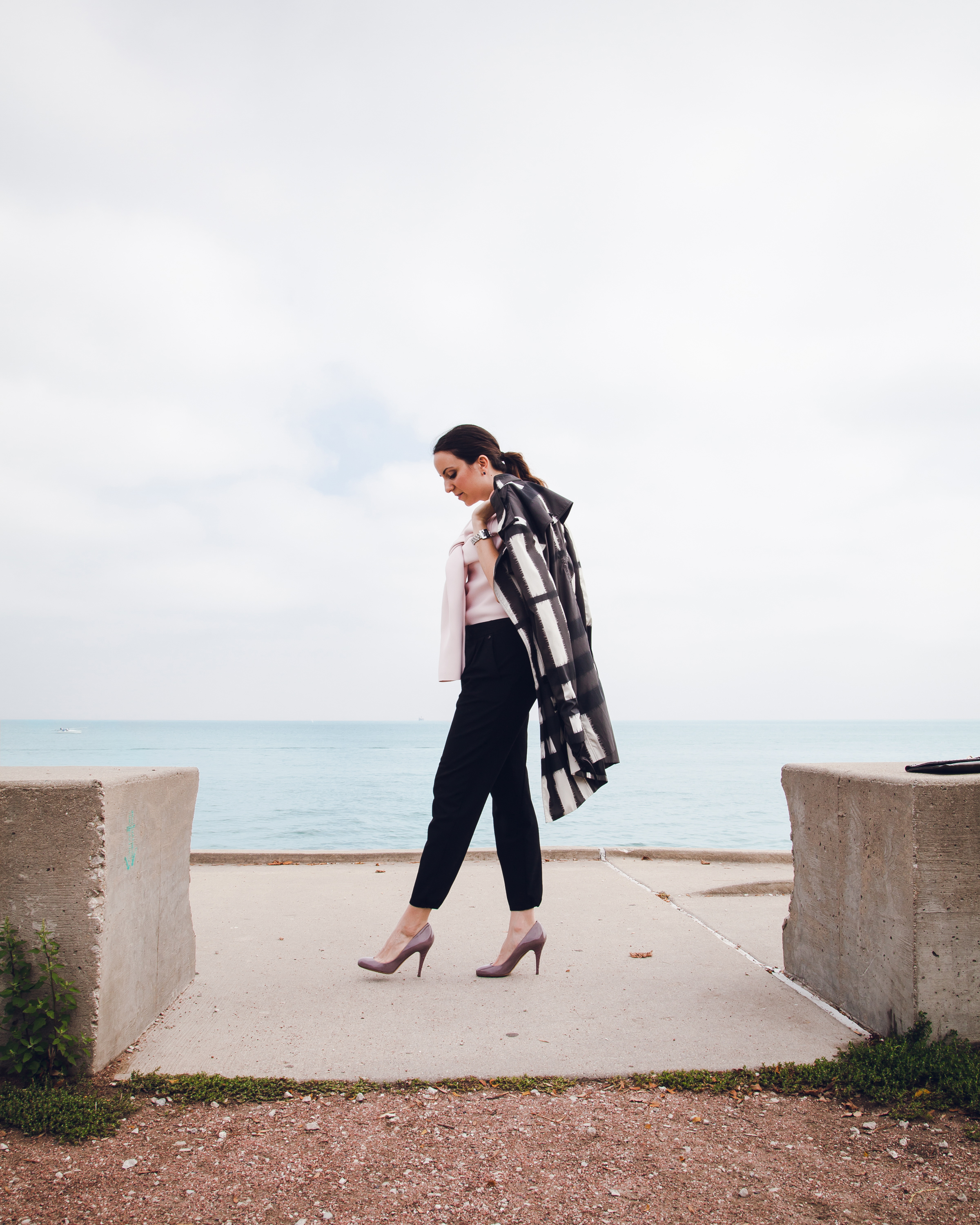 Top: c/o Sister Saviour// Pants: Trina Turk// Shoes: Burberry, old (similar) // Trench Coat: Burberry Prorsum, old (similar and similar) //Purse: Vintage clutch (similar)// Watch: Gucci old
For this week's outfit post we had the pleasure of collaborating with Sister Saviour and the opportunity to feature a few pieces from their new Fall collection (more to come next week). This season, it's all about the pastels  (yes, you heard right) and right on trend with interesting materials like neoprene, otherwise known as scuba material. Jennifer and I headed over to Belmont Harbor for a moody grey and blue backdrop on an unseasonably warm October day.
At first I was aprehensive on how to style or even wear this unique material, but after playing around with it I loved the bold and dramatic look it gave off in the simplest of ways. Plus, the material is wrinkle free! The pale pink hue is perfectly understated and with the box-y cut of the top, it paired well with my Trina Turk cropped and pleated trouser. I decided to tuck the top in for a more defined shape and added my Burberry Prorsum plaid trench in grey (oldie but a goodie)! The sleeves can be worn or… tied in front like a bow for extra drama (as shown). Having the option makes this piece so much more versatile and fun to wear.
I threw on a pair of Burberry blush rose pumps that brought the look full circle and added a clutch in a warm greige. The unexpected color instantly warmed up the entire look. My makeup was more Fall appropriate as well. I went a bit darker on the eyes with a plum eyeshadow and kept my pout a buttery neutral. A slicked back ponytail and emerald cut sapphire earrings were just the right amount of elegance. The entire look was professional and versatile enough to deal with the always-changing Chicago weather, but unique enough to make a statement.
Check out the rest of the photos by the fabulous Jennifer Coffey…
Will be posting a video shortly! Keep an eye out…
Xx
Y