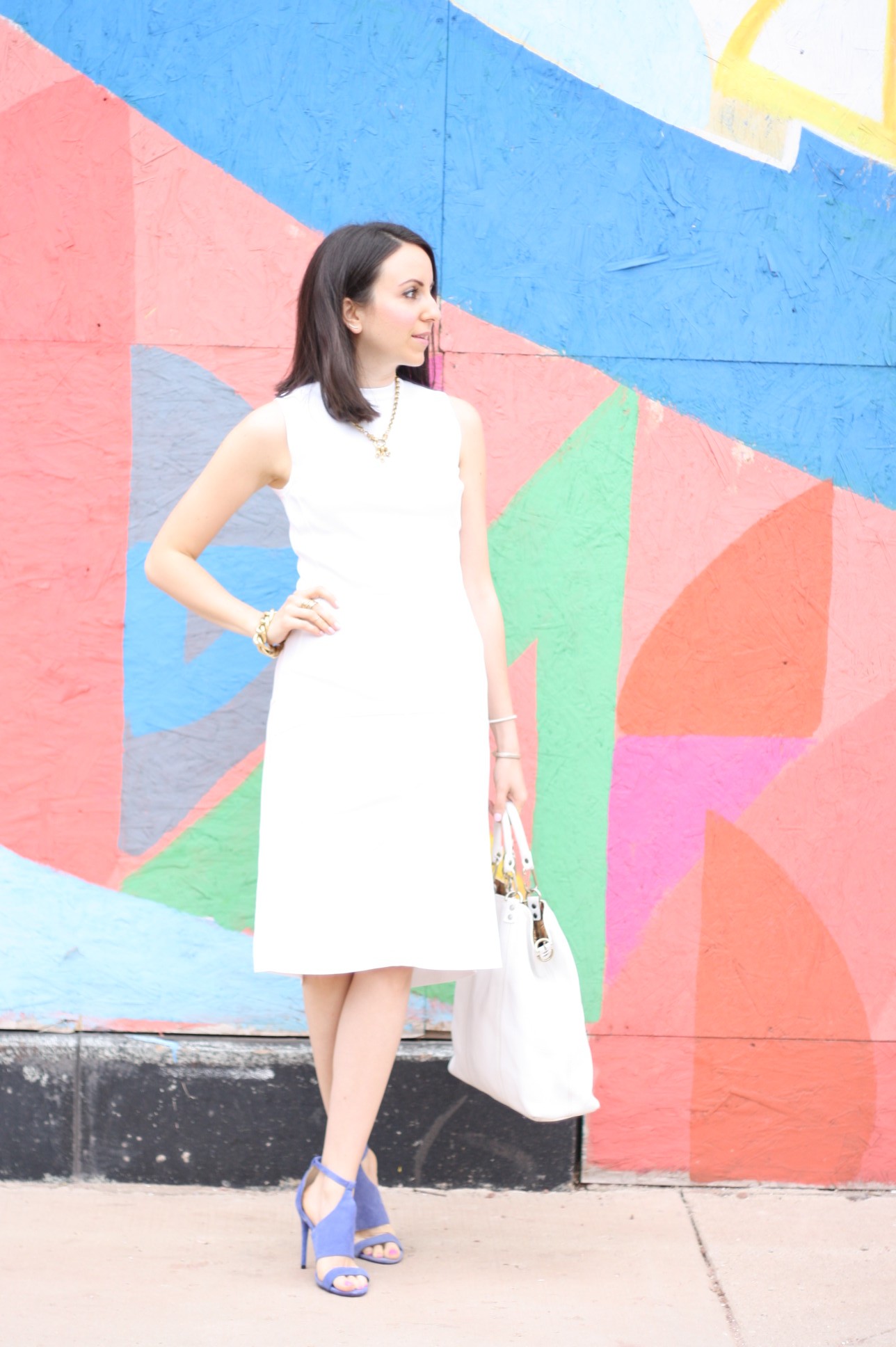 Should we talk about this amazing white, structured dress or my new do first? If you haven't noticed from my Instagram snaps, I chopped the locks this weekend. I talk and talk about cutting my hair…I sit on the idea for a while. Make an appointment, cancel the appointment. And then one day, I'm just ready. I call the day of and an hour later, I've got 6 inches of hair lying on the floor and a whole new perspective on life. Not really…but I do feel like a new person. Change is good – especially when you're the one initiating it. Hair? Now, that you have control over!
This dress finally arrived from Asos and I can't get enough. I absolutely love white, especially when I'm sporting a tan. Sigh. soon…. The visible hemlines add to the structure of the dress and it's so easy to throw on and look breezy and beautiful…Covergirl? It's a stretchy yet structured material that lays nicely on the body and the cut is beyond flattering. Oh, and it's not see through like most white clothing.
I paired it with my new blue shoes…they're actually periwinkle, but try explaining that to my husband. And I went a bit crazy with my vintage, gold jewelry but the dress is so minimal and sleek that a bit of bling can't hurt. The white, leather tote I purchased a while back at where else? TJ Maxx. They seriously have the best Italian purses! I love this bag because the handles are removable and it can turn into a cross-body bag. Multi-functional with brass details? Yes, please.
Scroll down for more….
Asos Structured White Dress | White Leather Tote by Plinio Visona (loving this one with a tassel!)| BCBG Suede Sandals ($59 from DSW) | Jewelry (vintage)
This entire outfit screams #girlboss! Whether you work for yourself or in a corporate setting, I think it's so important to dress the part. If you take time to put effort in yourself, not only will others take you more seriously but your confidence and entire attitude will be more positive. I'm not saying spend 3 hours in the bathroom teasing your hair- unless, that's your thing, but small details are just as important. Try out a new nail or lip color, invest in pieces that you know you will wear and make you feel good. It's easy to follow trend but that doesn't mean that it's your style. You'll be more prone to grab a piece out of your closet if it's true to your aesthetic. In the same regard, don't be afraid to take some risks with your wardrobe. Add interest with shoes and jewelry or a vibrant bag. Basically, take time to do you!
Hope you all have an amazing day! Xx