Friday Fright: Menu Planning (Part 1)
Note*: I've decided to split up the Décor and menu-planning posts into two segments- there's a lot of info and it might get a bit overwhelming. And we don't want that, now do we?
Back to business…
Planning a party can be so much fun that sometimes you forget all the details that go into a successful event. Whether big or small, you as a hostess want to make sure your guests are enjoying themselves, and eventually you should join the party as well. After all, it's your party and you'll have fun if you want to!
Since by no means is the Halloween Fête a dinner party, I opted for hors d'oeuvres served buffet style.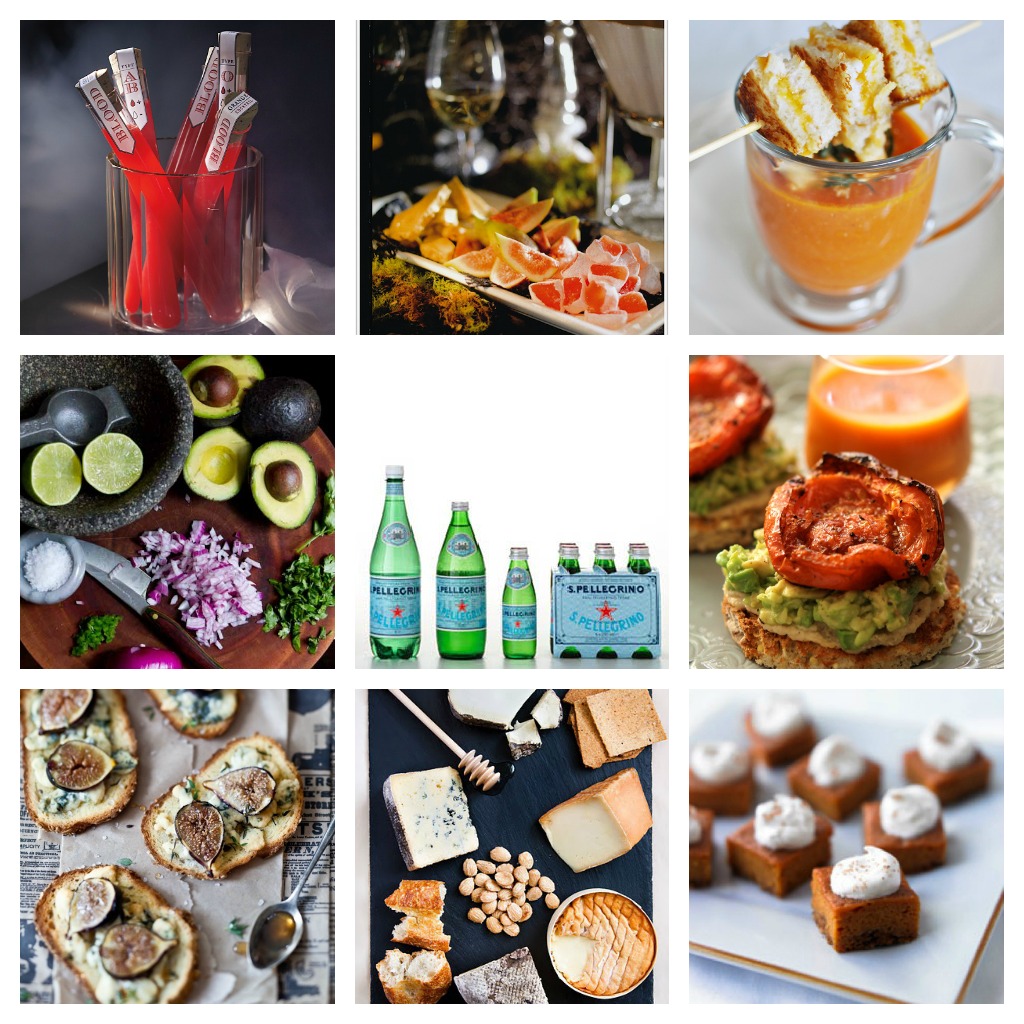 My Menu thus far:
Cheese Plate– with crackers, charcuterie and pairings
Homemade Guacamole with Chips- because I make wicked guac!
Bruschetta
Fig, gorgonzola and honey
Caramelized onions and goat cheese
Prosciutto, brie and pear
Hummus, avocado and roasted tomato
Individual Grilled Cheese and Tomato Soup
Dessert
Pumpkin pie bites
Forbidden Fruit Platter with Candy and Rose Water Lokum (otherwise known as Turkish Delight)
Semisweet Valrhona Brownies
Beverages
Red wine with labels (3 bottles)
Blood Orange and Moscato shots in test tubes (Blood Types)
Sparkling water with Orange straws
Of course if anyone is interested in recipes, message me for details at nomadluxuries@gmail.com!
 To keep you from stressing, I've put together a simple Check List for planning your next party menu:
€        Invest in white serving dishes for a sophisticated and clean look. You can find sets at places such as West Elm and Crate and Barrel or curate your own from Home Goods and estate sales. Goodwill can also be a great source for entertaining essentials.
€        Make sure to ask your guests beforehand if there are any food allergies you should be aware of or if there's a food someone simply detests.
€        Stay organized- create a menu for yourself (even if no one else sees it) to help you manage your time better. Some items can be made ahead and stored in the fridge.
€        You won't go wrong with a cheese and charcuterie plate. I mean, really! Visit your local Trader Joe's or Whole Foods and experiment with some interesting cheeses. Pair with preserves; fig is my favorite, candied nuts and fresh berries. Of course pickles, radishes and mustard are great savory pairings. I would include prosciutto di parma, jamon iberico and a peppered salami for a kick. You don't want to overwhelm the cheese, after all.
€        If you are throwing a cocktail party, (no dinner) then assume your guests will indulge in 12 appetizers each, otherwise if there is a dinner, cut that number in half to 6 appetizers a person.
€        For Beverages: always have a wine, one hard liquor option and sparkling water. Juices and other beverages are optional but are nice to have. If you are planning on mixing drinks: create up to 3 options and have them pre-made where guests can help themselves. Otherwise, you will turn into the bartender of the night and that'that can be quite a bore.
€        Display is key! If it looks appealing, people will eat it. Take some time to give your food display some TLC. Add some unexpected touches; a candle, a floral arrangement or some seasonal décor. Remember to mix heights and cold and warm appetizers to excite the palette.
€        Most importantly- remember to have fun and enjoy the fruits of your labor!
What wickedly delicious recipes are you serving up this year? Any Halloween favorites you can't pass up?
Xx
-Y